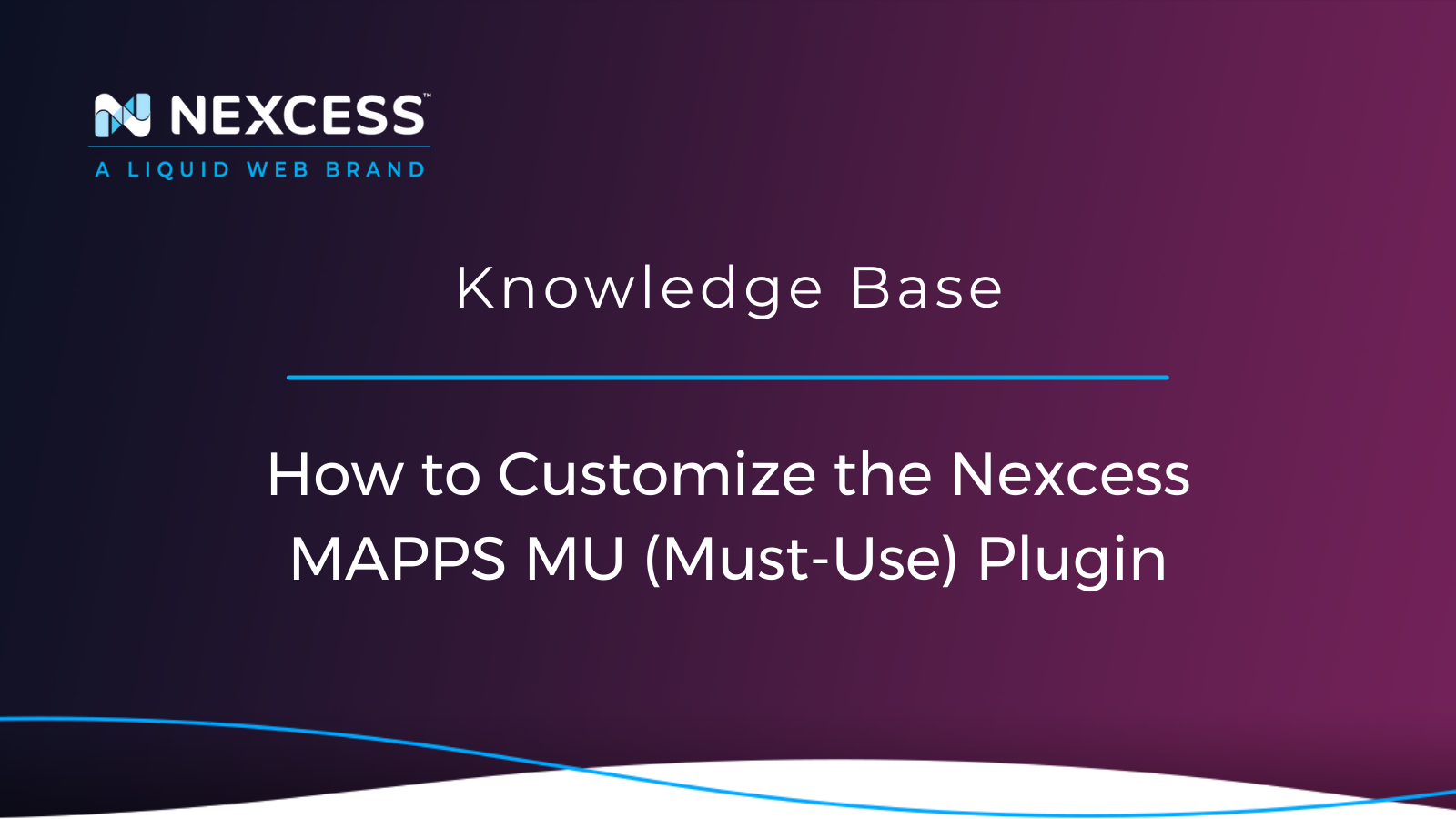 Use of the Nexcess MAPPS MU Plugin provides more plugins to enhance your site's performance, design, features, support, integrations, security, and revenue!
How to Customize the Nexcess Managed Applications (MAPPS) MU (Must-Use) Plugin
What is a Plugin?
Let's start with the basics. What is a plugin, anyway? A plugin in WordPress is a software component that makes it possible for developers to add features and customization to their websites. 
About the WordPress Plugin Directory
There is a multitude of plugins available that extend WordPress functionality to meet the demands of each user. The best way to find safe plugins for your website is with the WordPress Plugin Directory.
About the Plugins Installed with Managed WordPress by Nexcess 
Many of the plugins we install with our Managed WordPress platform include Akismet, Redis Cache, CDN Enabler, and the Nexcess Managed Applications (MAPPS) MU (Must-Use) Plugin.
Nexcess MAPPS MU Plugin & Its Features
With the help of our Nexcess MAPPS MU Plugin, you can easily install several licensed plugins that Nexcess provides for you as part of your Managed WordPress experience. Add and install plugins with the simple click of a button!
Please ensure that when installing plugins, you are only picking those that best fit your website's setup and do not conflict with any existing plugins already on your site. This minimizes bloat, plugin conflicts, and helps ensure your site is running as optimized as possible. The plugins provided to you in the Nexcess MAPPS MU Plugin should add to your experience should you need them, but if you prefer existing plugins already on your site, that is perfectly fine as well. Use what works best for you and your team!
Licensed Nexcess WordPress Plugins 
To get an idea of some of the valuable licensed plugins provided by Nexcess, review the Nexcess WordPress Plugins and Their Configurations article:
Managed WordPress and Managed WooCommerce sites on Nexcess come with multiple plugin options. For Managed WordPress and WooCommerce plans, this includes Astra Pro, Beaver Builder, and several premium plugins. 

The Nexcess Installer plugin makes it easy to install and manage the plugins that are included with your Managed WordPress or Managed WooCommerce plans. 

How Do You Access Them? 

1. Log in to your WordPress Admin Panel. 

2. From the admin panel, select Nexcess > Install Plugins. 

3. In the Performance section, use the checkboxes to select the plugins you want to install. 

4. In the Features section, use the checkboxes to select the plugins you want to install. 

5. Click Activate. 

6. A success message will appear once your chosen plugins have been installed.
How to Customize your WordPress Site Using the Nexcess MAPPS MU (Must-Use) Plugin 

Some of the plugins provided in the Nexcess MAPPS MU Plugin are based on several categories. Those categories are Performance, Design, Features, Support, Integrations, Security, and Revenue. Here are the most common ones provided on our standard Managed WordPress plan. Pick and choose the plugins that best suit your needs. 
Performance 
The performance-related plugins provided are as follows: 
Design
The design-related plugins provided are as follows: 


Features
The features-related plugins provided are as follows: 
Support
The support-related plugins provided are as follows: 
Integrations
The integrations-related plugins provided are as follows: 
Security
The security-related plugins provided are as follows: 


Revenue
The revenue-related plugins provided are as follows: 
More Details About Licensed Nexcess WordPress Plugins 
You can view descriptions for the plugins provided with our Managed WooCommerce and Managed WordPress plans in the Nexcess WordPress Plugins and Their Configurations article.
Besides being able to install plugins with the click of a button, the Nexcess MAPPS MU Plugin can do so much more. The Nexcess MAPPS MU Plugin features also include Page Cache and Performance Monitoring, helping you develop and customize your WordPress site to the next level. 


Full-Page Cache 

The Nexcess MAPPS PU Plugin has been integrated with a full-page cache. This eliminates the need for extra fluff or external plugins that might blog down your system. For example, you could use the Integrated Page Cache instead of the Cache Enabler plugin. Meaning you can now manage page caching directly from the Nexcess MAPP MU Plugin out of the box. You can manage these features, including enabling and disabling page cache via the options located at Nexcess > Page Cache within WP Admin. 


Performance Monitoring 

The Nexcess MAPPS MU Plugin also comes outfitted with a Performance Monitor where you can view automated performance tests to run daily on your site. It will display test results at the top of the page and make recommendations on how you can improve your site performance.
 
How to Customize WordPress Plugins

There are times when you can't seem to find the right plugin to do the job. Or you will have a plugin that could use a little tweaking to fit your needs better. Welcome to the world of plugin customization!


Create a Backup Plan

It's important to note that plugin customization is not for the faint of heart. You want to make sure you are making a backup before implementing any changes to your site. You will probably also want to start in a development environment to ensure you are not creating downtime for the site or customers. 
If this is your first time customizing a plugin and you want to get your feet wet, reach out to your plugins developer and see if you can collaborate. That way, any changes you implement may improve the product for everyone. For example, ask if a new feature can be added or an old one removed. You also have the option of hiring a developer to create a supporting plugin to extend the current plugin's features and functionality. 


Hooks, Actions, Filters, & Callbacks

If you're ready to dive in, then usingf Hooks, Callbacks, Actions, and Filters can make your plugins work for you! It's recommended that you do not edit your theme or plugin files directly. Instead, you want to create a child theme or use a plugin like the StoreCustomizer/WooCustomerizer Plugin that is a little more forgiving if it's your first time. 


Hooks 
WordPress customer development tools such as Hooks are a way for one piece of code to complement and work in harmony with another piece of code simultaneously. For example, this how plugins and themes talk to each other or "hook in" with WordPress core code. 
There are two different types of Hooks called Actions and Filters. 


Actions (Action Hooks)

Actions perform a given task. They can change how WordPress behaves and allow you to add data using your PHP code. However, they do not return any data back. Their purpose is to perform an action. There are a lot of predesigned Actions available within WordPress. They will allow you to set variables and integrate your code. 


Filters (Filter Hooks)

Filters do return data. They can also accept variables and return them. They can then send that modified data to the user. You can use them to affect how content is displayed on your site. However, they are not meant to change global variables. To leverage Filters use the add_filter function. 
Callback
A Callback is a function that is created to run after the action it is hooked to is set to run. They provide a way for running a function at a specific time during the execution of your themes, core data, or plugins. 


Below is an example using the add_action function:



To review existing Action Hooks created by WordPress, you can use the corresponding WordPress code reference page. You can use Action Hooks, or you and your development team can create your own. 
How to Customize your WordPress Nexcess MAPPS MU (Must-Use) Plugin Using Hooks

Let's use what we know. Below are some simple WordPress Filters you can use with our Nexcess MAPPS MU Plugin. Please create a backup before you make any changes to test these features out first before committing. Everyone's setup is different so remember to use what works for you. Be sure you're reading the comments above each function to get a clear idea of what it does.


Customizing WordPress Nexcess MAPPS MU (Must-Use) Plugin Behavior

Should you need to hide or disable Nexcess MAPPS MU Plugin features, use the following Filters:

If you need to hide some select templates from the Nexcess MAPPS MU Plugin, use the following Filters:

If you need to override Individual Nexcess templates with your own, use the following Filters: 


Override Default Visual Regression URLs
This section discusses the Managed WordPress feature in which we take a snapshot of each site before an automatic system update is made in our environment. That can be a theme, plugin, or PHP update. You can tweak which pages are captured in the snapshot at Nexcess > Dashboard > Visual Comparison screen in WP Admin. Should you wish to turn these regression URLs off, use the following Filter:

It's important to note that this Filter will only override the default regression URLs. Once a site has provided custom URLs, its values are stored in and read from the "nexcess_mapps_visual_regression_urls" area.


Extending the 
Nexcess MAPPS MU (Must-Use) Plugin 
See the Building on Nexcess MAPPS article to understand the details involved with extending the Nexcess MAPP MU Plugin: 
Building on Nexcess MAPPS

Thank you for choosing to build on Nexcess Managed Applications (MAPPS)!
 
This document is designed to explain the Nexcess MAPPS Must-Use (MU) Plugin and how it integrates with our platform, as well as outline the hooks provided by the MU plugin for customers who require more control. 

What is the MU Plugin? 

The Nexcess MAPPS MU Plugin is designed to be a central place for all of Nexcess' customizations to WordPress at the application level. From cache configurations to the custom dashboard, this MU plugin is the entry point for everything Managed WordPress/WooCommerce. 

The MU plugin is maintained by the Managed Applications Product Team within Liquid Web/Nexcess, with new releases about once a month. Our systems automatically update the MU plugin, so every site on our network will be running the same version of the plugin. 

Extending the MU Plugin 

Considering the amount of functionality in the MU plugin and the fact that it's guaranteed to be present on sites running on Nexcess' Managed WordPress/WooCommerce plans, it may be tempting to (for instance) extend a class define within the MU plugin for your own purposes. 

However, it is not advised to rely on any existing APIs declared within the MU plugin, as these may change at any time. 

The exceptions to this rule are the hooks outlined in this document, to which we commit to supporting for the foreseeable future.


What to Do When WordPress Plugin Customization Goes Wrong

You've made a backup and run tests but still can't seem to get that plugin to work how you want it. Or even worse, you're faced with the dreaded white screen of death. The first step is not to panic. A PHP error usually causes this. If you just made a change, go ahead and undo it. If you made a backup of the plugin folder before edits you should grab a default copy. 
If you are not sure what is causing the issue, go ahead and start by disabling all your plugins. Then slowly, one at a time, turn them back on until you find the plugin responsible. If all seems correct, try increasing memory limits on your server and checking your file permissions. You want also to make sure your .htaccess file is correct. You can get to the root of the issue with a little backtracking usually.
As a fallback option, you always have those backups to pull from. It's a great idea to create your own backups, so they are as up-to-date as possible before you make any changes. But should the unthinkable happen and your backups are lost or unrecoverable, Nexcess and the Liquid Web family has your back! 
Our Managed WordPress platform takes nightly backups every 24 hours for 30 days on a separate drive so you can restore from. This is included free of charge to all our Managed WordPress  customers. Here at Nexcess and Liquid Web we want to provide you with all the custom plugin development tools you need so you can focus on your site-building activities. We try hard to be the Most Helpful Humans in Hosting!
Further Reading for Performance Tuning WordPress
In addition to the increase in site performance by regular WordPress maintenance of WordPress transients, you can see an increase in site performance by:
You can find answers to your other WordPress questions in our Nexcess Knowledge Base.
Useful WordPress Links for Developers & Admins
Consider Hosting with Nexcess
Hosting optimized for the industry's leading platforms, including Managed WordPress Hosting, Managed WooCommerce Hosting, and Managed Magento Hosting:


Build Better Sites and Stores With Fully Managed Hosting from Nexcess 

Faster Speeds, Stronger Security, Inherent Scalability and Trusted Support.


Our range of hosting plans caters to any business scale. We do all the heavy lifting for you to focus on growing your business. In addition, we automatically update ore components and plugins to the latest version and ensure your hosting environment is properly optimized, secured, and updated.
Nexcess infrastructure was specially designed to keep up the best speed and performance in the industry. No traffic surge can threaten your website to go down thanks to our autoscaling technology which adds more resources to your server to handle the load. In addition, we offer always-on security monitoring and support from web hosting experts 24/7/365 and a built-in CDN with 22 locations and advanced caching for ultra-fast loading.

All hosting plans include The Nexcess 30-Day Web Hosting Money Back Guarantee.
Need a No-Code Website Building Solution? 
Are you on an accelerated schedule and already ready to move forward? If you need to get started with your Nexcess StoreBuilder Solution sooner rather than later, check out these resources:



Next Steps with a Nexcess Cloud Hosting Solution?
Read more about the Fully Managed Cloud Environment by Nexcess and its benefits for your business.


A Cloud Hosting Solution That Lets You Do Business Your Way 

We believe in the promise of cloud: scalability, security, performance, and ease of use. Together with our team, clients, and partners, we've built something better.


Choose From Multiple Applications 

Whether you're a small business or a high-traffic eCommerce store, our cloud hosting solutions are designed around your needs: auto scaling, PCI compliance, and comprehensive development tools provide you with maximum dynamic flexibility in a fully managed cloud environment.


We make applications easy with environment optimizations for:
And there are many more!
Next Steps with Fully Managed WordPress Hosting?
Read more about the Fully Managed WordPress Hosting and its benefits for your business.
Build Better Websites with Fully Managed WordPress Hosting 

It's hosting optimized for WordPress. That means a faster, more secure and scalable website. Smart monitoring tools are built-in to help you keep it that way. 

It's why WordPress Users Trust Nexcess Hosting.
We also have a variety of Nexcess support articles about WordPress, including how to get your site going with a number of different configuration options. These resources include a great article on setting this up for migrating to Nexcess with managed WordPress and managed WooCommerce hosting. 
Considering Use of a CDN?
Many businesspeople wonder how a CDN speeds up your ecommerce site, but they will discover that the reasons are remarkably straightforward. Review the content, resources, and links in this article to learn more about those reasons in full detail.  
24-Hour Assistance
If you need any assistance with the above-mentioned, don't hesitate to reach out. For 24-hour assistance any day of the year, Nexcess customers can contact our support team by email or through your Client Portal.
Why Choose Nexcess?
Because we're different! Chris Lema captures "the why" in his passionate and stirring recount of a Nexcess support-related story.
Useful YouTube > Nexcess Channel Links
Resources for More Information
Need more help? The Applications, WooCommerce, and WordPress sections within the Nexcess Knowledge Base are important resources for those seeking additional knowledge. 

The Applications section also contains valuable insights for those seeking additional knowledge about our other various hosted applications and platforms. Check out our related video playlists and articles below:


New Customers: Fully Managed Hosting Solutions
Not a Nexcess customer yet? Check out our fully managed hosting solutions. The option to chat with an expert is also available.
Related Articles