Nexcess has your back! The WooCommerce Automated Testing feature can proactively keep your website more reliable by identifying issues to fix daily for you!


How to Use the WooCommerce Automated Testing Feature
Making sure your WooCommerce store is working correctly can be a pain -- manually testing all the essential features on a daily basis is a chore that almost no one wants to make time for. The thing is, testing is mission-critical for e-commerce sites, and staying on top of the results can mean the difference between success and failure. 
Nexcess has your back. 
We include WooCommerce Automated Testing at no additional charge for all Managed WordPress and WooCommerce sites. This feature will allow you to focus on selling your products without having to worry whether a customer can add a product to your cart, whether your checkout is loading as expected, or whether the product is purchased from your site. Even better, it's all automatic and it just works. 
To access the new WooCommerce automated testing feature that is provided for free on your Managed WooCommerce plan you will need to be in wp-admin:
Nexcess > Dashboard > WooCommerce Automated Testing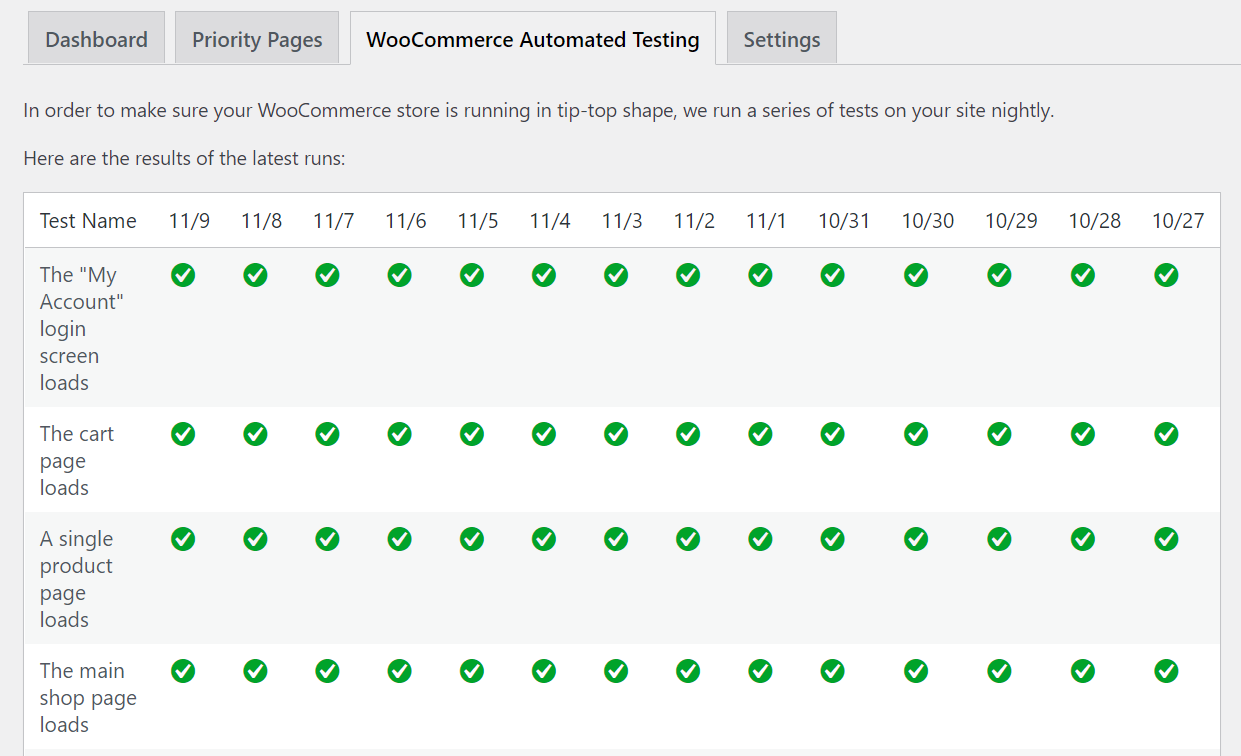 The tests that the WooCommerce automated testing feature will run on your Managed WooCommerce site are the following:
Customers can log in
The cart page loads
A single product page loads
The main shop page loads
A customer can add a product to their cart
A customer can reach the checkout page
A customer can checkout as a guest
A registered customer can checkout
The tests will run daily on your site and then will display in the WooCommerce automated testing page in wp-admin. WooCommerce Automated Testing will not affect your store's inventory since it uses a hidden product for testing. Payment testing will use the Stripe test payment gateway so it will not cause any impact to your store reporting or revenue. A single test product will be created on your site along with an admin user to that the WooCommerce Automated Testing can run on your site.
The WooCommerce automated testing feature can be enabled and disabled in the Nexcess dashboard.


Nexcess > Dashboard > Settings



Does Having WooCommerce Automated Testing Running Change the Data in Google Analytics?

If a WCAT user has been used as is required for the setup of the automated testing feature that runs once a night, then when interpreting the pageview data in Google Analytics, the viewer of the data should take into account that the traffic numbers are inflated by a small number of extra internal and system-generated pageviews per day:


Including the setup of the WCAT user is a requirement for the corresponding feature. If an admin deletes the automated testing user, it will break the associated WCAT functionality. 
Resources for More Information
The WooCommerce automated testing feature can not be used on a multisite running WooCommerce. Need more help? The Applications > WooCommmerce sections within the Nexcess Knowledge Base are important resources for those seeking additional knowledge. Or, check out our links and related articles below.

Useful Links
Support: 24-Hour Assistance

For 24-hour assistance any day of the year, Nexcess customers can contact our support team by email or through your Client Portal.
New Customers: Fully Managed Hosting Solutions
Not a Nexcess customer yet? Check out our fully managed hosting solutions. The option to chat with an expert is also available. 
Related Articles