Which ecommerce platform is best for your online store, WooCommerce vs. Squarespace? Let's compare their strengths and weaknesses to arrive at the decision.
WooCommerce vs. Squarespace
As we enter a new era of digital dominance, we have established that the future of business is ecommerce. Business with ecommerce has been made easy to handle, but with all this ease comes other variables. For instance, where do I sell my products? There are various platforms where you can create an online store. But do you know which ones are the best for you? And of the two leaders in the space, do you know which platform might be ideal for your business scenario? 

If you're a beginner with regard to building online stores, you have come to the right place. This article will discuss all the pros and cons of the WooCommerce and Squarespace ecommerce platforms. By the end of this article, you will know which one is the best for you. 
What Percentage of Websites Use WordPress in 2022?
According to the leading authority, W3Techs (w3techs.com), and their technology surveys, WordPress is used by 43% of all websites in 2022. Furthermore, WordPress is used by 64% of all websites that use a Content Management System (CMS) in 2022. These statistics confirm the foundational role that the WordPress platform serves with regard to the world's websites and CMSs.
Why Do People Migrate from Squarespace to WordPress for Web Hosting?
- Squarespace is a closed platform. 

- Squarespace is not customizable. 

- Squarespace is more expensive than WordPress. 

- Squarespace is more cumbersome to manage than WordPress. 

- Squarespace is less suited for bloggers than WordPress because it lacks autosave and versioning features. 

- Squarespace cannot leverage the speed and performance gains from the power/scale hosting provider's infrastructure. 

- WordPress is an open platform. 

- WordPress offers more flexibility and control. 

- WordPress offers more capabilities with a variety of plugins that extend functionality tremendously. 

- WordPress offers more SEO potential, allowing your website to be found and ranked higher by Google in the SERPs. 

- WordPress offers more optimal ecommerce potential.

- WordPress offers more international features and support.
WooCommerce vs. Squarespace: Overview
WooCommerce can be defined as one of the most popular open source ecommerce platforms globally. It is a plugin for WordPress. Using the plugin, you can convert any WordPress website to an online ecommerce store. WooCommerce offers many helpful features, like order tracking, customer engagement, delivery status updates, inventory management, and more. With over 27 million downloads to date, WooCommerce powers 99% of all WordPress stores. WooCommerce has a low degree of difficulty. It's easy to use for beginner site owners. 
Founded in 2003, Squarespace is a platform that helps you build websites. It offers users to create websites with prebuilt templates. Don't know a thing about coding yet want to make a website? Squarespace has got you covered. Nonetheless, it is not free as WooCommerce. There are Squarespace pricing plans that you can subscribe to according to your preference. 
WooCommerce vs. Squarespace: Comparison
Now comes the most crucial part, that is, to compare both platforms. First, let's take a look at the essential aspects that should be considered. 
WooCommerce vs. Squarespace: Getting Started & Ease of Use
Getting started with WooCommerce is very easy if you already have a WordPress account. It is a free plugin. You have to click on the Plugins > Add New option. Then, search for WooCommerce and install it. If not, you must buy a hosting service and domain name before getting started with WordPress. After that, you can customize your store any way you like with WooCommerce Themes. And voilà! You're good to go!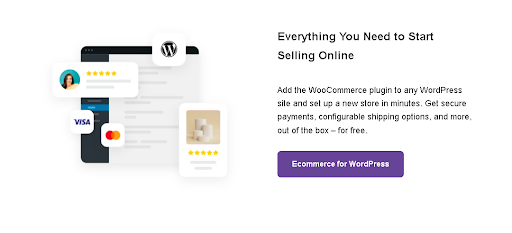 Source: https://woocommerce.com/?aff=17277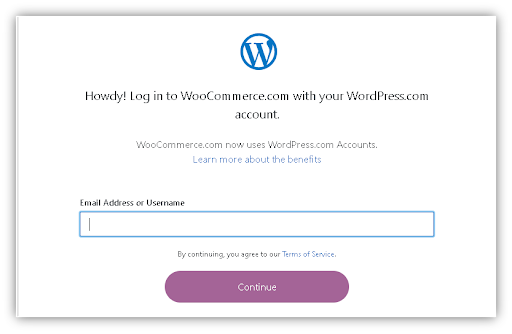 Source: https://wordpress.com/log-in?client_id=50916&redirect_to=https%3A%2F%2Fpublic-api.wordpress.com%2Foauth2%2Fauthorize%3Fresponse_type%3Dcode%26client_id%3D50916%26state%3Deca0ba049fd9be032f18c165870191c88e92243093651ed0c96c93061382316b%26redirect_uri%3Dhttps%253A%252F%252Fwoocommerce.com%252Fwc-api%252Fwpcom-signin%253Fnext%253Dmy-dashboard%26blog_id%3D0%26wpcom_connect%3D1%26wccom-from%3D%26calypso_env%3Dproduction

Squarespace makes getting started relatively easy. The process is straightforward. You create an account, log in and choose the template you like. Add or transfer your domain name. You can start your free trial or subscribe to any package. Add products to your online store and start selling.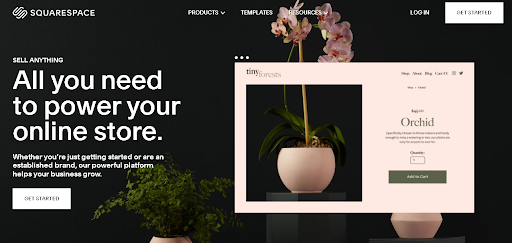 Source: https://www.squarespace.com/ecommerce-website
WooCommerce vs. Squarespace: Templates
WooCommerce offers the user several WordPress themes, many of them designed for WooCommerce. These themes are divided into two categories, free and paid. The paid themes are reasonable and very up to date. You can also customize your template according to your needs.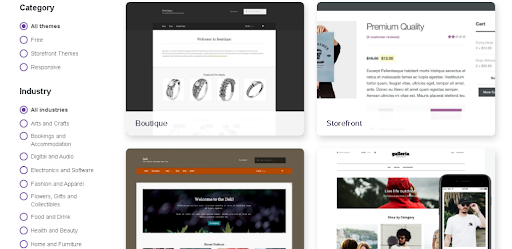 Source: https://woocommerce.com/product-category/themes
Squarespace has unique and advanced template options. But Squarespace themes, unlike WooCommerce, are minimal. Users don't get much flexibility with only ten templates to choose from.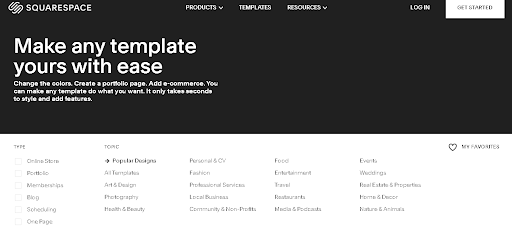 Source: https://www.squarespace.com/templates
WooCommerce vs. Squarespace: Pricing
When it comes to choosing an ecommerce platform for your online store, pricing is undoubtedly an essential factor. However, how to manage your store in your budget is the key. 
WooCommerce is an open source WordPress plugin. It's completely free to create an online store. Though, things like the domain name, a reliable hosting service, and an SSL certificate will cost you. Other than that, if you select a paid theme for your store, you'll have to pay for it. But, overall, the services provided to create an online store are free! 
Squarespace falls a little behind in this factor. Unlike WooCommerce, it is a paid website builder. There are two types of Squarespace pricing plans; the Basic Plan costs you $26/month if you pay annually. It includes unlimited products, gift cards, customer accounts, analytics, and much more. In comparison, the Advanced Plan costs you $40/month if you pay annually. It includes sell subscriptions, abandoned cart recovery, advanced shipping, advanced discount, and more.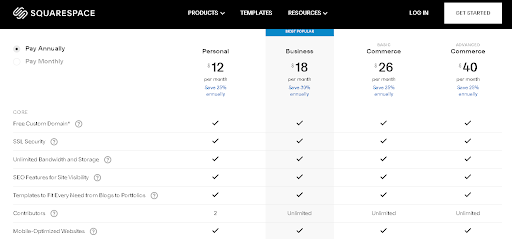 Source: https://www.squarespace.com/pricing
WooCommerce vs. Squarespace: Options for Payment

WooCommerce provides users with various checkout gateways. By default, customers have the ease of offline payment through bank transfers, checks, and COD. It also accepts payment through major debit and credit cards. In addition, WooCommerce offers 100+ payment options, including many free ones such as PayPal and Stripe.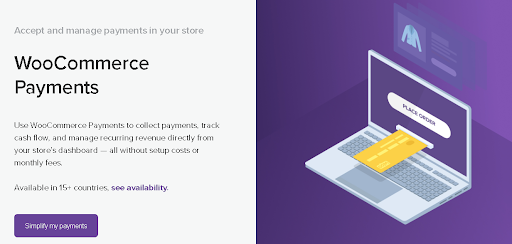 Source: https://woocommerce.com/payments/    
Squarespace allows customers to pay in person through the Squarespace app. It also offers online payment options, like Afterpay, Apple Pay, PayPal, and Stripe.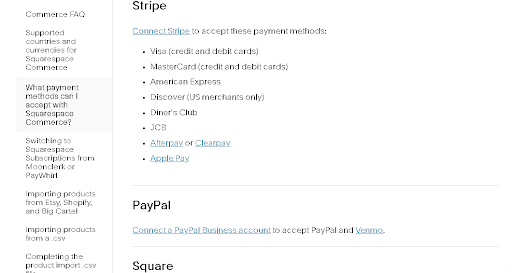 Source: https://support.squarespace.com/hc/en-us/articles/206541017-What-payment-methods-can-I-accept-with-Squarespace-Commerce


WooCommerce vs. Squarespace: Support

WooCommerce is a free WordPress plugin. Which means it is usually managed and maintained by an open-source group. There are people always trying to make the software better for you. WordPress provides its users a platform where they can find guides. These guides can help you with your problems. You can also see FAQs to tackle common issues. However, you can also buy Fully Managed WooCommerce Hosting for a professionally managed solution to avoid a whole host potential snags and pitfalls.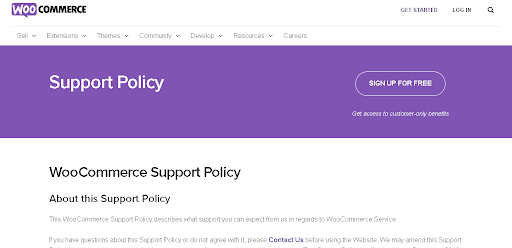 Source: https://woocommerce.com/support-policy/
Squarespace support is provided through their help center with a search box for entering your query. Also, with the help guide option, users can have tutorials on various topics, such as analytics, billing, and more.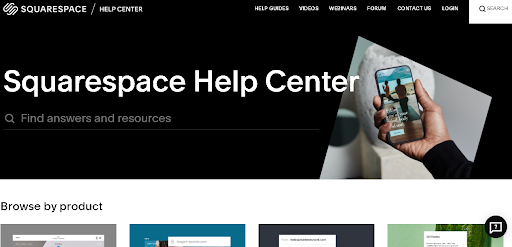 Source: https://support.squarespace.com/hc/en-us
WooCommerce vs. Squarespace: Seach Engine Optimization (SEO) Tools/Options

WordPress having an excellent set SEO tools/options a known fact. WooCommerce running on WordPress provides users with brilliant SEO features. It also has SEO plugins that help you boost your store's ranking. Squarespace SEO plugins do not exist due to the limitations of the platform. 


Yoast SEO, SEOPress, and Rank Math are some of them. Among WooCommerce users, Yoast SEO is the most popular SEO plugin. Customize keywords, meta title, meta description, slug, sitemap, image alt text, readability factor, and much more.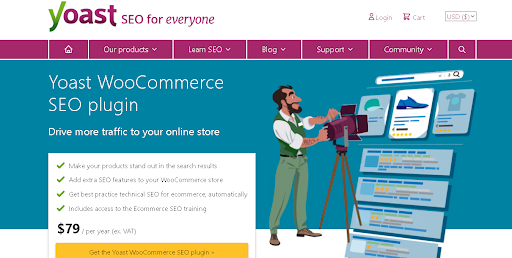 Source: https://yoast.com/wordpress/plugins/yoast-woocommerce-seo/

In the final assessment, the is no Squarespace SEO plugin because Squarespace does not use plugin. Rather, as a closed platform, all the features of the platform must be "baked" into it, including SEO features. The Squarespace SEO tools provided for their users are quite good. With built-in SEO features, it helps your store rank high in no time. However, unlike WooCommerce, it has np capability for plugins and extensions. The options are limited but fairly advanced.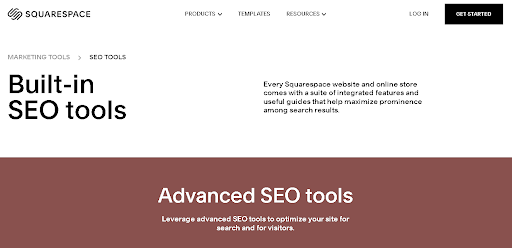 Source: https://www.squarespace.com/marketing/seo
| | |
| --- | --- |
| Equivalent Squarespace SEO Plugin = None | Yoast SEO |
| Equivalent Squarespace SEO Plugin = None | SEOPress |
| Equivalent Squarespace SEO Plugin = None | Rank Math |
| Equivalent Squarespace SEO Plugin = None | All in One SEO Pack |
| Equivalent Squarespace SEO Plugin = None | Jetpack |
| Equivalent Squarespace SEO Plugin = None | All In One Schema Rich Snippets |
| Equivalent Squarespace SEO Plugin = None | The SEO Framework |
| Equivalent Squarespace SEO Plugin = None | SEO Squirrly |
| Equivalent Squarespace SEO Plugin = None | Broken Link Checker |
| Equivalent Squarespace SEO Plugin = None | WP Smushit |
WooCommerce vs. Squarespace: Conclusion & Who's the Best?
As ecommerce platforms, WooCommerce and Squarespace both stand tall with their essential factors and features. Both are unique in their way. 
Squarespace requires less effort but is quite pricey. For us, WooCommerce turns out to be the best option. You can save yourself some budget and revest those funds in your marketing spend. Furthermore. you can choose from almost unlimited themes, you can save 100+ options to pay through, and the list goes on and on! 
We hope this article helped you understand the features in more detail. Now you know the difference between WooCommerce and Squarespace. But, in the end, you have your ecommerce priorities and needs, and you can choose the one that works best for your project. 
There are a lot of pros and cons for each platform. We recommend WooCommerce as it is one of the most popular and easy-to-manage ecommerce platforms in the world. However, every WooCommerce store, new or already existing, needs a reliable hosting provider. Please read further! 
Consider Hosting with Nexcess
Nexcess is the perfect hosting provider for WooCommerce users. Our range of WooCommerce plans caters to any business scale. We do all the heavy lifting for you to focus on growing your business. In addition, we automatically update WordPress core and plugins to the latest version and ensure your hosting environment is properly secured.
Nexcess infrastructure was specially designed to keep up the best speed and performance in the industry. No traffic surge can threaten your website to go down thanks to our autoscaling technology which adds more resources to your server to handle the load. In addition, we offer always-on security monitoring and support from WooCommerce experts 24/7/365 and a built-in CDN with 22 locations and advanced caching for ultra-fast loading.
We highly recommend you use a Managed WooCoomerce Hosting provider so you can be sure your system is continuously optimized, secure, and up to date. Let us help you move from Squarespace to WooCommerce!
Getting Started with Fully Managed WooCommerce Hosting
Check out our Fully Managed WooCommerce Hosting plans to get started today.   and other promotions by Nexcess. They all include The Nexcess 30-Day Web Hosting Money Back Guarantee:


Create A Store Designed To Sell More



We've built a hosting platform optimized for fast, high performance, full-featured WooCommerce: 

Radically improve your site's load time 
Take advantage of premium plug-ins, included 
Get help any time from WooCommerce experts


Already Ready for Your New Nexcess WooCommerce Solution? 
Moving from Squarespace to WooCommerce? Are you on an accelerated schedule and already ready to move forward? If you need to get started with your Nexcess WooCommerce Solution sooner rather than later, check out these resources:
WooCommerce Automated Testing

For all WooCommerce websites and especially high-traffic websites, consider automated testing for WooCommerce to ensure all the critical parts are working as expected. The automated tests will run daily so that if anything does not work as expected, you can be notified right away.
The helpful Nexcess support team is ready 24/7 with any questions that you may have regarding your WooCommerce site.
Next Steps?
Ready to go from Squarespace to WooCommerce? Read more about the Fully Managed WooCommerce Hosting and its benefits for your business.


Fully Managed WooCommerce Hosting

Radically improve load times, keep secure and be ready to scale.

Smart Monitoring built-in to every WooCommerce plan ... FREE


We also have a variety of Nexcess support articles about WooCommerce, including how to get your site going with a number of different configuration options. These resources include a great article on setting this up for Migrating to Nexcess with managed WordPress and managed WooCommerce hosting. 
24-Hour Assistance
If you need any assistance with the above-mentioned, don't hesitate to reach out. For 24-hour assistance any day of the year, Nexcess customers can contact our support team by email or through your Client Portal.
Squarespace top WooCommerce: Why Choose Nexcess?

Because we're different! Chris Lema captures "the why" in his passionate and stirring recount of a Nexcess support-related story.


Useful YouTube > Nexcess Channel Links
Resources for More Information
Need more help? The Applications, WooCommerce, and WordPress sections within the Nexcess Knowledge Base are important resources for those seeking additional knowledge. The Applications section also contains valuable insights for those seeking additional knowledge about our other various hosted applications and platforms. Check out our related video playlists and articles below:


Our team can help you move from Squarespace to WooCommerce!

New Customers: Fully Managed Hosting Solutions
Not a Nexcess customer yet? Check out our fully managed hosting solutions. The option to chat with an expert is also available.
Related Articles