As a website owner, you have most likely found yourself in a situation where a backup was needed after your website crashed and had to be restored somehow.
Manual Web Hosting Backups for Nexcess Cloud Plans
All Nexcess plans include free daily web hosting backups that will automatically be stored for 30 days on a remote backup server. Nexcess Backup Policy ensures that, but ultimately clients still assume responsibility for data integrity, retention, security, backup, and ownership. That is why it is a good idea to have a recent web hosting filesystem's backup saved locally or on the server you are hosting the site on. 
What is a Backup in Web Hosting?

A backup in web hosting is a copy of your website's content such as webpages, images, files, and databases from you may restore the website to a specific point in time, based on the time at which the backup copy was made.

The backup can be stored locally on a computer, on an external hard drive, or in the cloud and insurance in case something goes wrong.


How Long Should My Daily Website Backups Be Kept?

Most experts agree that daily incremental website backups plus a full monthly backup should be kept for three months.

Website backups made for different reasons may have different retention requirements. Backups should be kept long enough to recover from various potential problems based on the history of how quickly those problems are normally detected.


Nexcess Web Hosting Plans
There are quite a few different Nexcess web hosting plans, and they all allow the user to create manual web hosting backups as well, in addition to the already existing automated daily backups. These manually created web hosting backups can be left on the server where they will be visible in the Nexcess Client Portal and will be using a part of disk space allocated to each plan. On the other hand, daily backups do not count against the account quota.
If you are not an entirely new website owner, you have most likely found yourself, at least once, in a situation where a good backup was needed after your site crashed. It might have been something minor, like a change in the site's appearance that would not go back to what it was no matter what you did. However, it also could have been something major, like a plugin update or even a Content Management System (CMS) update that made your site unrecognizable or just threw a fatal error. Of course, resolving the error was important, but getting the site to its previous stable and accessible state was more important. That's where the backups kick in and are the most important. It is always a good idea to create a manual backup before making any changes to the site. That way, you will ensure all the posts or products you recently added are in place and accessible as soon as possible. 
WordPress Backups
WordPress sites can be backed up using any of the vast numbers of WordPress backup plugins. These backups can be stored on the web hosting server or downloaded onto a local machine. Backups for WordPress sites can also be created manually. 
Nexcess Cloud Hosting Plans
Flexible Cloud Hosting Plans allow you to create manual backups in two ways. Here, we will guide you on creating a backup in the Control Panel of your Nexcess Cloud Plan. 
Step #1: Access the Cloud Account Dashboard
Log in to your Nexcess Portal. If you do not know your password, click Forgot Password? on the login page.
Nexcess Client Portal
Log in to your Nexcess Client Portal and pick the product plan you have with Nexcess. See the Nexcess Client Portal Guide for further guidance on using all the features of the portal:



From the Home page, click Plans > Name of the Flexible Cloud plan > Control Panel: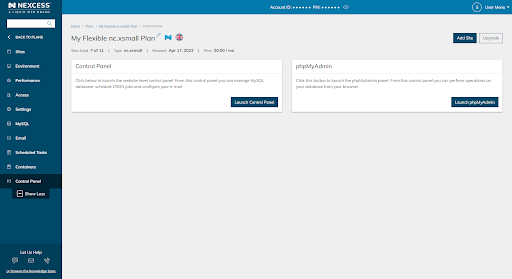 Step #2: Launch Control Panel
Control Panel will look much different from the Nexcess Portal and will have some additional settings that are not implemented in the Portal: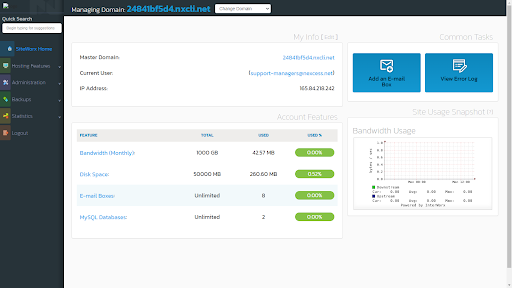 Step #3: Backups 
Click on the Backups section, and then on Backup Now: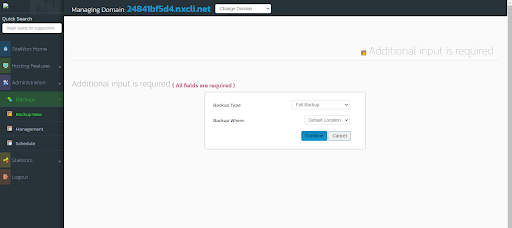 Step #4: Choose the Backup Type
A full backup creates a backup of the site files and the database.

A partial backup will prompt you for the part you wish to back up.

The location of the backup should be set to a default location so that it does not get recursively backed up in newer manual backups if it is kept on the server for a more extended period of time.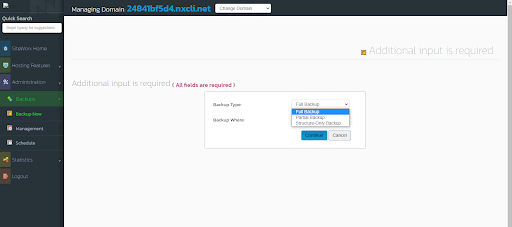 Step #5a: Full Backup
If you selected the full backup option, you would be prompted to choose single or multi-domain backup. Single domain backup will create a backup of site files, emails, and the database of the managing domain listed on top of the screen. Multi-domain backup will back up files, databases, and emails for all the sites on the plan: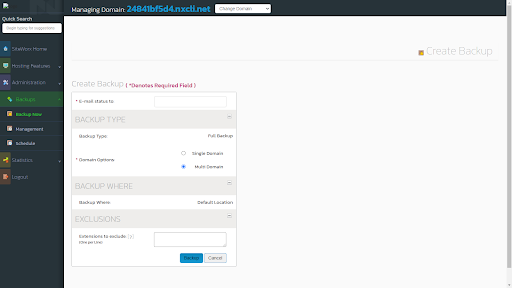 Step #5b: Partial Backup
If you selected a partial backup, you would be prompted to choose what to back up — site files, emails, or databases (or any combination of those options):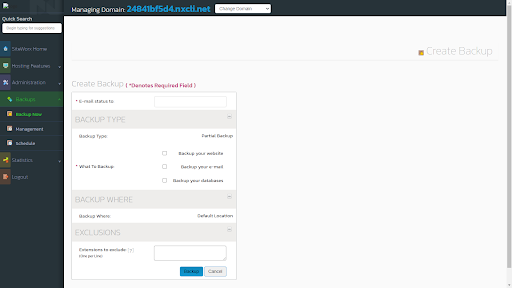 Step #6: Completed Backups
Once you have clicked the Backup button, the backup process will begin. You can track its progress in the Backups > Management section. Once done, you will see a list of created backups in the Management section: 


Here, you will be able to download the backup you wish by clicking on the name of the backup file. If you do not want to keep it on the server anymore, this is where you will be able to delete them as well. 
Conclusion: Manual Web Hosting Backups
Many remote backup solutions are a great solution if you are planning to have remote backups for redundancy purposes. However, those could be pricey as well. Nexcess Cloud Plans allow manual creation of full account backups to be kept locally on the server for quicker accessibility. However, for additional security, those can be stored elsewhere if so desired.
Whether you have an online store, or a blog, having a reliable partner for your business is necessary to make any task more manageable. Our Flexible Cloud Plans are scalable, stable, and managed. They are a unique product that allows the hosting of multiple CMSs or environments on a single plan. In addition, our extensive Nexcess Knowledge Base and a heroic support team provide valuable coverage 24 hours a day, 7 days a week, 365 days a year (and 366 days a year on leap years).
Consider Managed Hosting with Nexcess
Nexcess provides the needed level of automation to all routine website administration tasks that require technical knowledge and skills. Our Nexcess Client Portal is specifically designed to help website owners manage all technical aspects of their hosting plans leveraging a highly intuitive and user-friendly interface.
Our fully managed hosting plans are optimized for the chosen platform to provide you with the best approach to website hosting. Enhanced security, better performance, high flexibility, and great scaling options for a reasonable price are just some of the benefits a website owner gets by choosing one of the Nexcess Managed Hosting Plans.
Managed Applications with Nexcess
Hosting optimized for the industry's leading platforms including Managed WordPress Hosting,  Managed WooCommerce Hosting, and Managed Magento Hosting: 


Build Better Sites and Stores With Fully Managed Hosting from Nexcess 

Faster Speeds, Stronger Security, Inherent Scalability and Trusted Support.


Our range of hosting plans caters to any business scale. We do all the heavy lifting for you to focus on growing your business. In addition, we automatically update ore components and plugins to the latest version and ensure your hosting environment is properly optimized, secured, and updated.
Nexcess infrastructure was specially designed to keep up the best speed and performance in the industry. No traffic surge can threaten your website to go down thanks to our autoscaling technology which adds more resources to your server to handle the load. In addition, we offer always-on security monitoring and support from web hosting experts 24/7/365 and a built-in CDN with 22 locations and advanced caching for ultra-fast loading.

All hosting plans include The Nexcess 30-Day Web Hosting Money Back Guarantee.
We also have a variety of Nexcess support articles about how best to implement our product offerings housed in the Nexcess Knowledge Base, including how to get your site going with a number of different configuration options. These resources include a great article on setting this up for Migrating to Nexcess with managed WordPress and managed WooCommerce hosting. 
Need a No-Code Website Building Solution? 
Are you on an accelerated schedule and already ready to move forward? If you need to get started with your Nexcess StoreBuilder Solution sooner rather than later, check out these resources:
24-Hour Assistance
If you need any assistance with the above-mentioned, do not hesitate to reach out. For 24-hour assistance any day of the year, Nexcess customers can contact our support team by email or through your Client Portal.
Why Choose Nexcess?
Because we are different! Chris Lema captures "the why" in his passionate and stirring recount of a Nexcess support-related story.
Useful YouTube > Nexcess Channel Links
Resources for More Information
Need more help? The Website Management > .htaccess, and Scripts, Cron Jobs, Reports and Monitoring, IP Management, and Dev Sites sections within the Nexcess Knowledge Base are important resources for those seeking additional knowledge. The Applications section also contains valuable insights for those seeking additional knowledge about our other various hosted applications and platforms. Check out our related video playlists and articles below:


New Customers: Fully Managed Hosting Solutions
Not a Nexcess customer yet? Check out our fully managed hosting solutions. The option to chat with an expert is also available.
Related Articles