Grow your business by listing your products on Google Shopping with ease! Indeed, Google Shopping-WooCommerce integration is a snap! Read now to learn how!
Google Shopping & WooCommerce: Listing Products
More likely than not, you have searched for a product on Google and noticed a Shopping section. Maybe you've even wondered how you can get your products out there with Google Shopping. While there are many ways to market your online store, not many people utilize the Google Shopping-WooCommerce integration, which can give you an edge over the competition and bring a whole new audience to your store. 
We're going to be discussing the basics of Google Shopping-WooCommerce integration, which Google Shopping plugins there are for direct integration with WooCommerce, and how to easily manage and list the products on your WooCommerce-to-Google Shopping feed. Let's get started!


Google Shopping & WooCommerce Setup 

If you're not already familiar with the setup, we have an extensive set of guidance given in the Google Shopping with WooCommerce article to help you get started. Starting with creating your accounts, you'll need to take required four steps.


Google Shopping & WooCommerce Setup Step #1: Set Up Your Accounts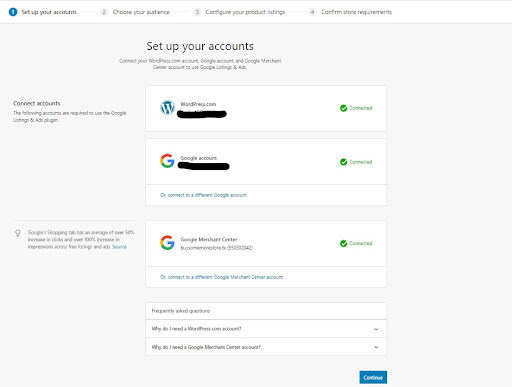 Google Shopping & WooCommerce Step #2: Choose Your Audience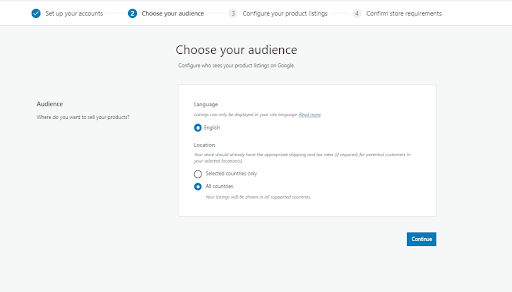 Google Shopping & WooCommerce Step #3: Configure Your Product Listings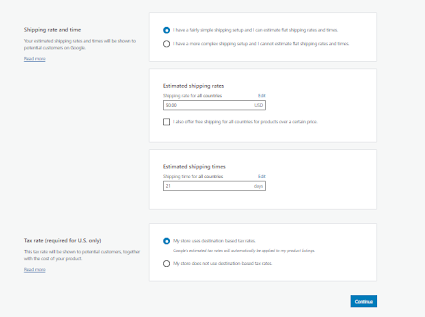 Google Shopping & WooCommerce Step #4: Confirm Store Requirements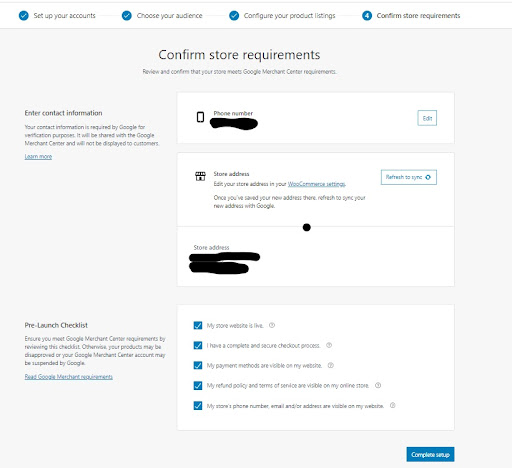 WooCommerce & the Google Shopping Feed 
A feed is a file containing a list of the products your store would like to list and advertise. If you'd like to manually create them one by one or import them from the export of your WooCommerce store in CSV or XML formatted files, you're free to do so! In addition, you can manage the list of attributes for the products and reuse the finished feeds for many other features Google Merchant Center has to offer. Google can even generate feeds for you using schema.org markups.
Your WooCommerce-to-Google Shopping feed is made to fit various types of retailers, so feel free to review and pick the kind that would best suit your needs:


Primary Feed (recommended) - These are the main sources that ideally contain a complete inventory of your items.

Supplementary Feed - These are used to update existing product data in Primary feeds.
For more technical users, there are also advanced options:


Multi-Source Feeds - Build a feed using product data from various sources.

Google Content API for Shopping - Allows developers to integrate their applications with Google Shopping Ads.

Regional product inventory feeds - Allows you to override your existing product data in the primary feed to show regional pricing or availability (currently only available in the United States, and beta sign-up in Germany, France, and Australia).
Google Merchant Center Interface
The interface is not only very clean and intuitive, but powerful, so even with little to no experience, you'll have no issues adding products into your feed. 
Google Merchant Center - Services to Promote Your Products

WooCommerce & the Google Shopping Plugins 
You may be thinking that all of this is useful but managing your products on two separate platforms may sound like it's a bit of a nuisance. Luckily, your Google Shopping-WooCommerce integration setup allows for a complete deep interoperability directly within your WooCommerce Administrator area using plugins! We'll discuss a few as well as their pros and cons.


Plugin Option #1: Google Listings & Ads
Google Listings & Ads is probably the best plugin out there to use for seamless integration and a variety of options. It allows you to run ad campaigns directly from your WooCommerce Dashboard. The products, once connected, will show up across Google Search, Google Images, and the Google Shopping tab with the free listings option, and in Gmail, YouTube, and the Google Display Network with Paid Campaigns. Want to know how your campaign is doing? The plugin automatically tracks and reports on clicks and impressions for your products. You can also get free customer support from the WooCommerce Plugin Team if you're stuck.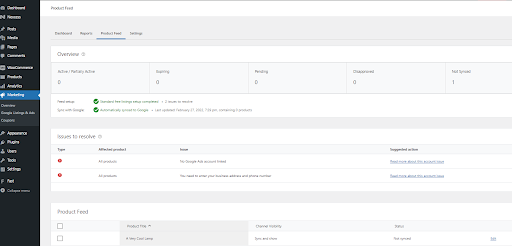 Description

Google Listings & Ads makes it simple to showcase your products to shoppers across Google. Whether you're brand new to digital advertising or a marketing expert, you can expand your reach and grow your business, for free and with ads. 

Sync your store with Google to list products for free, run paid ads, and track performance straight from your store dashboard. 

With Google Listings & Ads: 

– Connect your store seamlessly with Google Merchant Center. 
– Reach online shoppers with free listings. 
– Boost store traffic and sales with Smart Shopping Campaigns.
Google Listings & Ads Plugin Installation 
Log in to your WooCommerce Dashboard, navigate to the Plugins Menu > Add New.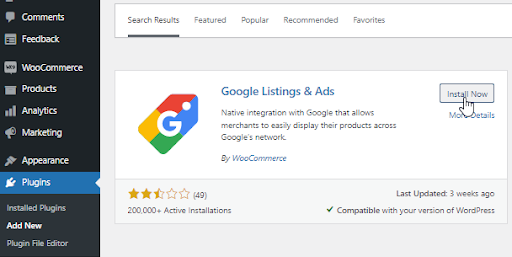 Once installed, you can immediately click on Activate, which will get you back on the plugin list. Next, you can either select Settings from the Plugins listing or navigate to Marketing > Google Listings & Ads. A WordPress.com account, Google Account, and Google Merchant Center Account will need to be linked for the plugin to work. If you run into any issues, the plugin will let you know what needs to be resolved and where to look to have the ads visible and synced with your Google Shopping-WooCommerce integration configuration.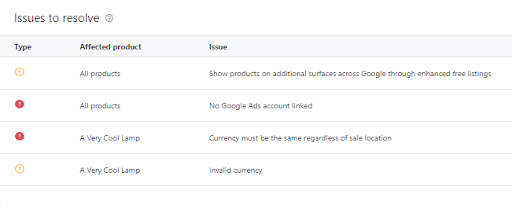 Plugin Option #2: Product Feed Manager – WooCommerce to Google Shopping, Facebook, Yandex, Etsy & More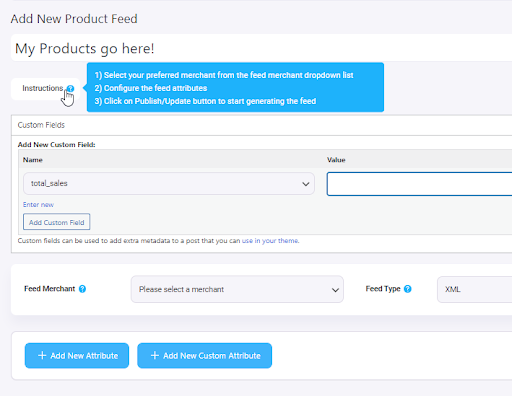 The Product Feed Manager plugin for Google Shopping-WooCommerce integration comes with a free and paid "Pro" version. The free version works flawlessly, making the setup as easy as possible with "How to" guides and "Common Troubleshooting" sections embedded in the Add New Feed section. The possibilities are nearly endless, with more than 170+ supported marketplaces if you're looking to maximize your online sales and expand your business across many other platforms, which is a logical next step. The paid "WPFM Pro" version comes with additional features, but the free version with a 50-product limit is a good place to start.
Product Feed Manager – WooCommerce to Google Shopping, Facebook, Yandex, Etsy & More
Description 

Generating your WooCommerce Product Feed was never this easy! 

Any marketplace you want to list your products on, you can generate an accurate product feed with your WooCommerce products in just a few clicks. 

Use pre-defined merchant templates to generate flawless feed for over 180+ merchants, including Google Shopping feed, Facebook Catalog feed, Yandex Market (YML), eBay, Instagram, PriceRunner, Rakuten, Vivino, BestPrice, Skroutz & many more.
Product Feed Manager Plugin Installation
Log in to your WooCommerce Dashboard, navigate to the Plugins Menu > Add New.

Once activated, you can find it in a separate menu on the left side of the WooCommerce Dashboard.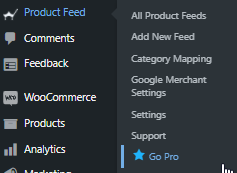 Setting it up is incredibly simple, and if you have any questions, you can refer to the articles in the "Add New Feed" section or reach out to their support team to get the necessary help.
Didn't find what you were looking for? Are you missing something, or did the scenarios covered in this article not suit your needs? Don't worry! There are hundreds of plugins to help you connect your Google Merchant Account for a successful Google Shopping-WooCommerce integration of your online store in ways you can only imagine! From making your life easier by managing the feeds automatically or on a schedule to expanding your reach with your branding and stores to previously unknown heights, marketing was never as easy and, best of all, completely free!
Consider Managed Hosting with Nexcess
Do you already have a store, but it's slow, or you're afraid of the traffic that might come with all the potential customers crashing your site? Check out our WooCommerce plans with built-in cloud autoscaling, CDN, and 24/7/365 heroic support. As a result, you'll be able to reach and handle more customers with ultra-fast loading, regardless of where they might be.

Want to Get Online in Minutes Using a Store Creation Wizard? Consider StoreBuilder by Nexcess!
Want to build an ecommerce site, but have no software development or coding background? 
We have a solution for you as well! StoreBuilder allows you to create a 100% unique store in mere minutes! So don't wait! Get started building your online store today!
Are you on an accelerated schedule and already ready to move forward? If you need to get started with your Nexcess StoreBuilder Solution sooner rather than later, check out these resources:


Other Hosting Options from Nexcess
Hosting optimized for the industry's leading platforms, including Managed WordPress Hosting, Managed WooCommerce Hosting, and Managed Magento Hosting:


Build Better Sites and Stores With Fully Managed Hosting from Nexcess 

Faster Speeds, Stronger Security, Inherent Scalability and Trusted Support.


Our range of hosting plans caters to any business scale. We do all the heavy lifting for you to focus on growing your business. In addition, we automatically update ore components and plugins to the latest version and ensure your hosting environment is properly optimized, secured, and updated.
Nexcess infrastructure was specially designed to keep up the best speed and performance in the industry. No traffic surge can threaten your website to go down thanks to our autoscaling technology which adds more resources to your server to handle the load. In addition, we offer always-on security monitoring and support from web hosting experts 24/7/365 and a built-in CDN with 22 locations and advanced caching for ultra-fast loading.

All hosting plans include The Nexcess 30-Day Web Hosting Money Back Guarantee.

Next Steps with a Nexcess Cloud Hosting Solution?
Read more about the Fully Managed Cloud Environment by Nexcess and its benefits for your business.


A Cloud Hosting Solution That Lets You Do Business Your Way 

We believe in the promise of cloud: scalability, security, performance, and ease of use. Together with our team, clients, and partners, we've built something better.


Choose From Multiple Applications 

Whether you're a small business or a high-traffic eCommerce store, our cloud hosting solutions are designed around your needs: auto scaling, PCI compliance, and comprehensive development tools provide you with maximum dynamic flexibility in a fully managed cloud environment.


We make applications easy with environment optimizations for:
And there are many more!
Next Steps with Fully Managed WordPress Hosting?
Read more about the Fully Managed WordPress Hosting and its benefits for your business.
Build Better Websites with Fully Managed WordPress Hosting 

It's hosting optimized for WordPress. That means a faster, more secure and scalable website. Smart monitoring tools are built-in to help you keep it that way. 

It's why WordPress Users Trust Nexcess Hosting.
We also have a variety of Nexcess support articles about WordPress, including how to get your site going with a number of different configuration options. These resources include a great article on setting this up for migrating to Nexcess with managed WordPress and managed WooCommerce hosting. 
24-Hour Assistance
If you need any assistance with the above-mentioned, don't hesitate to reach out. For 24-hour assistance any day of the year, Nexcess customers can contact our support team by email or through your Client Portal.
Why Choose Nexcess?
Because we're different! Chris Lema captures "the why" in his passionate and stirring recount of a Nexcess support-related story.
Useful YouTube > Nexcess Channel Links
Resources for More Information
Need more help? The Applications, WooCommerce, and WordPress sections within the Nexcess Knowledge Base are important resources for those seeking additional knowledge. 

The Applications section also contains valuable insights for those seeking additional knowledge about our other various hosted applications and platforms. Check out our related video playlists and articles below:


New Customers: Fully Managed Hosting Solutions
Not a Nexcess customer yet? Check out our fully managed hosting solutions. The option to chat with an expert is also available.
Related Articles