Glew Analytics and its automated dashboards provide insights into what is happening in your business, including revenue, conversion rates, and order values.
How Glew Analytics Helps WooCommerce Vendors Improve Thier Ecommerce Sales with Better Data Analysis
Glew Analytics is business intelligence software that can help an organization of any size. You'll be able to see insights into metrics like customer profitability, order management, supplier improvement, and much more.
What are The Benefits of Using Glew Analytics?
Glew Analytics has features to help you to increase revenue, grow customers with good retention, optimize your product line, and drive profitability with alerts, automation, and business insights.
Can You Export Data From Glew Analytics?
Yes, you can export any data table or segment found in Glew Analytics as a CSV File. Locate the Export as CSV button and click it. Upon doing so, your data set will be downloaded.
Analytics for Ecommerce
WooCommerce is a free and open-source ecommerce plugin for WordPress that was developed for small to medium-size online stores. It allows you to sell physical products, digital downloads, and services from your WordPress site.
Analytics include the collecting, storing, analyzing, and reporting on data to make business decisions. For example, analytics can be used in ecommerce by analyzing customer behavior on your website. They provide insights into what customers are looking for, what they like, and how they shop. This information can help you improve your conversion rates through better content strategy or design.
Leveraging Glew Analytics (Glew.io) AKA "Glew"

With Glew Analytics (Glew.io), also known as just "Grew" for short, ecommerce shop owners can see how their products perform in the WooCommerce marketplace. Glew provides the following product insights, including product performance across all categories: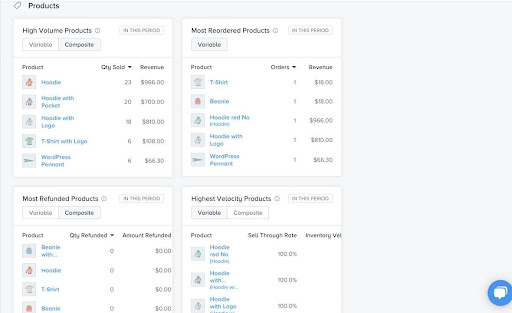 In addition, Glew provides the following sales insights, including sales performance like profit, margin, and revenue: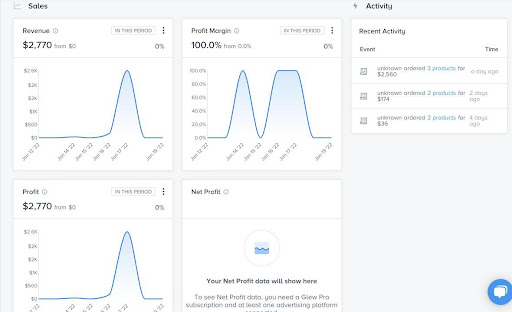 Furthermore, Glew provides the following order insights, including orders' performance, for example, the average order value, the number of items sold, and the number of refunds:



Managing & Growing Your WooCommerce Business
The first step to managing and growing your WooCommerce business is making sure you are maximizing your profits. You can make this happen by following best pricing, promotions, and product listing practices. In addition, if you want to grow your business, it's essential to know what kind of products sell well on the platform and how to optimize those products.
One of the most important goals you should always have as a business owner is customer satisfaction. Satisfied customers lead to higher retention rates and more repeat purchases.
But this is not all. You should be aware that your current hosting provider may not be capable of handling the demands of a modern website. You need to consider many factors before choosing the best hosting for your WooCommerce stores, such as traffic potential, server load, and customer service.
If you're short on time and want a reliable site, a Managed WooCommerce Hosting service might be ideal. Such services are customized for WooCommerce sites. In addition, a Managed WooCommerce Hosting service relieves you of the burden of managing your site's security and performance, and an SSL certificate protects your website from being hacked.
Tips on Growing WooCommerce Sales
We have compiled some tips on how to increase ecommerce sales.
Optimize your product page for conversion.

Focus on the customer experience.

Use social media to promote your products.

Use email marketing campaigns.

Conduct A/B Testing to find out what works best for your customers.

One of the most important things you need to do when trying to increase your ecommerce revenue is to keep track of your business. The best way to do this is by using an analytical tool like Glew.io, which monitors and analyzes your business, compares it with other similar companies and industries, and then recommends strategies to increase revenue.
Growing WooCommerce Revenue with Glew Analytics
With Glew.io, you can effortlessly monitor and analyze your online store and competitors' stores with graphs and charts designed to improve your business.
Why is Glew Analytics Important for WooCommerce Vendors?

Glew Analytics provides detailed performance analytics for your store and the competition. No matter the size of your business, ecommerce analytics enables you to compete successfully in today's fierce ecommerce marketplace easily.  
Glew Analytics will help you answer questions such as:
What are my most popular products?

What are the best-selling products in each category?

Which product categories have the best conversion rates?

Which product categories have the worst conversion rates?

How much revenue is being generated from each product category?
Using Glew.io to Understand Your Business Trends
Glew Analytics is a powerful tool for understanding what happened in your business. It helps you learn about the customer's journey and understand the purchases made. In addition, it provides insights into what is happening in your business, including revenue, conversion rates, and average order values.
Glew's automated ecommerce dashboards provide you with a detailed look at your marketing, sales, customers and products. With these insights, you can understand who your audience is, how they respond to different marketing channels, and what they are buying. This breadth of information provides you with the necessary data points for in-depth ecommerce analytics reporting.
It also helps you identify which marketing channels are driving conversion and how to improve your conversion rate.
This analytics software can help you measure the success of your marketing efforts in a single place. For example, you can see your Facebook, Google Ads, and other marketing efforts all in one place — no need to log into different platforms! This perspective offers a great way to measure the ROI of your marketing efforts.
Glew Analytics also assists with:
Identifying underperforming products

Those that need to be re-priced

Those that need to be restocked

Those that need to be discontinued
Implementing WooCommerce with Nexcess & Glew Analytics
As your business grows, so does your need for a high-quality web hosting solution. Managed WooCommerce Hosting by Nexcess guarantees security and offers world-class performance and incredible reliability. Feel free to give our Managed WooCommerce solution a free trial run! 
Glew Analytics can give you an overview of your WooCommerce store and lets you monitor and optimize it better. Glew Analytics provides a complete overview of all your store data, which you can use to make crucial business decisions.
With integrated Glew Analytics in Managed WooCommerce Hosting from Nexcess, you can zoom in on your cart page conversion rates, cart page abandonment rates, product page conversion rates, abandoned shopping carts, and more:


When it comes to online purchases, store owners regularly live without the data they need. After setting up Google Analytics, Managed WooCommerce Hosting on Nexcess further solves that problem for you by integrating your WooCommerce store with Glew.io. 

Glew helps you make the most out of the data you collect, so you can make the right decisions as your business grows. With this service, you get the most out of your customer data, and the work happens off site. This means all the data crunching never has a chance to impact the performance or speed of your store.


Top 10 Ways to Enhance WooCommerce Using Glew Analytics
Here are the top 10 ways to enhance implementation of WooCommerce with Glew Analytics:
Track your ROI from different marketing channels. You can track how much revenue each marketing channel brings in to know where to spend more time and money.

Identify trends in product performance. You can see which products are performing well to know what to focus on and potentially adjust your strategy or price point.

Use the 'Sales Per Hour' metric to determine which products are most successful.

Analyze how many times a product was viewed.

Use the 'Sales by Category' report to see which categories are doing well.

Research on how many times a customer visited your website.

Track conversion rates for each product type.

See all analytics reports in one place.

See many data visualizations such as pie charts, line graphs, and bar graphs to make it easy to understand your data.

Automatically sync with email marketing platforms to segment your audience to send targeted, personalized campaigns and messages.
Optimizing Your WooCommerce Store
Customer segmentation is to consider the needs of the different customer groups. The needs of each customer segment should be measured on the same scale so that each customer segment can be compared to the other segments. You can also identify which needs are most important to each customer segment and which resources are required to satisfy the needs of each customer segment.
Glew Segmentation Tool
Glew's segmentation tool is one of the most powerful tools for online businesses. It helps you to optimize your store by using different customer segments. Specifically, the segmentation tool lets you create customer segments based on purchase behavior, demographics, and psychographics. You can also use the data from your website to create customer segments.
Companies need to use a variety of segmentation tools to meet the needs of the company and its customers. Here are Glew segmentation tools:


Hierarchy Tree

TreeMap

3D TreeMap

Circular TreeMap

Matrix

Bar Graph

Pie Chart

3D Pie Chart

Polar Area Graph


Conclusion

Glew Analytics is a powerful analysis tool for WooCommerce that provides a quick and easy way to track your store's performance. It has been designed to make it as easy as possible for you to track all of your store's essential data to improve your store's performance.
Glew.io offers various analytics packages for WooCommerce vendors. These packages are priced based on how many products they track in their database, but they're also costly. Fortunately, Nexcess provides Managed WooCommerce Hosting plans that offer Glew.io as an included service.
Nexcess additionally offers a suite of features that make it the best WooCommerce hosting platform. Nexcess is a cloud-based hosting solution for WooCommerce websites. It provides a full range of features and services to help you manage your store with ease, from web design to security and marketing.
Nexcess is one of the most reliable hosting providers, and Nexcess offers a 99% uptime guarantee, free migration service, 24/7 support, and more than 15 data centers around the world.
We offer an innovative cloud hosting solution that provides WooCommerce store owners with all the resources you need to get started on the right foot.
WooCommerce Automated Testing 
For all WooCommerce websites and especially high-traffic websites, consider automated testing for WooCommerce to ensure all the critical parts are working as expected. The automated tests will run daily so that if anything does not work as expected, you can be notified right away.
The helpful Nexcess support team is ready 24/7 with any questions that you may have regarding your WooCommerce site.
Consider Hosting with Nexcess

Want to start your ecommerce journey or take your online business to a new level? Nexcess is here for you. We do not just provide hosting! We provide all the help you need to succeed! Our hosting plans are optimized for WooCommerce, WordPress, and Magento, with all the features included to help you create a unique representation of your business online. 
We will take care of all technical aspects to ensure your website is there for your customers 24/7. You no longer have to worry about performance, security, or scalability. Check out our Fully Managed WordPress Hosting Plans to get started today. 
Do you already have a store, but it's slow, or you're afraid of the traffic that might come with all the potential customers crashing your site? Check out our Fully Managed WooCommerce Hosting Plans with built-in cloud autoscaling, CDN, and 24/7/365 heroic support. As a result, you'll be able to reach and handle more customers with ultra-fast loading, regardless of where they might be.


Want to Get Online in Minutes Using a Store Creation Wizard? Consider StoreBuilder by Nexcess!
Want to build an ecommerce site, but have no software development or coding background? 
We have a solution for you as well! StoreBuilder allows you to create a 100% unique store in mere minutes! So don't wait! Get started building your online store today!
Are you on an accelerated schedule and already ready to move forward? If you need to get started with your Nexcess StoreBuilder Solution sooner rather than later, check out these resources:


Other Hosting Options from Nexcess
Hosting optimized for the industry's leading platforms, including Managed WordPress Hosting, Managed WooCommerce Hosting, and Managed Magento Hosting:


Build Better Sites and Stores With Fully Managed Hosting from Nexcess 

Faster Speeds, Stronger Security, Inherent Scalability and Trusted Support.


Our range of hosting plans caters to any business scale. We do all the heavy lifting for you to focus on growing your business. In addition, we automatically update ore components and plugins to the latest version and ensure your hosting environment is properly optimized, secured, and updated.
Nexcess infrastructure was specially designed to keep up the best speed and performance in the industry. No traffic surge can threaten your website to go down thanks to our autoscaling technology which adds more resources to your server to handle the load. In addition, we offer always-on security monitoring and support from web hosting experts 24/7/365 and a built-in CDN with 22 locations and advanced caching for ultra-fast loading.

All hosting plans include The Nexcess 30-Day Web Hosting Money Back Guarantee.

Next Steps with a Nexcess Cloud Hosting Solution?
Read more about the Fully Managed Cloud Environment by Nexcess and its benefits for your business.


A Cloud Hosting Solution That Lets You Do Business Your Way 

We believe in the promise of cloud: scalability, security, performance, and ease of use. Together with our team, clients, and partners, we've built something better.


Choose From Multiple Applications 

Whether you're a small business or a high-traffic eCommerce store, our cloud hosting solutions are designed around your needs: auto scaling, PCI compliance, and comprehensive development tools provide you with maximum dynamic flexibility in a fully managed cloud environment.


We make applications easy with environment optimizations for:
And there are many more!
Next Steps with Fully Managed WooCommerce Hosting?
Read more about the Fully Managed WooCommerce Hosting and its benefits for your business.
Fully Managed WooCommerce Hosting

Radically improve load times, keep secure and be ready to scale.

Smart Monitoring built-in to every WooCommerce plan ... FREE
We also have a variety of Nexcess support articles about WooCommerce, including how to get your site going with a number of different configuration options. These resources include a great article on setting this up for Migrating to Nexcess with Managed WordPress and Managed WooCommerce hosting. 
24-Hour Assistance
If you need any assistance with the above-mentioned, don't hesitate to reach out. For 24-hour assistance any day of the year, Nexcess customers can contact our support team by email or through your Client Portal.
Why Choose Nexcess?
Because we're different! Chris Lema captures "the why" in his passionate and stirring recount of a Nexcess support-related story.
Useful YouTube > Nexcess Channel Links
Resources for More Information
Need more help? The Applications, WooCommerce, and WordPress sections within the Nexcess Knowledge Base are important resources for those seeking additional knowledge. 

The Applications section also contains valuable insights for those seeking additional knowledge about our other various hosted applications and platforms. Check out our related video playlists and articles below:


New Customers: Fully Managed Hosting Solutions
Not a Nexcess customer yet? Check out our fully managed hosting solutions. The option to chat with an expert is also available.
Related Articles