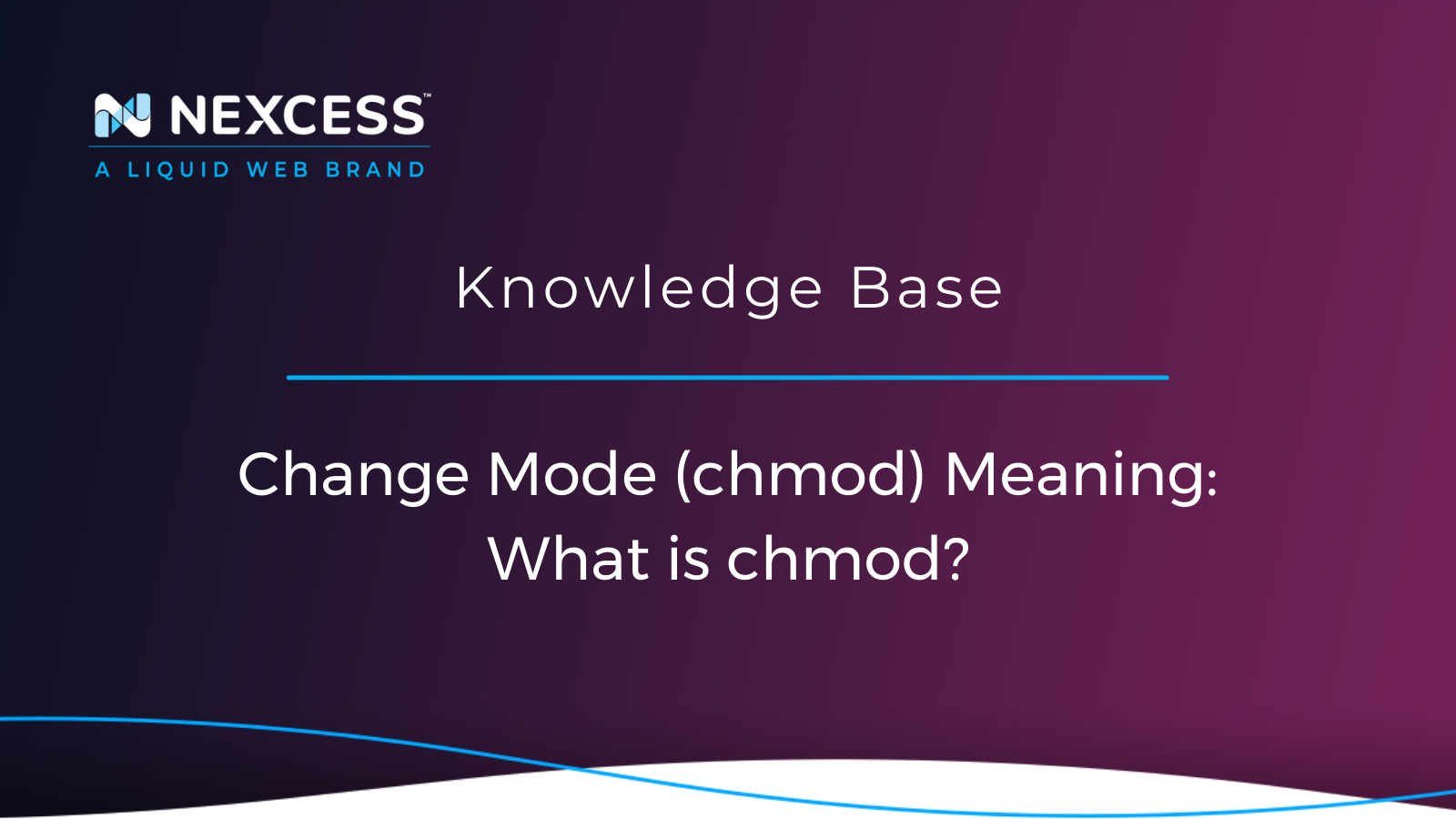 Let's clarify the exact chmod meaning! In UNIX/Linux-based operating systems, chmod refers to change mode, a command for changing file access permissions.
Change Mode (chmod) Meaning & Purpose
The chmod, or change mode, command allows an administrator to set or modify a file's permissions. Every UNIX/Linux file has an owner user and an owner group attached to it, and every file has permissions associated with it. The permissions are as follows: read, write, or execute.


Change Mode (chmod) Meaning & Application
UNIX/Linux systems have many users. In this context, a user may refer to an individual or a system operation. UNIX/Linux identifies each user with a UID, and users may be organized into groups.
Change Mode (chmod) Syntax & Mode Parameters
The syntax of the chmod command is:
chmod mode file
Example:
chmod 720 readme.txt
Each number in the mode parameter represents the permissions for a user or group of users:
The first number represents the file's owner.
The second number represents the file's group.
The third number represents everyone else.
The Change Mode (chmod) Meaning & Mode Parameters Reference Table below shows the eight numbers that can be used within the chmod parameter. The rwx column specifies read, write, and execute access, offering a binary value for each operation. A "1" means "yes," a "0" means "no." If rwx reads 110, then that permission may read and write, but not execute.
| | | |
| --- | --- | --- |
| 0 | none | 000 |
| 1 | execute only | 001 |
| 2 | write only | 010 |
| 3 | write and execute | 011 |
| 4 | | 100 |
| 5 | read and execute | 101 |
| 6 | | 110 |
| 7 |  read, write, and execute |  111 |
For example, if you set your directory permissions to 720, then your permissions would function as follows:
The file's owner may read, write, and execute the file.
The file's group may only write the file.
All others cannot access the file.
Next Steps?
Read more about the Fully Managed Hosting from Nexcess and the benefits for your business.
Hosting Optimized

 We make great content and commerce platforms better to build on. Because better is built in with Fully Managed Hosting from Nexcess. 

Let us help find the right solution for you.
We also have a variety of Nexcess support articles about WordPress, including how to get your site going with a number of different configuration options. These resources include a great article on setting this up for Migrating to Nexcess with managed WordPress and managed WooCommerce hosting. 
24-Hour Assistance
If you need any assistance with the above-mentioned, don't hesitate to reach out. For 24-hour assistance any day of the year, Nexcess customers can contact our support team by email or through your Client Portal.
Why Choose Nexcess?
Because we're different! Chris Lema captures "the why" in his passionate and stirring recount of a Nexcess support-related story.
Useful YouTube > Nexcess Channel Links
Resources for More Information
Need more help? With regards to security topics, The File Management, Database, FTP, and Backups sections within the Nexcess Knowledge Base are important resources. The Applications section contains valuable insights for those seeking additional knowledge about our various hosted applications and platforms. Check out our related video playlists and articles below:


New Customers: Fully Managed Hosting Solutions
Not a Nexcess customer yet? Check out our fully managed hosting solutions. The option to chat with an expert is also available.
Related Articles