When it comes to online purchases, store owners regularly live without the data they need. After setting up Google Analytics, Managed WooCommerce hosting on Nexcess further solves that problem for you by integrating your WooCommerce store with Glew.io.
Glew helps you make the most out of the data you collect, so you can make the right decisions as your business grows. With this service, you get the most out of your customer data, and the work happens off site. This means all the data crunching never has a chance to impact the performance or speed of your store.
Glew (a $2,388 / year value, free for you) is included with your Managed WooCommerce store as part of all Growth and Enterprise plans. After you have taken your Managed WooCommerce store live, email support@nexcess.net to have one of our WooCommerce specialist activate your complimentary access to this powerful tool for actionable ecommerce analytics.
Then, follow the instructions below to activate your account.
Let's connect Google Analytics and Glew.
Log into Glew from https://liquidweb.glew.io/ with the credentials you received from support. You will need to have Google Analytics integration set up on your Managed WooCommerce Hosting store prior to connecting with Glew.
Navigate to Store Settings > App Integrations > Google Analytics
Click on Grant Glew Access.
Click Connect Google Analytics. You will need to be logged into the Google account where you Google Analytics is set up.
Select All Web Site Data for your listed Managed WooCommerce Hosting site.
What else can Glew provide? Glew will automatically create common customer segments, such as First Purchase and Full Price Customers, or Big Ticket Spenders, allowing you to start analyzing your customers' behavior right away.
Glew automatically creates product segments: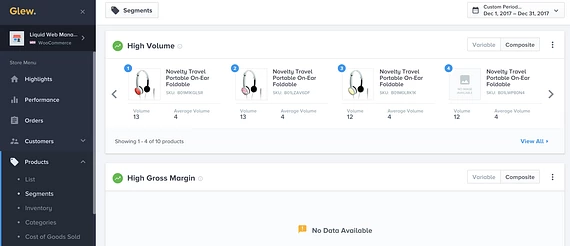 Additionally, you can create custom segments and export them directly to MailChimp. You can also download a .CSV and import it into your own content management system.
Glew enables you to view reports showing:
Revenue
Gross Profit
Orders
Products Sold
Average Order Value
Refunds
Visits
Conversion Rate
Reports can be accessed anytime by logging into your Glew account and you can schedule reports to send to you automatically.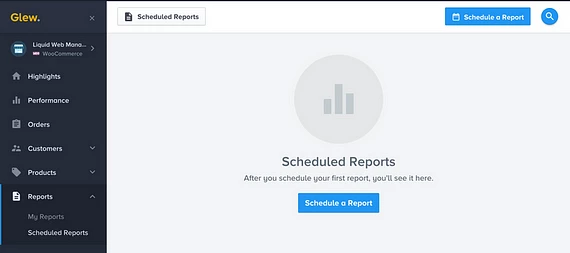 You can easily enhance Glew by integrating with commonly used apps such Google Adwords, AdRoll, Bling Ads, Facebook Ads and Mailchimp.
Ready to get started with Glew.io? Contact Nexcess support at support@nexcess.net to have Glew.io activated on your Growth or Enterprise plan. Not hosting your WooCommerce store on Nexcess yet? See our Managed WooCommerce plans and try a risk-free migration today.