Having your site found high atop the Search Engine Results Pages or "SERPs" is the cardinal rule for an online store! You need Technical SEO for WordPress!
How to Infuse Your WordPress Site with Technical SEO Value
As you may know, saturating your WordPress site with technical SEO is a necessary step in the website development process. With increased competition within search result rankings, SEO value "baked" into your site becomes a critical advantage as it allows people to find your WordPress site more easily when doing a quick Google search. Adding technical SEO to your WordPress site improves your ranking in the search results, leading people to your website above another WordPress site. Whether you operate a new business or you're looking to improve your enterprise SEO, the best way to let users find your site is to strategically add specific technical SEO for WordPress directly to your website.
In this article, we'll show you how to perform an SEO audit so that you can take actionable steps to improve your technical SEO to inherently increase traffic on your WordPress site.
What is Technical SEO?
Before you begin your technical SEO audit, it's essential to grasp what precisely technical SEO is. First off, SEO stands for Search Engine Optimization. Employing SEO techniques means that you'll use strategic keywords that allow search engines to crawl and index your website. Search engines will then utilize those results to rank your website higher than others that use the exact same keywords, so knowing what methods to employ is critical.
Technical SEO Audit
Once you understand what technical SEO for WordPress is and why you need it, you can begin to go through a checklist of your must-haves to improve your search engine ranking. So, ask yourself these questions before getting started:


Have you identified your keywords?

Do your URLs contain keywords?

Do your meta tags include appropriate keywords?

Are you optimizing your files and images properly on your WordPress site?
Now, let's break down these questions into actionable steps that you can take to improve your technical SEO for WordPress.
Technical SEO for WordPress Step #1: Do Your Keyword Research
The first step in your technical SEO checklist should be keyword research. Without it, you won't know what you want to rank for. Sure, you could guess at what keywords you'd like users to find you by, but the best way to do this is to step back and take some time to review your keyword goals before creating your WordPress pages.
Start by performing a quick Google search with your desired keywords. Then, try playing around with different combinations of words to see what results you get. Next, consider where you'd like to appear on that list and what keywords you'd like people to use to locate your site.
Next, use an online tool like use an online tool like SEMRush to refine your keyword performance. Compare some of the different keywords you found in your search engine results to see what ranks better. What you'll find is that removing or changing one word can make all the difference. Choose the keyword or keyword phrase that ranks higher, and you'll be all set.
Technical SEO for WordPress Step #2: Charge your URLs with Keywords
Now that you've identified your keywords, you can begin to use them in your URLs. Keep your URLs simple. Luckily, this is easy to do with your standard out-of-the-box hosted WordPress site. Head over to Settings > Permalinks in your WordPress Dashboard and select the Post Name permalink. As long as your WordPress pages and posts use one of your keywords in the title, you will automatically see your keywords reflected in the URL.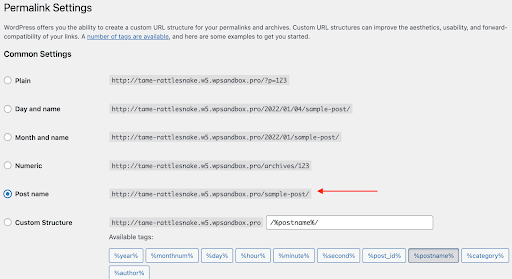 Technical SEO for WordPress Step #3: Add Keywords to Your Meta Tags
Meta Tags are another way to add keywords to your WordPress website because they list information about your site like the description, author, and other important information. Search engines can use these Meta Tags to crawl your site and rank it as well. So, it's important to add keywords to these areas of your site. Unfortunately, Meta Tags are not automatically included in a WordPress install by default.
In this case, what we recommend is using a third-party plugin, like Yoast SEO to add keywords to your meta content easily. With Yoast, you can go to any WordPress page or post and scroll down to the bottom, below your content. From there, you can easily add your keywords, your Meta Description, and some other information as well. What's important here is to fortify your Meta Description, in particular with your chosen keywords. This is the meta description that people will see on a typical Google search, so adding keywords to this section will definitely improve your technical SEO value.




Technical SEO for WordPress Step #4: Optimize Images and Files for Technical SEO

Lastly, make sure that your images and files are appropriately optimized to improve your overall technical SEO for WordPress. First off, you want to ensure that your page load time is as quick as possible. Not only do users tend to click away from pages that don't load immediately, but page speed is also a consideration when it comes to your collective technical SEO ranking. And how can you improve your page speed? The easiest way to do this is by enabling a caching plugin on your managed WordPress site with a hosting provider like managed WordPress site with a hosting provider like Nexcess. 
Nexcess has tons of resources to help get you started with resources to help get you started with WordPress and troubleshoot any issue you may have. For example, when it comes to adding caching on a managed WordPress site, simply enable a caching plugin and your CSS and JavaScript files will be automatically condensed and optimized for your website.
As far as your images are concerned, make sure that they are mobile responsive and compressed so that they are the smallest size possible while still maintaining their sharpness and quality. When it comes to featured images, don't forget also to include alt text, which you can usually find in the right-hand sidebar when using the Block Editor. Not to sound like a broken record, but this provides you with another opportunity to add your keywords to your WordPress post. Every opportunity counts!
Don't Guess, Test!

Now that you've gone through your technical SEO checklist, you can test out your content to see if you've done what you set out to do. Testing is a crucial last step in the process since it helps you to see if all of your extra efforts were worthwhile. From there, you'll be able to see if there are any gaps still left where you may need to make improvements.
Use Google Analytics

We recommend using Google Analytics to test out the technical SEO of your WordPress site. Google Analytics is a web analytics service that tracks your website's traffic and generates information that can help you improve your website's SEO. Once you add a Google Analytics tracking code to your WordPress site, you can gain insights into where users are clicking, how they got there, and how long they're staying on any given page. Then make changes to your website accordingly. 
Sign up for emails with Google Analytics to receive information like your top growing pages. If people are clicking on something other than what you want them to, we recommend installing a third-party redirection plugin for your hosted WordPress site to send them to the page you'd prefer they see.
Wrapping Up
Adding technical SEO value can be simple once you have a plan in place. It all starts with identifying and building your keywords directly into your website's content. From there, don't forget to test out how your hosted WordPress site is performing with Google Analytics and keep your site well-maintained. From there, you'll be well on your way to the top of the Google Search rankings!


Seach Engine Optimization (SEO) Tools/Options

WordPress having an excellent set SEO tools/options a known fact. WooCommerce running on WordPress provides users with brilliant SEO features. It also has SEO plugins that help you boost your store's ranking. 
Yoast SEO, SEOPress, and Rank Math are some of them. Among WooCommerce users, Yoast SEO is the most popular SEO plugin. Customize keywords, meta title, meta description, slug, sitemap, image alt text, readability factor, and much more. 
Consider Hosting with Nexcess
Hosting optimized for the industry's leading platforms, including Managed WordPress Hosting, Managed WooCommerce Hosting, and Managed Magento Hosting:


Build Better Sites and Stores With Fully Managed Hosting from Nexcess 

Faster Speeds, Stronger Security, Inherent Scalability and Trusted Support.


Our range of hosting plans caters to any business scale. We do all the heavy lifting for you to focus on growing your business. In addition, we automatically update ore components and plugins to the latest version and ensure your hosting environment is properly optimized, secured, and updated.
Nexcess infrastructure was specially designed to keep up the best speed and performance in the industry. No traffic surge can threaten your website to go down thanks to our autoscaling technology which adds more resources to your server to handle the load. In addition, we offer always-on security monitoring and support from web hosting experts 24/7/365 and a built-in CDN with 22 locations and advanced caching for ultra-fast loading.

All hosting plans include The Nexcess 30-Day Web Hosting Money Back Guarantee.
Need a No-Code Website Building Solution? 
Are you on an accelerated schedule and already ready to move forward? If you need to get started with your Nexcess StoreBuilder Solution sooner rather than later, check out these resources:
Next Steps with a Nexcess Cloud Hosting Solution?
Read more about the Fully Managed Cloud Environment by Nexcess and its benefits for your business.


A Cloud Hosting Solution That Lets You Do Business Your Way 

We believe in the promise of cloud: scalability, security, performance, and ease of use. Together with our team, clients, and partners, we've built something better.


Choose From Multiple Applications 

Whether you're a small business or a high-traffic eCommerce store, our cloud hosting solutions are designed around your needs: auto scaling, PCI compliance, and comprehensive development tools provide you with maximum dynamic flexibility in a fully managed cloud environment.


We make applications easy with environment optimizations for:
And there are many more!
We also have a variety of Nexcess support articles about how best to implement our product offerings housed in the Nexcess Knowledge Base, including how to get your site going with a number of different configuration options. These resources include a great article on setting this up for Migrating to Nexcess with managed WordPress and managed WooCommerce hosting. 
24-Hour Assistance
If you need any assistance with the above-mentioned, don't hesitate to reach out. For 24-hour assistance any day of the year, Nexcess customers can contact our support team by email or through your Client Portal.
Why Choose Nexcess?
Because we're different! Chris Lema captures "the why" in his passionate and stirring recount of a Nexcess support-related story.
Useful YouTube > Nexcess Channel Links
Resources for More Information
Need more help? The Applications, WooCommerce, and WordPress sections within the Nexcess Knowledge Base are important resources for those seeking additional knowledge. 

The Applications section also contains valuable insights for those seeking additional knowledge about our other various hosted applications and platforms. Check out our related video playlists and articles below:


New Customers: Fully Managed Hosting Solutions
Not a Nexcess customer yet? Check out our fully managed hosting solutions. The option to chat with an expert is also available.
Related Articles