Managing plugins on WordPress is an important part of maintaining a site for functionality and security. On Managed WordPress at Nexcess there are options available for you to use for plugin updates.
Tools Provided by Nexcess.
Visual Comparison - located in your portal, and visually tests plugin updates before updating.

Plugins - with most managed WordPress and Managed WooCommerce plans we bundle iThemes Sync Pro and iThemes Security Pro, both of which have their own way of providing plugin updates.



Tools Built into WordPress
WordPress Automatic Updates - natively built and located in wp-admin on WordPress.
Visual Comparison
We offer Visual Comparison, a tool in your portal that will run approximately every 48 hours and conditionally check on various plugins to see if they are available for an update within the wordpress.org public repository. The tool only checks plugins that meet the following criteria:
Free plugins in the WordPress repository

Only Active Plugins

Only plugins on production sites, staging site are skipped

The toggle for plugin updates must be set to ON

Plugins only, not themes

Currently only runs on sites 10G in size or less
To accomplish this, the Visual Comparison Tool will automatically create a copy or stage your production website, where it will update the plugins, and give you the ability to see what changes the plugin update would make to your site. If your plugin does not pass the visual comparison difference, Visual Comparison will safely choose NOT to update that plugin on the production site.
Visual Comparison is turned on or off in the portal under the Management Menu:

Visual Comparison offers reporting under the Visual Comparison menu:

More in depth information on that can be found here: https://help.nexcess.net/74095-wordpress/how-to-use-visual-comparison-tool 
Service - iThemes Sync Pro
iThemes Sync Pro is available upon request on Managed WordPress Maker plans and higher, and on Managed WooCommerce Creator plans and higher.
iThemes Sync Pro comes with an easy-to-use dashboard that allows you to maintain multiple sites from one interface, including managing plugin updates.

More in-depth information on that can be found here:  
https://help.nexcess.net/74095-wordpress/ithemes-sync-pro-in-managed-wordpress-and-managed-woocommerce-hosting 
Plugin - iThemes Security Pro
iThemes Security Pro will come pre-installed on all Managed WordPress and Managed WooCommerce plans. While this suite of software has many security features and options, it also provides a place to enable automatic plugin and theme updates called version management.
Updates for plugins or themes can be set to ALL, or both can be customized with the updates running on a delay from when the update was first released.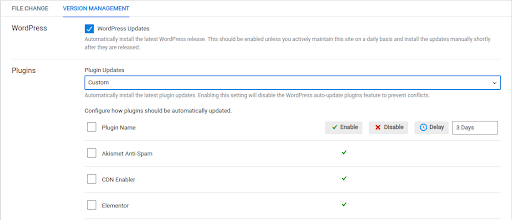 More in-depth information on that can be found here:  
https://help.ithemes.com/hc/en-us/articles/228221587-iThemes-Security-Version-Management 
WordPress Automatic Updates

Since WordPress 5.5, website Administrators can manually opt-in for automatic updates theme by theme and plugin by plugin, in wp-admin.
For each plugin on the plugins page, there is an "Automatic update" column with an action link used to enable/disable auto-updates plugin by plugin. They can also be bulk enabled or disabled. The same is true for themes by clicking on the theme thumbnail on the appearance menu.
By default WordPress runs auto-updates twice per day. If updates are available for plugins or themes with auto-updates enabled, the time until the next scheduled update will be displayed below the enable/disable auto-updates action link.
More in-depth information can be found here: 
https://help.nexcess.net/74095-wordpress/wordpress-automatic-updates 
https://wordpress.org/support/article/plugins-themes-auto-updates/ 
Which one is right for me?
Some of the solutions mentioned above will just run automatically while others require some intervention or review. The following chart may help with deciding which method may be a good fit for your needs.
Support: 24-Hour Assistance
New Customers: Fully Managed Hosting Solutions
Not a Nexcess customer yet? Check out our fully managed hosting solutions. The option to chat with an expert is also available.