How do they stack up in the hypercompetitive ecommerce platform market, WooCommerce vs. BigCommerce? Find the best ecommerce platform for your online store.
WooCommerce vs. BigCommerce
Picking a platform for your ecommerce website is not an easy task as a few factors need to be taken into consideration. It all depends on what you sell, your target audience, technical knowledge, and how you want to manage your website.
WooCommerce (What is WooCommerce?) and BigCommerce are the two most popular ecommerce platforms in the market today. The competition is intense however, and both platforms have their pros and cons, so keep on reading to learn which one is the best fit for your ecommerce store!
WooCommerce vs. BigCommerce: Overview
WooCommerce is a free ecommerce plugin for WordPress which turns the site into an online store. Since it is based on WordPress, it has everything WordPress offers — powerful SEO tools, a high level of customization, and thanks to a massive library of themes, plugins, and extensions, it allows to build ecommerce sites at all levels from scratch.
BigCommerce is a full-stack ecommerce solution that includes hosting, website building software, and SEO and marketing tools. The one major downside is that users are limited with the kit BigCommerce offers in their plans, and the possibilities to extend it are not that impressive compared to WooCommerce.
WooCommerce vs. BigCommerce: Pricing
BigCommerce has four subscription-based plans:





The entry-level BigCommerce pricing for $29.95 / month includes the bare minimum to get an online store up and running:


Hosting with unlimited file storage and unlimited bandwidth

SSL certificate

BigCommerce subdomain (looks like mystore.bigcommerce.com)

Website building software

Paid themes start at a $150 one-time fee. While there are options to utilize free themes, most of them look similar to one another, so it is advisable to invest in a paid theme to enhance the "look and feel" of your website.


WooCommerce as a plugin is entirely free, but to make it work, you would need the following:


Extensions for WooCommerce and additional WordPress plugins are mostly free. However, some hosting companies also include premium themes and page builders in their hosting packages, so there are opportunities to save on these items.
Pricing Conclusion

WooCommerce is a more budget-friendly solution compared to BigCommerce as you would have a more cost-effective and granular approach to the items comprising your store.
WooCommerce vs. BigCommerce: Scalability
Rapid business growth is an excellent problem to have. However, your ecommerce platform should be reliable enough to handle the increased traffic that comes with it.
BigCommerce addresses the issue of scale before it arises, thanks to unlimited storage and bandwidth. They take care of all the security updates, which is a good thing when your store grows and is more and more likely to be targeted by hackers. The upgrade at BigCommerce is a reasonably simple process.
However, if your business brings more than $50,000 in revenue (for the Standard Plan) you would be required to upgrade to a more expensive plan. Some store owners might not like such an approach as they are forced to spend more on their online presence even if they are satisfied with their current plan. On the other hand, upgrading the plan adds new features to the store, which may help increase conversion rates.
WooCommerce scalability mainly depends on the hosting company. When your ecommerce website grows larger, it needs more resources to store data and deal with traffic surges. Naturally, it involves additional costs, but it is necessary to upgrade when the time comes as lack of resources results in degraded performance or even can make your site go down. The upgrade process depends on the server type — cloud-based servers offer fast and easy scalability, while dedicated servers might require a maintenance window to add more resources.
Scalability Conclusion

Both platforms offer possibilities to upscale easily as your business grows, with a few minor drawbacks specific to each platform.
WooCommerce vs. BigCommerce: Payment Gateways
Getting paid for the goods or services provided is one of the most important business activities for a new retailer. Providing a broad range of available payment options to your customers allows them to choose the most convenient way to pay and extends your customer base since there will be more opportunities to pay.
Both WooCommerce and BigCommerce accept all major credit and debit cards and the largest payment gateways in the market, such as PayPal, ApplePay, Stripe, Square. These platforms support alternative payment gateways, but the numbers are in favor of WooCommerce — with over 100 supported payment gateways vs. about 65+ from the BigCommerce side.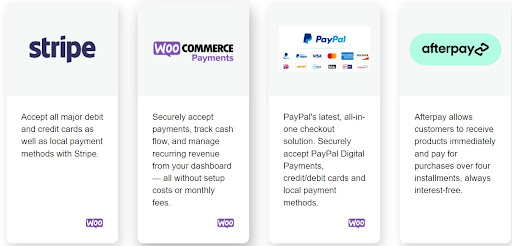 The number of available payment gateways is significant to retailers serving their customers from all over the world. For example, PayPal may not be available in certain countries, so a WooCommerce store owner can resort to regional payment gateways to enable a portion of their customers to pay or lower their transaction or conversion fees.
The good thing about both platforms is that they do not incur any transaction fees. However, payment gateways do. It is recommended to examine their policies and prices before committing.
Payment Gateways Conclusion

Although both platforms offer a great choice of payment gateways, the winner here is WooCommerce. Having a large number of payment services is more convenient for both the store owner and their customers.
WooCommerce vs. BigCommerce: Features & Design
To run an ecommerce store effectively, you will need a few tools and instruments related to SEO, marketing, and analytics. Design is also crucial to the initial perception of the website. Undoubtedly, a potential customer is more likely to stay on a website that has pleasing aesthetics.
BigCommerce offers many of in-built features related to marketing and analytics — it is possible to leverage marketing options easily by configuring coupons, gift cards, discounts. In addition, there are possibilities to integrate your store with Amazon, Facebook, eBay, and even Instagram.
Every but Standard Plan includes the Abandoned Cart Saver feature, which sends out emails to potential customers to motivate them to complete the purchase. According to statistics, it wins back every fourth shopper.
As far as design is concerned, BigCommerce has an in-built webpage builder, but its possibilities are somewhat limited. Free themes do not look much different from one another, and their choice is not comprehensive, so a paid theme might be a good choice. However, their prices range from $150 to $300 — a considerable amount for a new ecommerce project.
WooCommerce's out-of-box functionality is fairly standard, however, since WooCommerce is based on WordPress, there are almost limitless options to customize your store by installing plugins and extensions.
WooCommerce has a built-in tool provided for reporting and data analysis to help you manage and monitor all the essential metrics. In terms of SEO, WordPress is a very SEO-friendly platform that helps rank your store higher in search results. Abandoned cart technology is also available to implement with WooCommerce with the help of specialized extensions.
Design options for WooCommerce are much broader than for BigCommerce and include a wide choice of themes as well as advanced webpage builders. Paid themes are also generally cheaper compared to BigCommerce pricing. Paid WooCommerce themes come at affordable $20 - $110 one-time fees.
Features & Design Conclusion

Even though WooCommerce does not have an excessive range of out-of-box features, it is compensated by the overwhelming number of customization options available for its users. BigCommerce has many in-built features, which is good on the one hand, but on the other hand, your design and feature options are limited if you want to build a truly unique website.
WooCommerce vs. BigCommerce: Now You Know the Difference
Now you know the difference between WooCommerce and BigCommerce. There are a lot of pros and cons for each platform. Depending on your needs, you can choose the one that works best for your project.
We recommend WooCommerce as it is one of the most popular and easy-to-manage ecommerce platforms in the world. However, every WooCommerce store, new or already existing, needs a reliable hosting provider.
Consider Hosting with Nexcess

Nexcess is the perfect hosting provider for WooCommerce users. Our range of WooCommerce plans caters to any business scale. We do all the heavy lifting for you to focus on growing your business. In addition, we automatically update WordPress core and plugins to the latest version and ensure your hosting environment is properly secured.
Nexcess infrastructure was specially designed to keep up the best speed and performance in the industry. No traffic surge can threaten your website to go down thanks to our autoscaling technology which adds more resources to your server to handle the load. In addition, we offer always-on security monitoring and support from WooCommerce experts 24/7/365 and a built-in CDN with 22 locations and advanced caching for ultra-fast loading.
We highly recommend you use a Managed WooCoomerce Hosting provider so you can be sure your system is continuously optimized, secure, and up to date.


Related Articles