Once you have set up your WooCommerce online store, it is time to build a sales funnel for an optimal user experience, and WooFunnels can help you build it!
WooCommerce Checkout Optimization via WooFunnels: A Detailed Step-by-Step Guide
One of the best things to improve the user experience on your WooCommerce powered website is to speed up the WooCommerce checkout process. This article will walk you through how to enhance the WooCommerce checkout process using WooFunnels — an optimized checkout page for WooCommerce. It works by replacing your WooCommerce checkout page with beautifully designed and optimized checkout templates.
What is an Ecommerce Checkout Process?
The online checkout process for an ecommerce transaction is the series of steps a customer takes to purchase the items in his or her shopping cart from an online store. These steps include every step that a customer goes through to proceed through to a successful completed checkout.
What is the Objective of an Optimal Ecommerce Checkout Process?
The objective of an optimal ecommerce checkout process is to streamline the online shopper's request for successful settlement of his or her account by purchasing the items in the cart at the end of a shopping journey on your website as quickly and efficiently as possible.
The Next Step for Your Online Store: A Sales Funnel
Once you have set up your WooCommerce hosting environment established and have a basic website configured, you can look at ways to take your online store to the next level. We highly recommend you use a Managed WooCoomerce Hosting provider so you can be sure your system is continuously optimized, secure, and up to date.


Getting Started with WooFunnels
For best results, after initial setup, t is time to build a sales funnel in WooCommerce. WooFunnels is our preferred way to achieve this outcome.
But first, let's define a few key terms and discuss your options. Then, we will dive into a step-by-step setup tutorial for creating a sales funnel with WooFunnels and configuring your WooCommerce checkout optimization options. 
What is a Sales Funnel?
A sales funnel is the customer's path from brand awareness to the final purchase.
Create a Sales Funnel in WooCommerce
You may want to create a sales funnel for your WooCommerce shop to provide a better user experience and guide your potential buyers through the WooCommerce checkout process. That can boost the likelihood of a sale.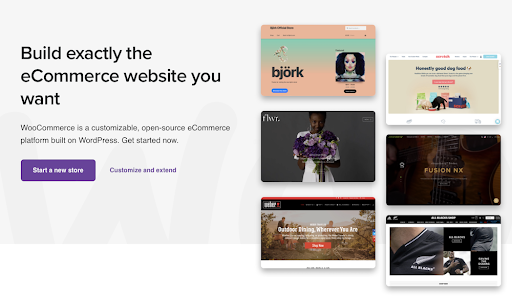 By default, it is not possible to customize WooCommerce checkout as there are not many customization options built into WooCommerce core. The typical scenario is to use custom code, but that can take long. You will either need to learn how to do it yourself or spend money to hire a professional developer.
There are some third-party solutions to aid in the process. The drag-and-drop interface of these tools can be helpful — but they do not cover everything. For example, page builders offer templates for the shop page and single product page in WooCommerce. But it is still not possible to customize all the action pages like the cart or checkout page with those page builders alone.
And while you should consider using HubSpot to add key marketing features, that will not necessarily help build the sales funnel itself, either. 

But there is another option for WooCommerce checkout optimization: WooFunnels.
What is WooFunnels?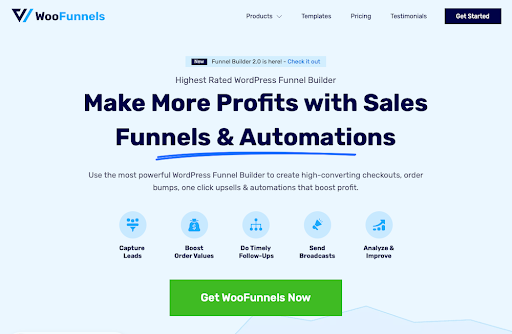 WooFunnels is a funnel builder plugin for WordPress and WooCommerce. It bundles several valuable features that empower you to create simple or advanced sales funnels in your WordPress website with WooCommerce.

With WooFunnels, you can improve the WooCommerce checkout process with beautiful user interfaces.
WooCommerce Checkout Optimization
Sales funnels are just the tip of the iceberg. As a fully-fledged funnel builder, WooFunnels enables you to optimize your current checkout page for better conversions. You can also create different product-specific checkout pages using the tool.

That means you can have a completely custom and different checkout page for each product in your store. Within these options, you can also set one checkout page for a set of multiple products. For example, you can have nine products in your store and three checkout pages for three products each.
WooCommerce checkout optimization is not included by default, and the checkout user experience can be a bit basic and take some time for the user to complete.
The easier and faster the checkout process is, the more likely your prospect becomes a customer and completes the purchase. 

For example, say you sell physical items through your store and need a physical address to ship the purchase to your customer. You can add an address autocomplete to help users input their address much faster and generally speed up the WooCommerce checkout process.
Or, let's say you want to offer your customers a discount. It can be a discount for a specific product they added to the cart. Or it could be rewarded after reaching a particular cart total. 
But instead of giving the user a coupon for them to manually copy-paste to apply to the cart, you can automatically apply it to the cart based on the specific condition(s) you have set.

These WooCommerce checkout optimization features (and much more) are possible with WooFunnels.
WooFunnels Pricing
There are several plans available for WooFunnels. Note that WooFunnels also offers an automation tool called Autonami, which empowers you to create marketing automations.
There is a price difference depending on the number of websites that require the tool: Solopreneur (single site) and Agency (up to 30 sites).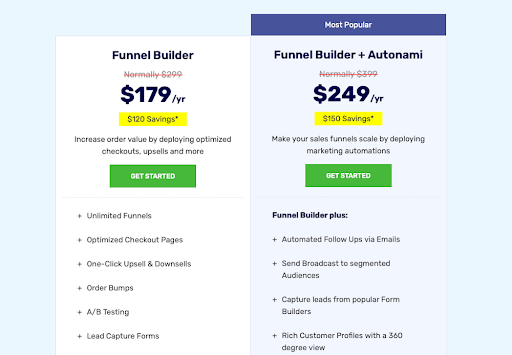 WooFunnels pricing starts with two yearly packages: 

With the Funnel Builder package, you purchase the Funnel Builder only. The Solopreneur Funnel Builder plan starts at $179/year, while the Agency plan starts at $249/year. 

The Funnel Builder + Autonami package includes both the Funnel Builder and the automation tool. Solopreneur plans start at $249/year, while Agency plans start at $399/year.

The Solopreneur plans can only be paid yearly. The Agency plans have yearly options and a Lifetime option for a higher price.
Getting Started with WooFunnels
After purchasing WooFunnels, you will have a different set of plugins to download depending on the plan. Installing these is simple and requires the standard WordPress manual plugin installation process.

Are you done with the installation? Let's create a high-end custom checkout page.

The process is as follows:
Create a new funnel.

Choose a prebuilt template.

Add one or more products.

Set optimizations for your checkout page.

Publish your new checkout page.
Following the example proposed earlier, let's say you want to create a beautiful checkout that is completely personalized to your brand.

And let's say you want to make it a two-step WooCommerce checkout process.

WooFunnels lets you create one, two, and three-step checkout pages. Here is how you can do that in the following steps.
Step #1: Create a New Funnel 
First, go to the Funnel Builder. Then, add a new funnel and click Start from scratch.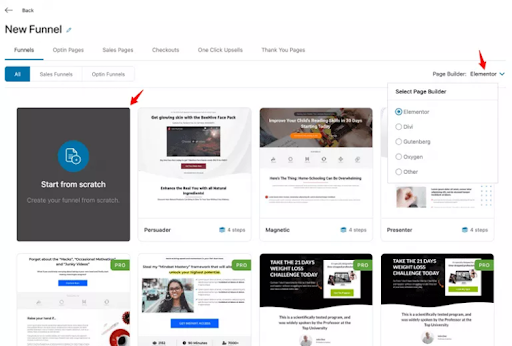 Then, click Add New Step.
Step #2: Choose a Prebuilt Template
You will be presented with a list of templates. Please choose the one you like the most and customize it. WooFunnels uses the power of page builders for checkout customization. 

Choose the page builder you use in the Page Builder dropdown. Based on your page builder, your will have different template options to pick from. There are currently options for Elementor, Divi, Gutenberg, and Oxygen.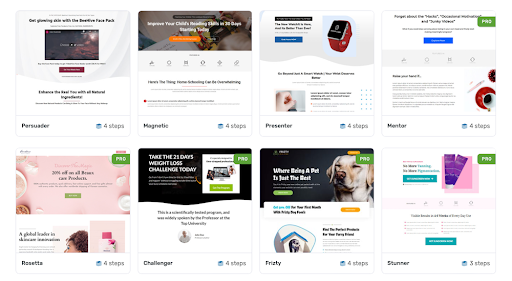 Then, click the Import button to start editing the template you chose.
Step #3: Add One or More Products
Once you are done editing the template to fit your needs, it is time to add a product to your checkout page. First, click the Products tab.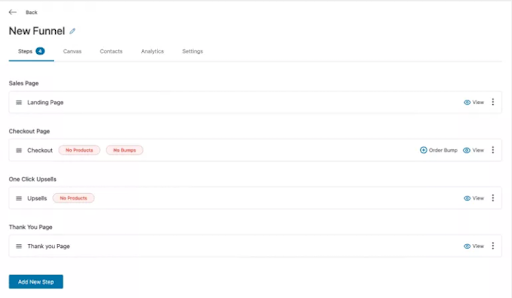 Add the product(s) that you want to associate to this checkout page on the next screen. If you add two or more products, you can drag and drop the products on the list to change the order displayed on the checkout.
Step #4: Set Optimizations for Your Checkout Page
Now, the most awaited part is optimizing your WooCommerce checkout page.
Click the Optimizations tab.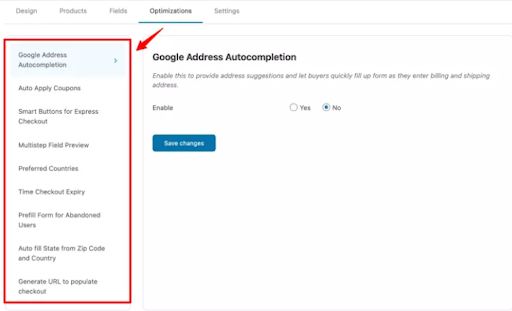 At the left of the screen, you will see a list of the different optimizations you can implement on your checkout form.

Keeping in mind the same example as above, let's say you want to speed up WooCommerce checkout. 

You can achieve that with multiple options:
Add autocomplete features. 

Prefill the checkout form.

Auto-apply coupons.
Please note that you may need a Google Maps API Key for the Google Address Autocomplete feature to function.
Step #5: Publish Your New Checkout Page
Once you have saved all the settings, you can publish your newly created checkout page.
Your WooCommerce checkout optimization efforts are now complete. 
Congratulations on Implementing WooFunnels!
Congratulations on setting up a beautiful checkout page, powered by WooFunnels — an optimized checkout page for WooCommerce! If you are looking to enhance your WooCommerce website further, check out our guide on how to Supercharge your WooCommerce website with Hubspot.
For all WooCommerce websites and especially high-traffic websites, consider automated testing for WooCommerce to ensure all the critical parts are working as expected. The automated tests will run daily so that if anything does not work as expected, you can be notified right away.
The helpful Nexcess support team is ready 24/7 with any questions that you may have regarding your WooCommerce site.
Next Steps?
Read more about the Fully Managed WooCommerce Hosting and its benefits for your business.
Fully Managed WooCommerce Hosting

Radically improve load times, keep secure and be ready to scale.

Smart Monitoring built-in to every WooCommerce plan ... FREE


We also have a variety of Nexcess support articles about WooCommerce, including how to get your site going with a number of different configuration options. These resources include a great article on setting this up for Migrating to Nexcess with managed WordPress and managed WooCommerce hosting. 
24-Hour Assistance
If you need any assistance with the above-mentioned, don't hesitate to reach out. For 24-hour assistance any day of the year, Nexcess customers can contact our support team by email or through your Client Portal.
Need a No-Code Website Building Solution? 
Are you on an accelerated schedule and already ready to move forward? If you need to get started with your Nexcess StoreBuilder Solution sooner rather than later, check out these resources:
Why Choose Nexcess?
Because we're different! Chris Lema captures "the why" in his passionate and stirring recount of a Nexcess support-related story.
Useful YouTube > Nexcess Channel Links
Resources for More Information
Need more help? The Applications, WooCommerce, and WordPress sections within the Nexcess Knowledge Base are important resources for those seeking additional knowledge. Or, check out our related articles below.
New Customers: Fully Managed Hosting Solutions
Not a Nexcess customer yet? Check out our fully managed hosting solutions. The option to chat with an expert is also available.
Related Articles