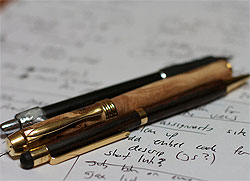 Web apps have come a long way in recent years, both in their design and user experience. However, web apps still have trouble offering the kind of user experience that a native application can. That's particularly true of applications that have been around for a long time and haven't yet overcome the clunky interface of their early days.
While the WordPress admin dashboard and text editor have improved enormously, and there are signs that they're going to get even better, writing and publishing are still not as smooth and trouble-free an experience as they might be. Fortunately, for WordPress users who care about using aesthetically pleasing and well-designed applications, there are a number of apps in the Apple ecosystem that make writing and publishing articles to a WordPress blog a more pleasant experience.
MarsEdit is the leading desktop blogging application for Mac. It is compatible with a large range of blogging software including WordPress, Blogger, Tumblr, and many others. It provides a very pleasant editing experience, integrating well with OS X and applications like iPhoto and Aperture. MarsEdit also has a handy feature that allows you to create a template to match your blog, so you can get an accurate preview of your article before publishing. The only real downsides to MarsEdit are that it's rather expensive and doesn't have an accompanying iOS app.
ScribeFire isn't a Mac native app, it's a browser extension for Safari, Chrome, and Firefox that provides an editing experience that is quite a bit better than WordPress' default TinyMCE text editor. You can enter text as HTML, Markdown, or in a WYSIWYG editor. It also provides Zemanta integration, which is great for those of us who have come to rely on the Zemanta plugin for finding images and related links.
Byword is the leading exemplar of the trend towards minimal writing applications. It has a simple and beautiful interface with great typography and excellent Markdown support (this article was written in Byword).
Since the recent release of Byword 2, it supports direct publishing to a number of different blogging platforms, including WordPress. Publishing is a premium features, but it's a lot less expensive than some of the other options here.
Byword also has an iOS version, so blogging from an iPad, iPhone, or iPod is a breeze, particularly if you use Byword's Dropbox syncing which will make your documents available to Byword across devices.
Poster is an attractive and feature-rich blogging application for iOS with Dropbox integration and Markdown support. It provides much more comprehensive WordPress integration than Byword, including the custom post types, custom fields, and the ability to set featured images, although unfortunately there is no equivalent OS X application.
For users of the Drafts app, there's a great Poster action that enables Drafts to create documents in Poster.
If you're after a full WordPress blog management application, rather than just a writing tool with publication capabilities, you can't go far wrong with WordPress' own iOS applications. Writing and editing articles isn't quite as smooth as it is with Byword, and there's no Markdown support, but if you need features like comment moderation then this is the solution for you.
What are your experiences with third-party WordPress tools? Are there any you'd like to see included that we missed? Let us know in the comments.
Image credit: cogdogblog