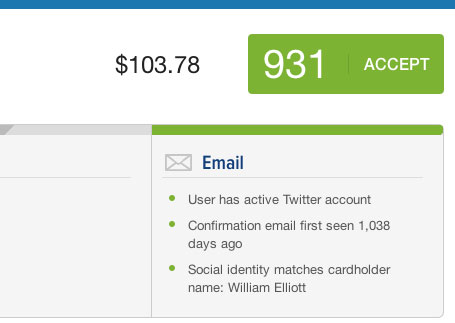 Fraud is a serious problem for eCommerce retailers.
While less than 2% of eCommerce revenues are lost through fraudulent transactions, in a trillion-dollar industry, that's no small potatoes, particularly in an industry segment with low margins. But, possibly more significant than fraud itself is the amount of time and effort that small retailers put into avoiding it. Vetting every transaction to ensure that it is genuine is time consuming. Although fraudulent orders account for only about 1.2% of total orders, 25% of orders are reviewed by retailers, of which about 30% are rejected.
In the absence of solid data, many genuine orders end up being rejected as retailers err on the side of caution. Manual review tends to be a clumsy tool, looking for obvious patterns and markers in transactions that can only indicate fraud within a very fuzzy set of probabilities.
A great deal of time is also spent reviewing perfectly genuine orders because the fear of losing revenue to fraud outweighs the concern over the wasted resources used to combat it.
Signifyd, a California-based startup recently unveiled their take on a solution to the problem of eCommerce fraud. Founded by Rajesh Ramanand, who ran the risk management departments of FedEx and PayPal, is a SaaS product that promises frictionless payment validation. The service makes use of a number of big data analytics techniques to score transactions, removing much of the burden of manual review from eCommerce retailers.
The service uses data from multiple sources, both online and offline. They include device fingerprinting, geolocation data, proxy detection, information gathered from social media profiles, merchant blacklists, public records, and others. The diversity of data sources allows Signifyd to make an estimation of the likelihood that a particular transaction is fraudulent.
"E-commerce fraud detection has been one of the most critical and time consuming processes for online retailers, but most fraud detection tools aren't suited for today's cybercriminal who is becoming increasingly adept and advanced," said Ramanand. "We're bringing much needed innovation to the fraud solution market. By using Signifyd, retailers can now make decisions in real time about the validity of a customer without worrying about a fraudulent transaction costing them money or a valid transaction being declined."
Signifyd claims that it can reduce the necessity for manual review by 80% and reduce the number of incorrectly rejected transaction. While Signifyd is not the first company to promise to mitigate fraud and reduce the overhead of manual review for retailers, it is the first that is reasonably affordable for small eCommerce stores.
Signifyd is a Magento Silver Partner, and has released a plugin to integrate its fraud prediction and chargeback protection service with Magento.