Magento Dedicated Hosting
Stable and secure dedicated servers
Align performance requirements with dedicated infrastructure. Our SIP server plans are engineered and designed for your business, with no fixed contract terms.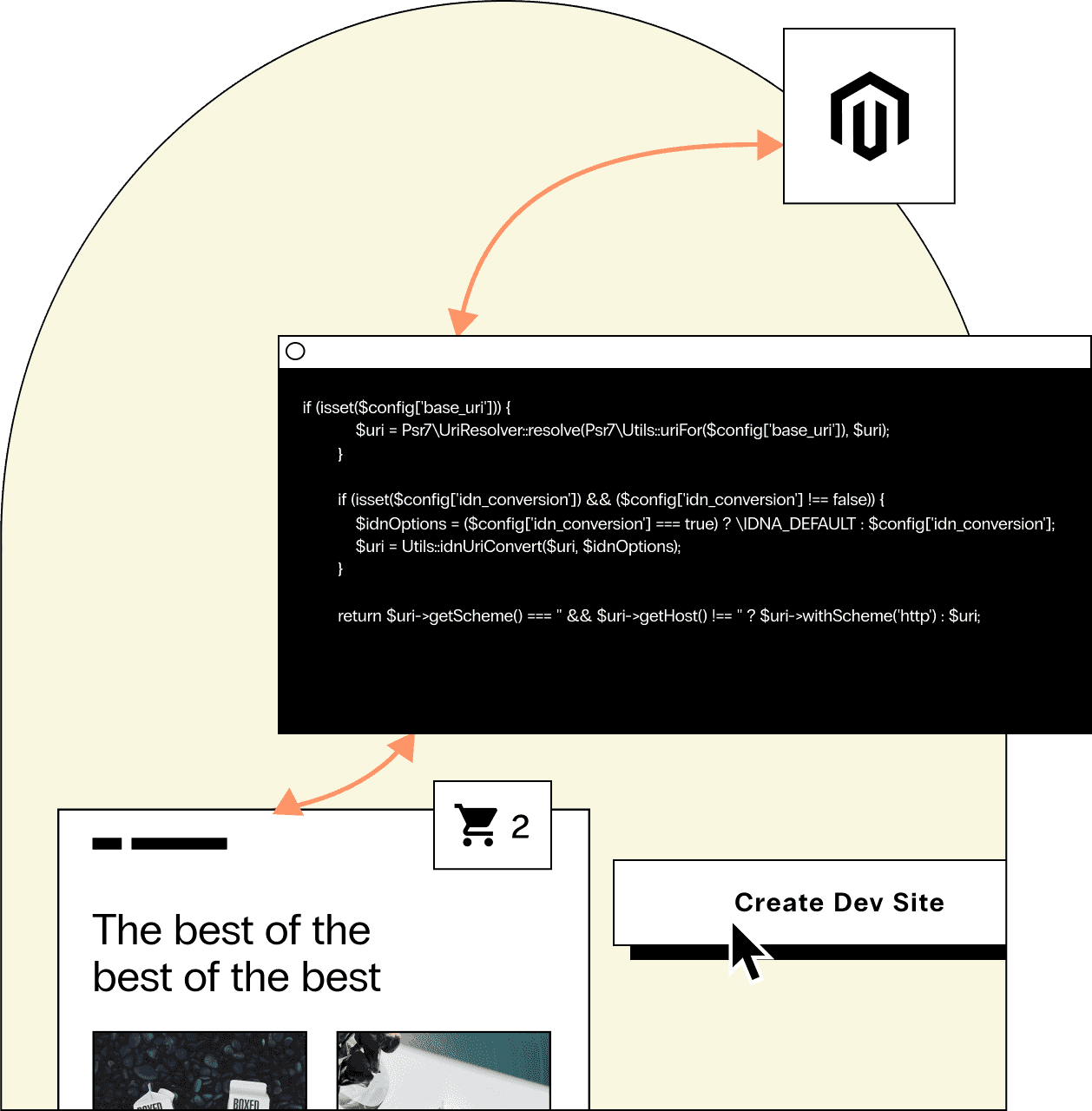 High-performance dedicated hosting
Daily backups
Easily recovered and restored for 30 days.
PCI compliance
Secure payment processing and top-tier data protection.
Magento-specific security, built into your hosting infrastructure.
Dedicated Magento servers
Take control of your store with a Magento dedicated server.
Secondary domains
Unlimited
1-year standard SSL
Included
Daily visitors
Up to 10000
Secondary domains
Unlimited
1-year standard SSL
Included
Additional bandwidth billed @ $0.50/GB. Development site creation billed @ $25 per site.
Looking for more flexibility?
Upgrade to our custom-built server clusters with enterprise-grade support.
Deploy progressive web apps to meet every customer, everywhere.
24/7/365 support
Platform specialists with deep Magento expertise.
Improve page speeds with our built in content delivery network.
Support for the
technology and versions
you want to run
Our application stack is engineered to provide best-in-class support. Nexcess solutions support your needs, whether you want to host Magento 1 or Magento 2.

Run your store on the latest stack versions, or take advantage of support for legacy versions of PHP, MySQL, and Apache. Speak to the sales team to learn more about how Nexcess Magento solutions can accommodate your requirements.
Compliance that makes
sure you can process
credit card information
Securely process credit card information online through your Magento store with a PCI DSS Level 1 provider across all ecommerce hosting solutions.

Get started quickly with expert guidance and maintain compliance with continuous monitoring, with a service that's on the official Visa Global Registry of Service Providers.
Security is built in
Stay PCI-compliant and safe from vulnerabilities whether you're on M2 or M1.
Nightly automatic
malware monitoring
Proactive security
patches
Stay on M1 after end-of-life with Nexcess Safe Harbor™
When we say truly managed, we mean it
Security your customers
can rely on, always
Maintain peace of mind with initial security hardening, 24/7 monitoring alert response, and server-side software updates.
Magento server optimizations
as standard
With over 10 years of experience tuning Magento environments, our specialized Magento optimizations let you build on a foundation of speed and security.
Site migration assistance
from the word go
Moving your store can be a daunting process. It doesn't have to be. Our dedicated migration team will walk you through the process of moving your store from start to finish.
A dedicated Magento
support team 24/7/365
Magento hosting support that prioritizes your store and keeps your server online. Our team is ready to help you scope out hosting requirements and solve issues 24/7/365.
Dedicated Magento hosting FAQs
Hosting allows code to run and databases to store & retrieve data. With any of our Magento hosting plans you'll be able to run Magento to power your store.
Take advantage of the flexibility of our dedicated infrastructure. Get started with any of our Nexcess SIP plans: engineered for excellence and designed for your business.
Been Loving Every Single Minute
We recently switched over to Nexcess for our WordPress hosting and have loved every minute! Our web speed has improved and their support team is ALWAYS helpful and friendly
Patient Support, Excellent Service
When I started with Nexcess Hosting a few years ago, I was inexperienced. I utilize their Woo and WP optimized hosting and not only did I learn so much from their Knowledge Base, I also received excellent and patient replies when making direct inquiries- solutions to my issues were always addressed and rectified quickly
I've been with Nexcess 13 years and still a fan
They are always willing to go the extra mile. When we migrated to BigCommerce I was encouraged by an outside party to switch hosting, but because of how amazing Nexcess has been I decided to stay. Nexcess excels and shines at being
With fully managed hosting from Nexcess, better is built in