MAGENTO AGENCY HOSTING
Improve Magento client outcomes
Build high-octane stores on
the industry's first and best Magento platform. Nexcess helps agencies of all sizes scale and grow
.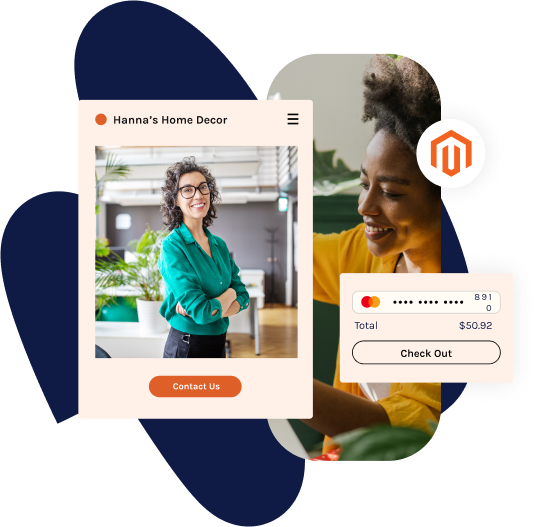 Time-saving features for Magento agencies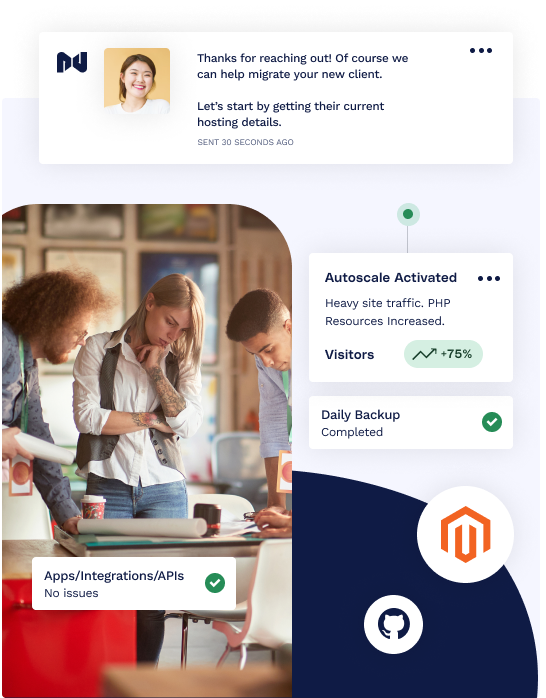 Free migrations

Your

website migration

is handled by in-house experts who move your client sites with detail and care.

24/7/365 support

Get help at any level, whenever you need it. Nexcess is home to the industry's best Magento support team.

Daily backups

Your sites are automatically backed up every 24 hours and available to restore for 30 days.

Developer-friendly

Flexible environments accommodate any workflow, so your developers can continue working without interruption.
MOST POPULAR
Includes:
400GB storage
5TB bandwidth
80 PHP workers per site
80 concurrent users
20 VPCU
20GB RAM
Up to 30 domains
MOST POPULAR

MID-SIZE AGENCIES

LARGE AGENCIES

****

XL

Better for scaling agencies.

Billed at

$559

$279.50 for 3 months

and then $559/mo.

****

XXL

Best for established Magento agencies.

Billed at

$859

$429.50 for 3 months

and then $859/mo.

Includes:

400GB storage

5TB bandwidth

80 PHP workers per site

80 concurrent users

20 VPCU

20GB RAM

Up to 30 domains

Includes:

600GB storage

8TB bandwidth

100 PHP workers per site

100 concurrent users

26 VPCU

26GB RAM

Up to 40 domains

Includes:

800GB storage

10TB bandwidth

120 PHP workers per site

120 concurrent users

32 VPCU

32GB RAM

Up to 50 domains
Experience the industry's best Magento support
Call, email or live chat with a Magento expert 24/7/365 for fast resolutions.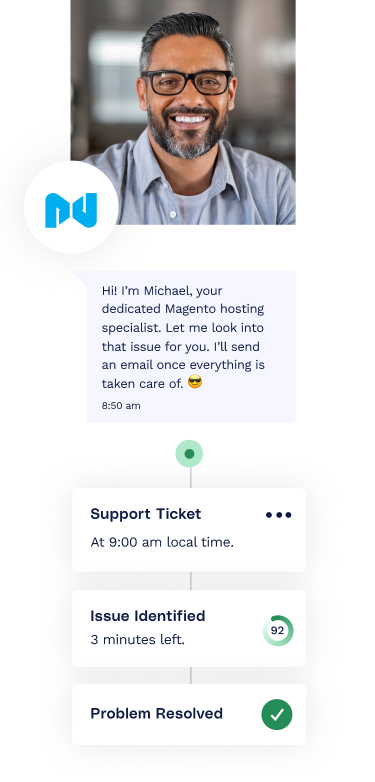 Application support

Our platform specialists are proficient in every version of Magento. You're always a click or call away from accurate feedback.

DevOps support

Nexcess pros point you in the right direction when you're experiencing development challenges.

Migration support

Every migration specialist has years of experience and transitions your data with detailed care.

Client support

When your clients need assistance, we're here. Nexcess assists your clients at their level, even if they're non-techies.
Join the hundreds of Magento agencies that trust Nexcess
Get more from your hosting as a Nexcess agency partner.
24/7/365 elevated support

Dedicated account management

Liquid Web & Nexcess product suite

Earn up to 20% per referral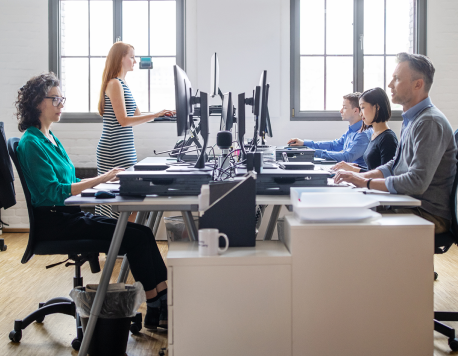 Seamless agency production.
Projects proceed as usual. Nexcess environments support any workflow, any version control, any deployment tool and any code management tool.
Free, high-quality migrations.
No automation or bots. Nexcess website migrations are handled by experienced specialists who transition client sites every day, no matter how large or complicated.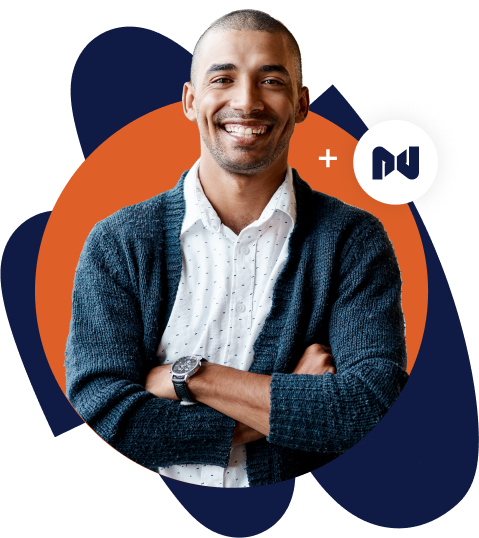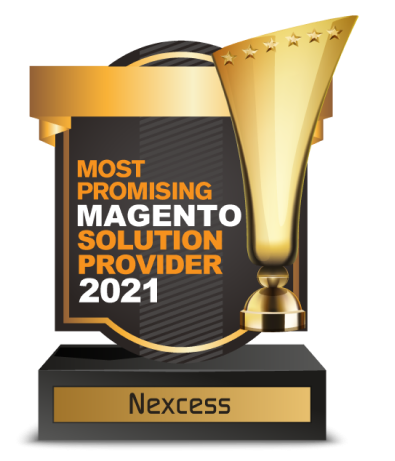 Best-rated Magento host
Magento was built on Nexcess servers. Our hosting is intuitively built for Magento optimization. That's why we are consistently rated a top Magento host.
Nexcess skyrockets Magento agency conversions
Netalico's high-end client needed better performance. Nexcess delivered that and more.
"Nexcess is saving us time and time is money. I would rather spend time taking care of requests or new requirements that will drive business for my Magento clients."

Make life easier and clients happier
Let Nexcess stand by you site by site, side by side. Join our partner program for exclusive agency benefits.
Start growing your Magento agency now
Migrate your clients free and stop worrying about maintenance.
MOST POPULAR
Includes:
400GB storage
5TB bandwidth
80 PHP workers per site
80 concurrent users
20 VPCU
20GB RAM
Up to 30 domains
MOST POPULAR

MID-SIZE AGENCIES

LARGE AGENCIES

****

XL

Better for scaling agencies.

Billed at

$559

$279.50 for 3 months

and then $559/mo.

****

XXL

Best for established Magento agencies.

Billed at

$859

$429.50 for 3 months

and then $859/mo.

Includes:

400GB storage

5TB bandwidth

80 PHP workers per site

80 concurrent users

20 VPCU

20GB RAM

Up to 30 domains

Includes:

600GB storage

8TB bandwidth

100 PHP workers per site

100 concurrent users

26 VPCU

26GB RAM

Up to 40 domains

Includes:

800GB storage

10TB bandwidth

120 PHP workers per site

120 concurrent users

32 VPCU

32GB RAM

Up to 50 domains
Magento agency hosting FAQs