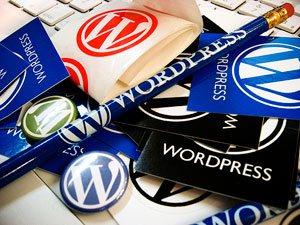 If you're pondering creating a blog or website, whether its because you're an entrepreneur starting a business, you want to make money blogging, or you simply have a creative itch to scratch, you can't have failed to come across WordPress. It's the world's most popular content management system, can be modified to create sites of almost any sort, and, best of all, WordPress is free.
However, while WordPress itself won't cost you anything, there are costs associated with creating a WordPress site. We're going to have a look at what you can expect to pay to set up a simple WordPress site or blog.
We'll be concentrating on self-hosted WordPress sites, sometimes referred to as WordPress.org sites, as opposed to WordPress.com sites. I'll explain the difference shortly.
WordPress
WordPress itself doesn't cost anything. The WordPress application is free and open source software developed by a community under the guardianship of Automattic, a company created by the original developer of WordPress, Matt Mullenweg.
Automattic makes money by offering services related to WordPress; it makes the software available for free, but uses it to build the WordPress.com platform, which provides a basic free hosting platform as well as premium services.
The basic WordPress package available for free on WordPress.com has a number of limitations, including restrictions on installing the plugins that extend the applications' functions and limitations on monetizing the sites, which makes it less than ideal for entrepreneurs, businesses, and people who want to make money blogging.
That's where WordPress.org comes in. You can download WordPress and then use the software in any way you like, but for that you are going to need hosting.
Hosting
There are many different hosting options available that run the gamut from low-resource shared hosting that will cost a few dollars a month to multi-server clusters that can cost thousands to run. If you're just starting up, I'd suggest you go for a shared hosting plan from a company that specializes in WordPress hosting. They will get the best performance from WordPress and will be able to offer expert support.
Themes
Themes determine the appearance of a WordPress site. You've probably visited many sites on the web and had no idea that you were looking at a WordPress site because themes can radically modify its appearance. There are three basic choices when it comes to WordPress themes: free, premium, and custom.
Free themes obviously cost the least, and there are plenty of excellent free themes available. However, you should keep in mind a couple of caveats regarding free themes. Firstly, thousands of people will be using them so your site may look the same as many others. Secondly, free themes are often used by hackers to entice people to install malicious code on their site. Thirdly, they're used by unscrupulous SEOs and developers to hide links to their clients, who may be in bad Internet neighborhoods; linking to them may hurt your SEO . If you choose to use a free theme, don't get it via a Google search for free themes, but from the free theme directory made available on WordPress.org.
Premium themes are paid-for themes created by web designers and licensed for use by whoever pays. Far fewer people will be using them than with free themes, and you also get support from the developer should you run into any difficulties (although the quality of support varies radically). One of the best places to find premium themes is the Themeforest marketplace. Pay attention to the ratings and reviews that buyers have made before you purchase. On average, you can expect to pay something in the range of $30 – $60 for a premium theme.
Custom themes are those developed from scratch by web designers for your site. They are the best way to go if you want a truly unique site tailored to your exact requirements, but they are by far the most expensive option, costing anything from a few hundred to several thousand dollars.
Installation, Development, and Customization
If you're moderately technically competent, you should be able to manage the installation and configuration of WordPress without much of a problem. In fact, if you choose a decent hosting company, they will install WordPress for you and all you'll have to do is install a theme and start publishing content. However if you need professional help with:
Theme customization

Development

Search Engine Optimization
You'll need to pay a professional. The price of this will vary hugely depending on what needs to be done and the level of experience of the developer you hire.
WordPress itself is free, but there are costs associated with setting up a WordPress site, including hosting, themes, and professional services. However, Self-hosted WordPress will allow for much more flexibility than free options.