The quick and easy way to start selling products on your WordPress website is to install the WooCommerce plugin.
However, there's another option for the single eCommerce store model—it's the WooCommerce multi-vendor marketplace. With a multi-vendor marketplace, you host a small or large group of suppliers on your site, skipping the hassle of ordering and storing inventory.
The vendors deal with inventory, you manage your site. Win-win.
To create a WooCommerce marketplace, you need a multi-vendor plugin with features that streamline your management duties and attract more vendors to your store. Choose a plugin that matches your budget and business goals. And think about the future. Find a multi-vendor plugin that will accommodate your store as it grows.
Popular Multi-Vendor Plugins
These multi-vendor plugins integrate with WooCommerce and WordPress:
This list isn't comprehensive, but it is representative of a group of plugins with the marketplace features you'll want to consider.
Multi-Vendor Plugin Features
Here are features to look for in a multi-vendor plugin.
Price
To take advantage of the full-featured version of a multi-vendor plugin, you'll spend around $79 to $149 per year. Plugins like Dokan and WC Vendors have a free or "lite" option that will get you started but lack some of the more advanced features you'll need later. While the core functionality of MultiVendorX is free, you'll need to download some add-ons to get up to the pro feature level.
If your start-up budget is a big goose egg, starting with a free multi-vendor plugin and adding features later is a good plan. If you're able to pay full price upfront, check to see which plugins have a money back guarantee. For example, WC Vendors doesn't, but Dokan does.
Dashboard for Vendors
Your role as marketplace manager means you shift much of the mundane operational tasks to the vendors on your site. For example, one common task store owners delegate is ordering products. Letting vendors order their own stock means you don't have to. Look for a plugin with a vendor-accessible dashboard that gives them user-level control over things like…
Checking order status
Adjusting shipping rates
Editing their profiles
Viewing reports on sales performance
User-friendly front-end vendor dashboards keep your sellers happy. If vendors lack enough access to their products or the dashboard interface is too confusing, they will get frustrated and leave.
Custom Commissions
As a marketplace owner, you make a commission for every sale. Some store owners charge a flat rate (e.g. 15%) for every sale, others vary their rates based on the product. For example, in a tiered markup strategy, higher ticket items tend to have lower markups (e.g. 10%) while lower priced ones have higher markups (e.g. 50%). If you want the flexibility to set your commissions differently—based on seller or product—look for a plugin with a custom commissions feature.
Custom commissions also work well if you want to charge a monthly fee for selling on your site. For example, with Dokan you can create a subscription package for vendors to list their products on your marketplace. Custom commissions also give you product pricing control, since your fees and markups will inevitably be rolled into what consumers pay.
Custom Tax Collection
Online sales tax collection took a big turn in July of 2018 when the Supreme Court ruled that states could begin collecting sales tax for online purchases. Previously merchants who didn't have a physical brick-and-mortar were exempt. Now every state can force vendors to charge sales tax even if they're completely online.
Although no state, at the time of writing, has begun collecting online sales tax, each will probably have a different rate. Giving each vendor the ability to charge their state's sales tax rate will make everyone's lives easier. State sales taxes are the future of eCommerce. Get your marketplace prepared now.
GDPR Compliant
The General Data Protection Regulation (GDPR) is a new global data protection law that took effect in May of 2018. The new regulation applies not just to European businesses that collect customer data (e.g. credit card numbers) but to any business that works with them. The GDPR outlines cybersecurity standards that eCommerce sites like multi-vendor marketplaces must adhere to when transacting consumer data. Marketplace plugins that aren't GDPR compliant not only put you at risk of hefty fines, but they're also less secure. Customers who don't trust you with their data won't trust you with their business.
Digital Product Support
If your marketplace will only deal with physical products, you won't need a plugin that supports digital products. But if you're planning on including things like songs, video tutorials, or eBooks, make sure it does.
It's smart to plan for both digital and physical products. Digital products help increase your profits because they tend to have higher markups. They're also excellent options for establishing dependable revenue streams through magazine subscriptions, club memberships or other recurring payments.
Installing a Multi-Vendor Plugin
Once you decide on the multi-vendor plugin that fits your business goals and budget, it's time to integrate it into your WooCommerce or WordPress theme. Every plugin will require a different installation process. To give you a general idea of what's required, here are the basic steps for installing Dokan.
Download and Install Dokan
Go to the Dokan website and download the plugin. If you are using Managed WooCommerce on Nexcess, Dokan is included in your partner plugin selections using the selector tool.
Go to the Plugins menu in WordPress and click Add New, then Upload File.
Click Choose File and select dokan.zip file you downloaded. Click Install Now.
Next, click Activate Plugin.
Dokan Setup Wizard
Store Setup. Enter your store's URL and choose who will be the "Extra Fee Recipient": the seller or admin.
Selling Setup. Decide the vendor commission percentage and enter the amount.
Withdraw Setup. Enable the withdrawal methods for paying your vendors. Paypal, your bank, or Skrill.
Hit the "Setup your Dokan!" button.
WordPress Configuration
To get a multi-vendor plugin to function with WordPress, you need to enable registration to add vendors. By default, the registration form isn't enabled. To enable registration, follow these steps:
Go to wp-admin → Settings → General
Check the box that says "Membership – Anyone can register".
Press the save button.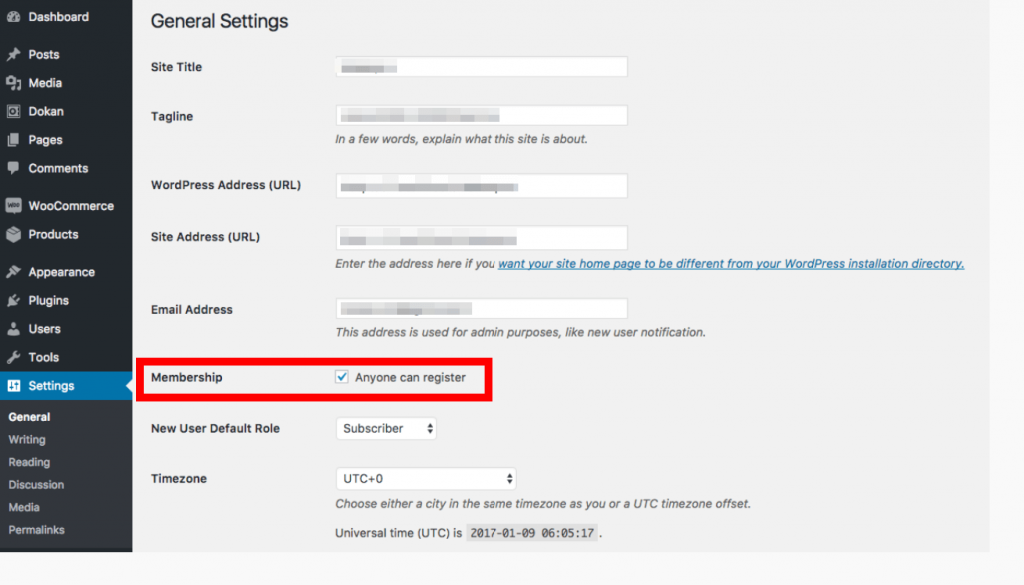 To work with Dokan's front-end templating system, you have to configure your permalink. Other multi-vendor plugins may also require a permalink configuration.
Go to Settings → Permalinks.
Select "Post Name" radio button. 
Select "Custom Base" radio button and write "/product" on the box.
Click the Save button.

Once you've got your plugin downloaded and playing nicely with WordPress, you can begin setting up your account. Whether you use Dokan or another plugin, you'll need to configure specific settings like these:
Shipping methods
New vendor product uploads
Admin commission percentage and type (flat or percentage)
Here's the complete list of steps for getting started with Dokan.
Managed WooCommerce Plans With Marketplace Functionality
Another option for starting your multi-vendor marketplace is to skip choosing, downloading, and configuring a multi-vendor plugin altogether. Instead, go with a Managed WooCommerce Standard (or above) plan, which includes everything you need to get started and grow your marketplace:
Jilt for abandoned cart recovery and win-back emails
Beaver Builder webpage builder
…and more!
Combining these essential parts of any marketplace saves you money. So a starter plan is a good investment even for small budget startups. And as your sales increase, you can easily upgrade to a more premium Dokan plan without having to switch multi-vendor plugins. Starter plans are an effective way to skip to the front of the line.
 Covered by Nexcess' Managed WooCommerce Hosting 
Jilt is an industry-leading cart abandonment solution for recapturing lost sales.
Multi-vendor plugins are how you and your vendors work together within your marketplace. So, they're an integral part of your overall financial and managerial success. Ensure that the multi-vendor plugin you choose offers the basic practical features mentioned here along with some additional nice-to-haves that will support your store in the future.