If you're looking to open a multi-vendor marketplace, it means you want to make money. Well, to be profitable, you need a multi-vendor plugin with enough features to help everyone involved—you and the vendors who sell on your site. They need to see how well their products are selling. You need management tools to key track of sales, orders, and refunds.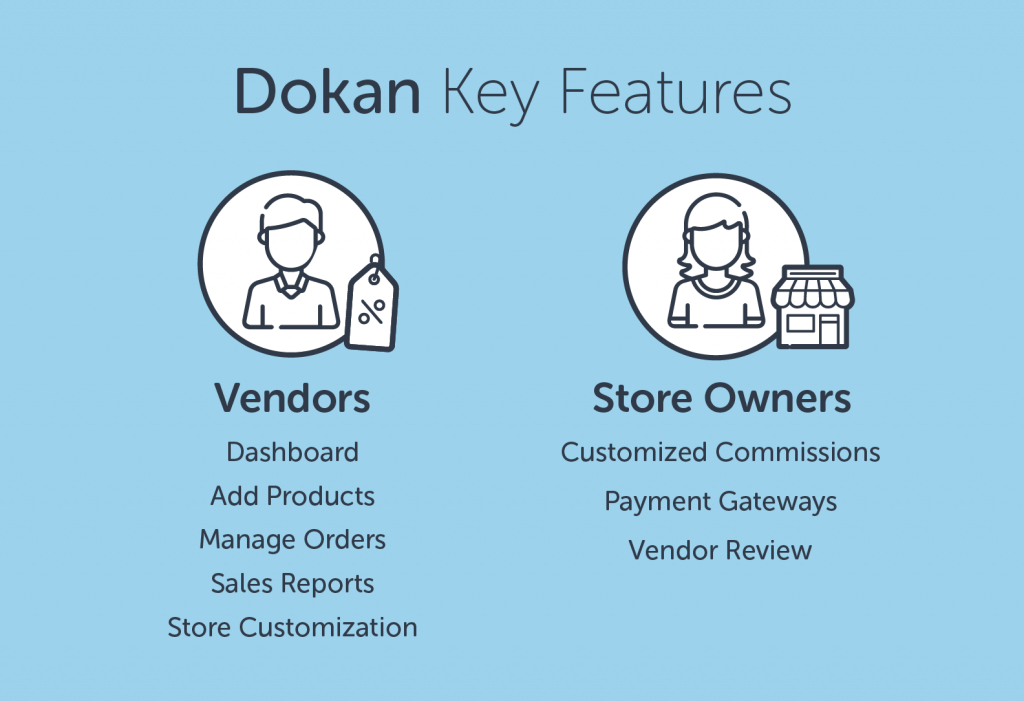 Marketplace success is a team effort, and plugins that build their multi-vendor features around the mutual commercial interests of both owners and sellers will be the most profitable. In short, you need a multi-vendor plugin that's built for store owners and vendors—for us, that's Dokan.
Here's why it's our favorite.
WooCommerce Integration
Dokan seamlessly integrates with WooCommerce, one of the world's largest eCommerce open source platforms. Dokan works with WooCommerce; it doesn't replace it. That means you get the robust features Dokan brings to your multi-vendor marketplaces plus integration for hundreds of supported WooCommerce extensions. You'll open up a universe of customization for your store and customers. For example, you could add WooCommerce Multilingual to take sales international or offer WooCommerce Gift Wrap at checkout.
Dokan Features for Vendors
To keep your marketplace profitable, your vendors need access to the same tools and data you have as an admin. Without good sales data, they can't make smart decisions about their store. They need the ability to do things like:
Determine which product has the most sales
Customize the look of their individual storefront
Check the status of an order
However, you can't just hand over the keys to your site. Dokan excels in creating a clean, intuitive user interface that gives vendors access to their stores without compromising the safety of your site. Here are some powerful tools Dokan offers your vendors.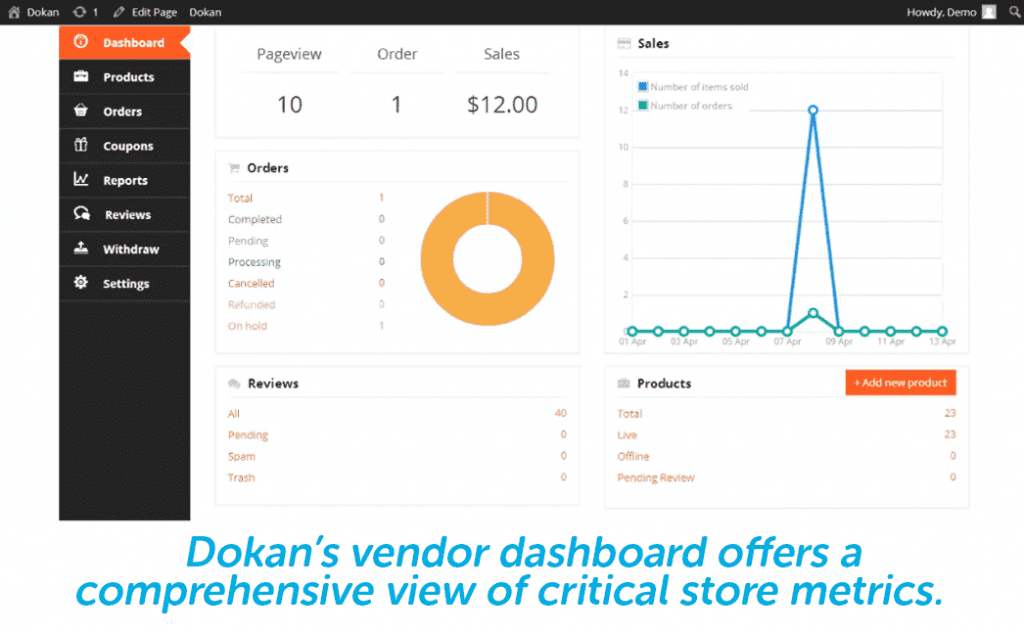 Dashboard
Every store needs a "big picture" look at performance. The Dokan dashboard gives each seller an at-a-glance breakdown of how their store is performing. They can view:
Total number of page views their store received
Number of orders they've made
What products they have in stock
Total sales to date
Vendors can also manage their reviews, mark spam review, and reply to customer questions. Overall, the Dokan dashboard is a clean, functional tool vendors can use to increase their sales and your profit.
Adding Products
The most basic task for a vendor is adding products to their store. The key is to make it as painless for your vendors as possible. Dokan's product adding interface mirrors the actual product page, so it's easy to recognize. Vendors can upload images and add product names and descriptions all on the same page. Vendors can also set their product prices and set a category pre-defined by you.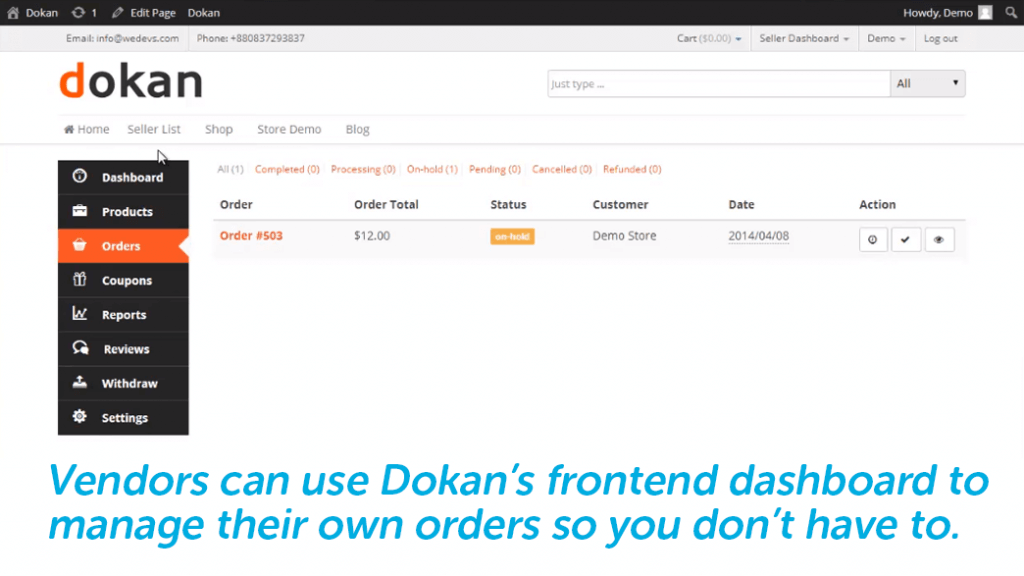 Managing Orders
The success of your fulfillment process will have a big impact on your profit. Late shipments decimate your repeat business. Shipping the wrong products will send your customer reviews from 4 stars to 1 star. Vendors need to know the status of their orders so they can respond to them. Dokan gives vendors access to all of their orders. They can see their order number, total amount, customer name, and delivery date. Dokan is one of the few existing multi-vendor plugins that offers frontend shipping tracking.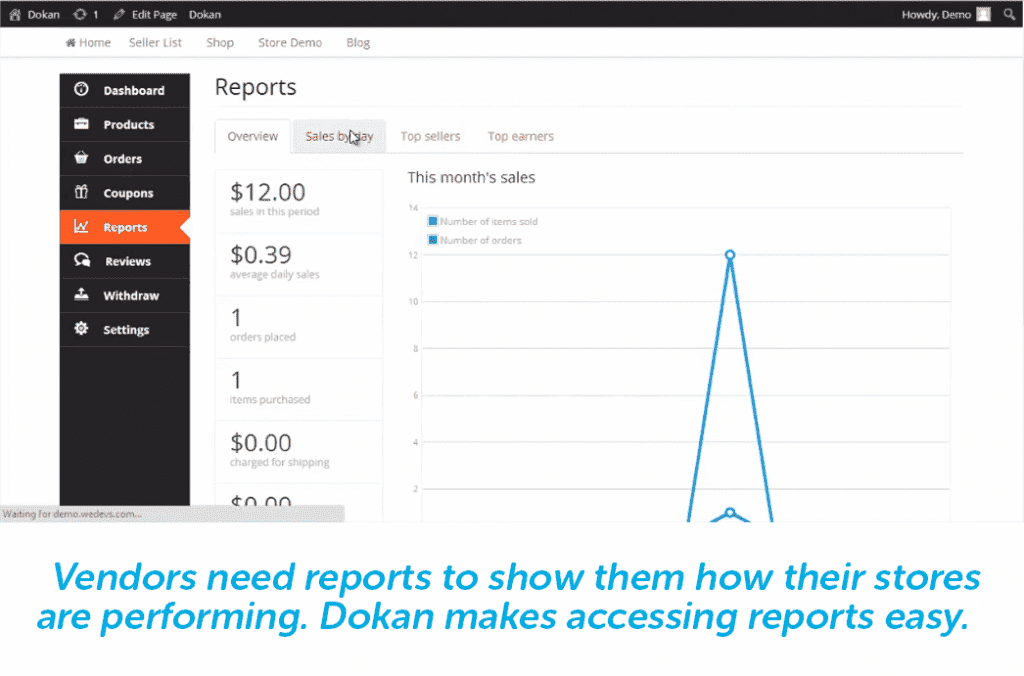 Sales Reports
Dokan's reporting dashboard contains powerful analytics tools to help vendors increase sales. For example, vendors can use their "Reports" view to see which of their products are top sellers. After determining the most popular products, they can order similar ones that appeal to their customers. Vendors can also filter by top-earning products to see which are the most profitable. Users can create custom date ranges for total sales, top sellers, and top earners to discover when sales are the highest for individual products.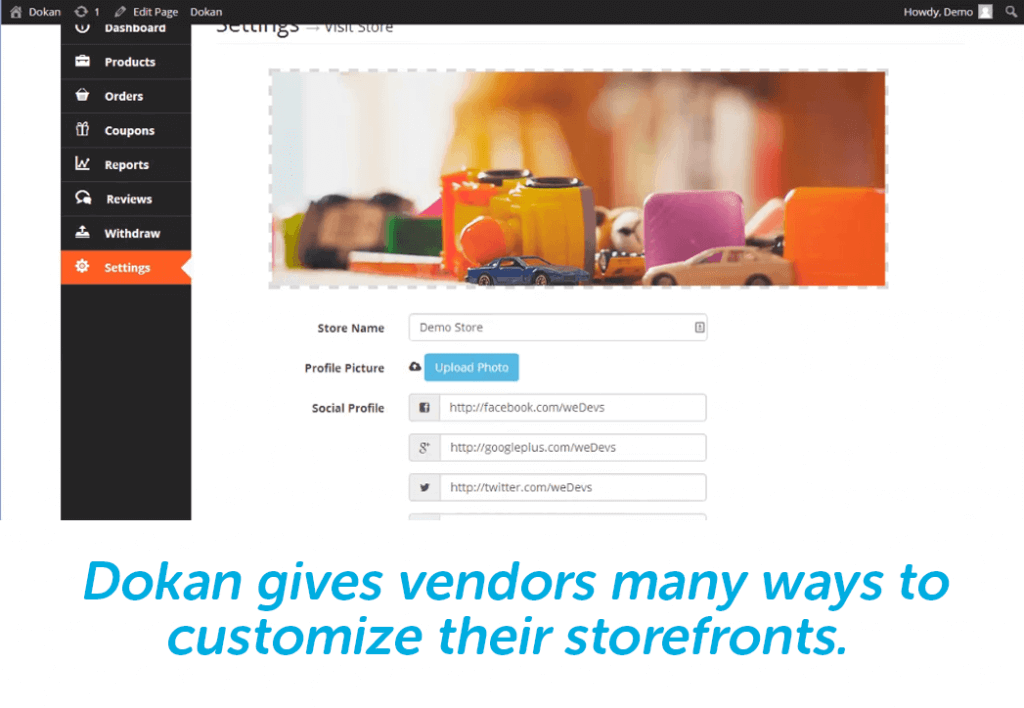 Other multi-vendor plugins like WC Marketplace, Yith, or WC Vendors provide basic reporting on overall earnings for your marketplace. But only Dokan offers each vendor a customizable view into their individual store's success. Your vendors have a better understanding of their customers and the products they want to buy. By putting relevant sales and performance data into their hands, you're letting them make better decisions about how to improve their stores. That means more time and higher profits for you.
Store Customization
Access to products and orders isn't all that keeps vendors happy and profitable. They also need the power to customize their storefronts and express their individual brands. Dokan makes it easy for vendors to:
Create and update their contact information
Name their store
Add social profile links
Choose their method of payment (defined by store owner)
Overall, Dokan's vendor stores are clean, easy to navigate, and responsive to mobile, tablets, and desktop.
Dokan Features for Marketplace Owners
Dokan is designed with marketplace owners in mind. Good analytics combined with automation make it a breeze to manage vendors and keep an eye on sales. Here are the best features of Dokan's admin tools.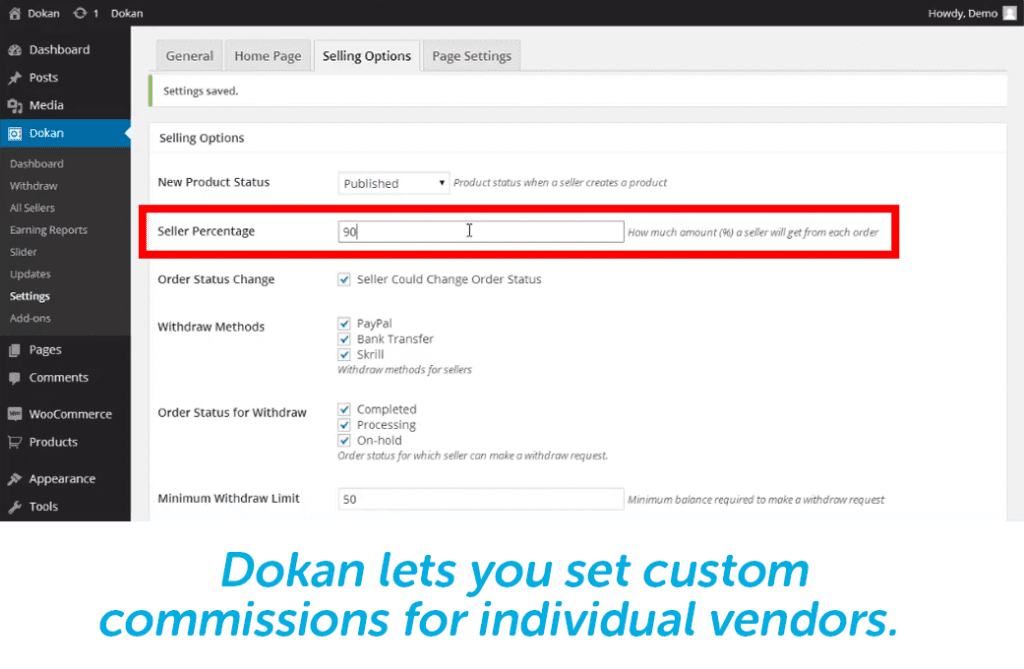 Customized Commissions
You get a commission for every sale made on your site. The percentage you collect from your vendors will significantly affect your product prices and profits. The higher your commission, the fewer vendors you'll attract. The lower your commission, the lower your profit. It's a delicate balance to strike.
Dokan gives you the ability to set commissions for individual vendors so you can customize your fees based on the value of a particular seller. For example, you can set a higher commission for vendors selling high-margin products (e.g., home furniture) versus those selling small-ticket items (e.g., T-shirts).
Payment Gateways
Successful multi-vendor marketplaces offer customers multiple payment options. If you expect to sell internationally, you'll need secure payment gateways to support foreign currency exchanges and locally popular payment methods. Dokan offers PayPal, Stripe Connect, and Moip Connect. But its integration with WooCommerce also adds its popular payment options such as:
Payment gateways are also how you make payouts to your vendors. After a customer makes a purchase, Dokan collects the payment, and the vendor makes a withdrawal request from you.
You can use the same payment gateways to collect from customers and make payouts to vendors. Having a good selection of payout platforms makes it easier to meet the transaction needs of individual vendors. And it makes your marketplace a highly functioning online venue that's more attractive to sellers.
Refunds
Dokan processes refunds through PayPal, a popular payment method that makes transactions easy to process. Here are the steps for processing a refund on Dokan.
Customer requests a refund from the vendor.
Vendor makes a refund request from the seller dashboard to the admin.
Admin cancels the order.
Refund is processed through PayPal to the customer.
Refund amount is deducted from the seller's account.
Only admins can process refunds, which have to be done manually. So, the bulk of the responsibility is on you. But Dokan's admin dashboard organizes and displays all of the pending refunds for you, and you can process them individually or in bulk.
Vendor Review
Letting customers rate individual vendors and products increases trust and your site's legitimacy. But smart marketplace owners give customers the option to review vendor and products separately. With this critical independence, you have better quality control over your vendor's customer service. A vendor may have great products but horrible service. With a review system that aggregates the two, you're stuck guessing.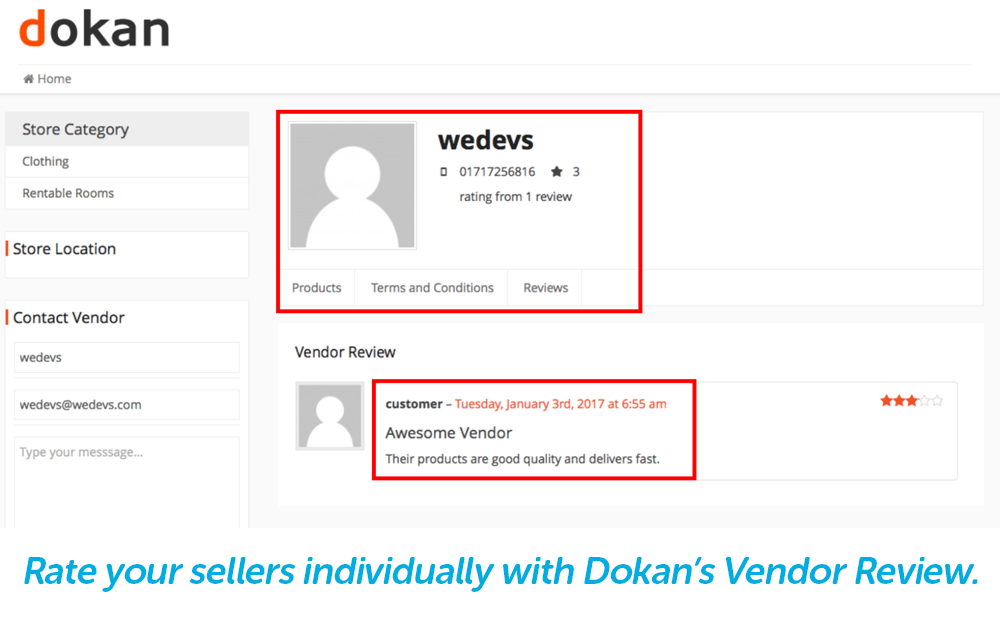 With Dokan's Vendor Review Feature, customers leave individual vendor reviews, which appear on their storefront. Reviews improve the customer's experience by speeding up their purchase decision. They can decide whether this is a vendor to trust or avoid.
Vendor Review also motivates each vendor to improve their ratings with better products and service. This self-policing of seller quality saves you tons of oversight and management time.
Pricing Plans
Dokan has five different pricing plans, from free to enterprise level. Store owners need different features at different stages of their store's growth. First-time owners need a low barrier to entry—free and low upfront pricing helps. Beware. Some plugins offer low prices just to get you signed up, then sap your budget with charges for add-on features. Dokan's pricing model starts you off with long-term planning in mind. It's designed to change with you as your marketplace grows. Even first-time store owners on a limited budget can access Dokan's Free Plan and still get:
Unlimited vendors
The frontend vendor dashboard
Vendor payment withdrawal system
The next step up is the Starter Plan at $149/year, designed for site owners who are just getting started with eCommerce. With the plan, you add some valuable features like:
Custom commission types
Reporting
Dokan customer support
You can lower your multi-vendor plugin price even more if you opt for a Managed WooCommerce Standard plan or above (Pro or Plus include it, too), which comes with Dokan and includes everything you need to get started and grow your marketplace.
Dokan's Biggest Strength: It Stands on the Shoulders of Giants
Dokan has the most features of any multi-vendor eCommerce plugin available. However, its biggest feature may be that it integrates with one of the most popular eCommerce platforms in the world (WooCommerce) and the world's number one content management system (WordPress).
Multi-vendor marketplaces are a numbers game. Quality products, reputable vendors, and effective marketing matter, but so does sales volume. Having a plugin that plays well with popular eCommerce platforms makes it easier to get started and stay profitable.
Get Your Marketplace Idea Up and Running in Two Weeks
With the Standard Plan of Managed WooCommerce from Nexcess, you can get a new WooCommerce marketplace up and running in less than two weeks. In addition to including the Dokan Multi-Vendor Extension with all plans of Managed WooCommerce Standard and up, we also include $6,000+/year of other premium plugins such as IconicWP, AffiliateWP, Jilt Pro and Glew.io.