When you're building your eCommerce empire, whether on WooCommerce or another platform, thinking about SEO from the start is imperative if you want to minimize costs and have the best chance to succeed long term.
Last time, I talked about technical SEO for eCommerce. Using those strategies you can ensure that your website is crawl-able to search engines and technically able to rank, but that alone will not get you the traffic that you want or need.
To do that, we need to take the next step in SEO for your store and conduct keyword research for eCommerce.
What is Keyword Research for Ecommerce SEO?
Keyword research for eCommerce SEO is the practice of identifying the keywords that your potential customers are searching and using to find companies like yours selling the products that you do.
Keyword research is the foundation of a great SEO strategy, and especially so on eCommerce websites that have many SKUs and categories of products.
With great keyword research, you can build out an information hierarchy that makes sense for your users (for conversions) as well as search engines so that pages on your site have the best chance possible to rank for the terms that they are targeting.
9 Ecommerce Optimization Tips for Fast & Effective Sites >>
Types of Keywords
There are two main types of keywords that need to be kept in mind as we conduct keyword research for eCommerce SEO:
Informational keywords, which often begin with modifiers like "how to" and "what is". These are terms that people search when they are beginning their research and trying to determine what to search for and ultimately what to buy.
Transactional keywords like [men's dress pants], where the customer may directly buy or is further down the consideration path from the above mentioned informational keywords. They expect a list of or page containing men's dress pants.
These two are high level types of keywords to help us wrap our head around the complexity of keyword research, and we must recognize that some keywords can be both informational and transactional depending on the searcher's intent.
To figure this out, you need to do some manual searches to figure out what pages the search engines are actually ranking for the query.
For example, [best men's dress pants] is an interesting search engine results page (SERP in the SEO world) that shows image ads, text ads, blogs with roundups of "best men's dress pants", a map showing me local businesses that sell men's pants in Denver, and then some more roundup-type posts sprinkled with a few conversion-oriented pages (Nordstrom) before a few more ads: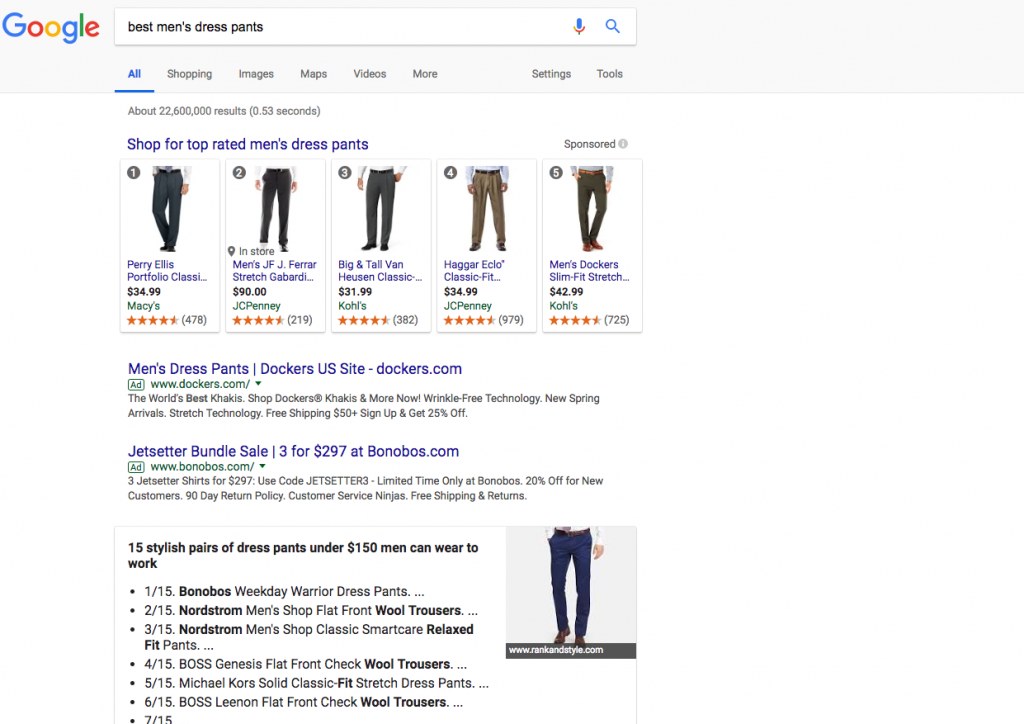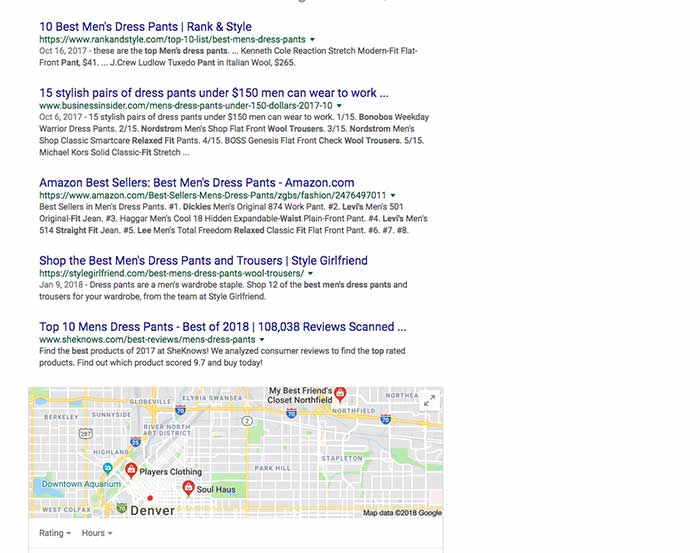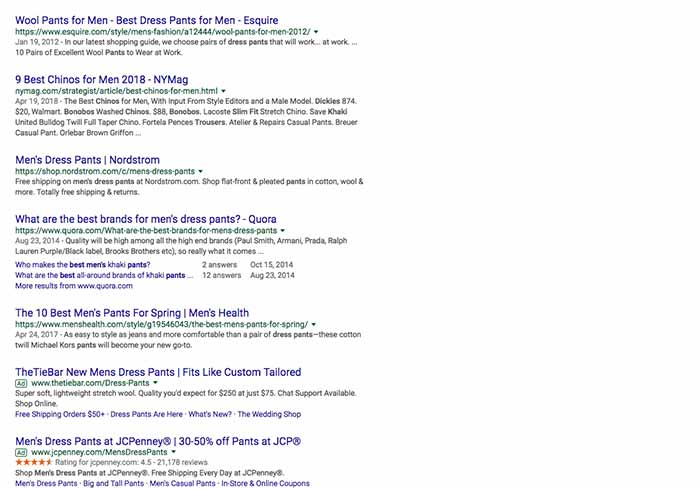 This is a great example of a mixed-intent query. You might be able to rank a category page here, but you might be better off with a roundup post highlighting the "best men's dress pants".
But when we search [men's dress pants], which is the exact same query minus the "best" modifier, we just get results for big retailers and image product listing ads: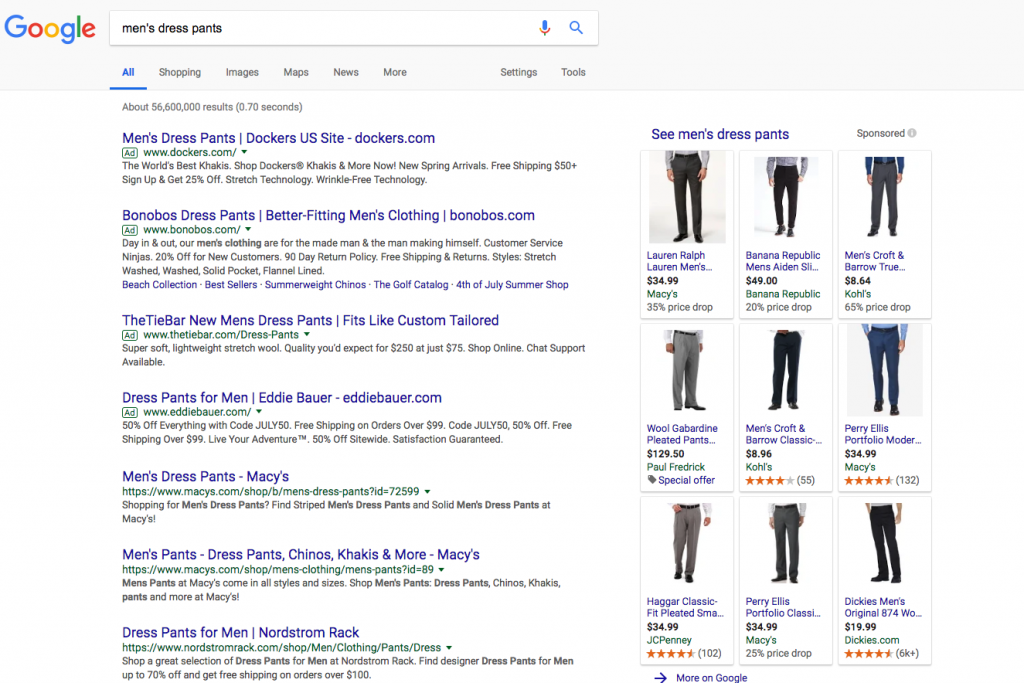 So how do we identify these at scale? We look at the data.
Using SEMrush, which is my tool of choice for keyword research for eCommerce SEO, we can compare the two and find that the data can drive our decisions:
You can see that there is only one word different here, but the search volume, difficulty (KD stands for Keyword Difficulty which is SEMrush's proprietary scoring for how hard a term is to rank for), and CPC (cost per click, aka average cost to buy a click for that term through AdWords) are all much higher for [men's pants] because that term is transactional, not informational, whereas [best mens pants] can be both.
Keep this rubric in mind as you do keyword research. To drive real direct revenue and audience, we will first target transactional keywords for categories/subcategories. For informational queries which your content team can create content around, we can identify those keywords separately.
How to Do keyword Research for Ecommerce SEO
I'll be honest – for a long time I hated keyword research. It can be tedious and very in-the-weeds when I prefer to operate at a larger strategy level, but I've come to find that keyword research and relying on that gathered data can help us make much better decisions to drive even more traffic and provide a better user experience than we could otherwise.
There are many different processes that professional SEOs use to do keyword research, but there are two tried and true strategies that you can use to find the right keywords for your business:
Brainstorming and topic expansion;
Competitor research.
In these next two sections, I am going to show you how to do both.
Brainstorming and Topic Expansion
Let's stick with the example of [mens pants] above. You're starting (or acquiring or operating) an eCommerce store that sells pants.
You should start with your highest level and most generic keyword, [pants]. There are three common tools that people use here, and you should use the one you have a subscription to. If you don't have a subscription, then investigate all three as they're similarly priced. The three tools are SEMrush, Ahrefs, and Moz Keyword Explorer.
For the purposes of this article, I am going to show how to do it in Moz Pro, specifically with their Keyword Explorer tool. They offer a free Community membership that gets you 20 queries a month, and their subscriptions start at $99.
Expanding Topics with Moz Keyword Explorer
Moz has long been a recognized brand in the SEO world. For a few years their keyword research offerings were not the best, but in 2016 they released Keyword Explorer which is now an industry leader.
Using my Pro subscription, I enter the word pants: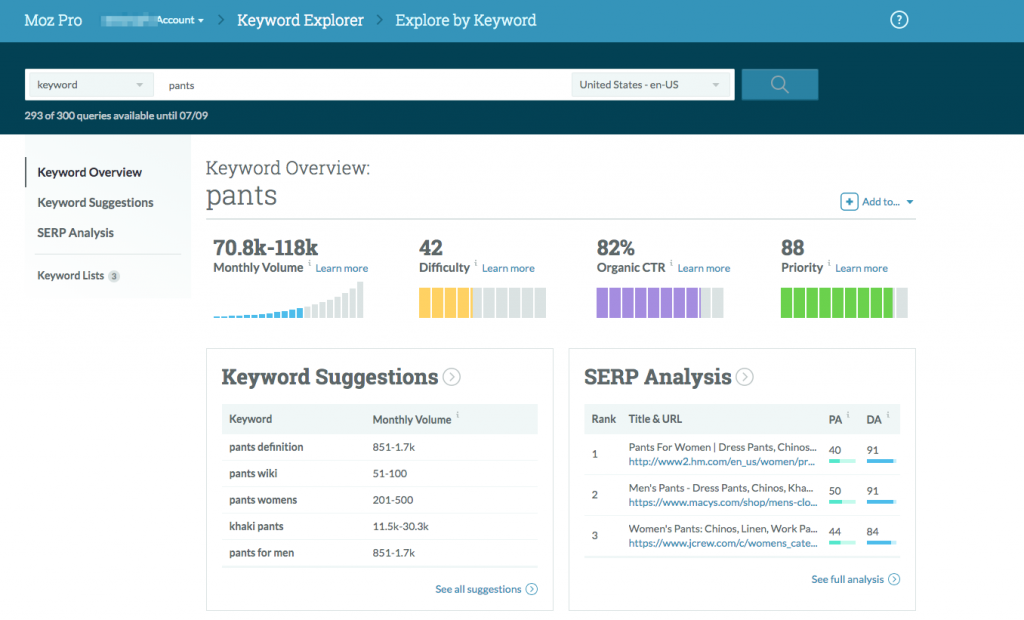 Click the Keyword Suggestions box and you will see an expanded list of keywords: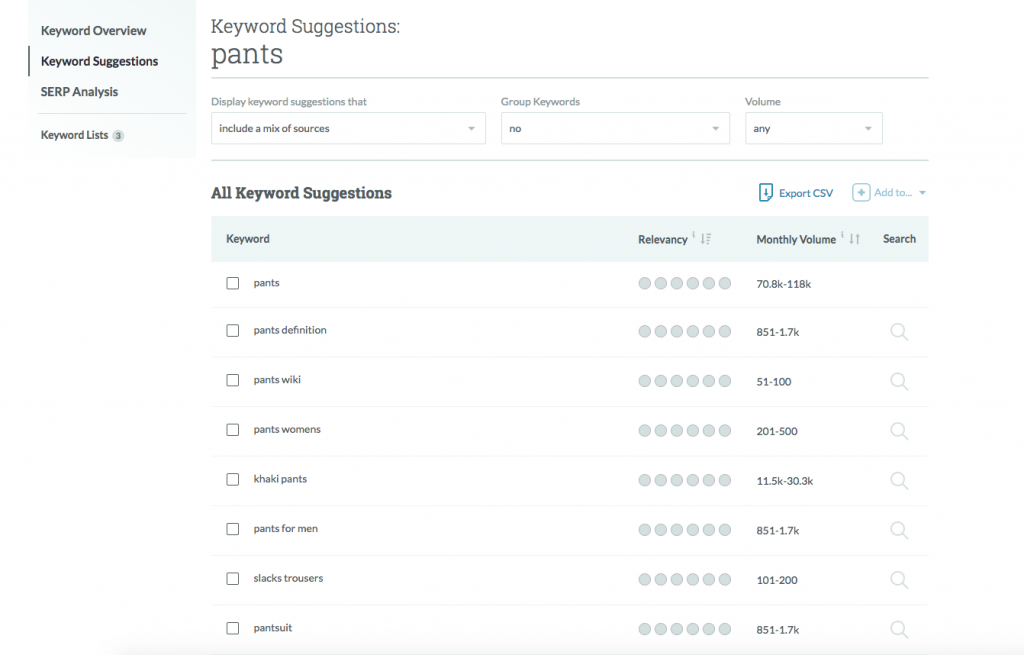 Moz does not give quite the same amount of data here as SEMrush, but their traffic data is more accurate because it comes from data collected by a company called Jumpshot about the clicking habits of searchers.
One great feature that Moz has is the ability to add keywords from the above view to a Keyword List: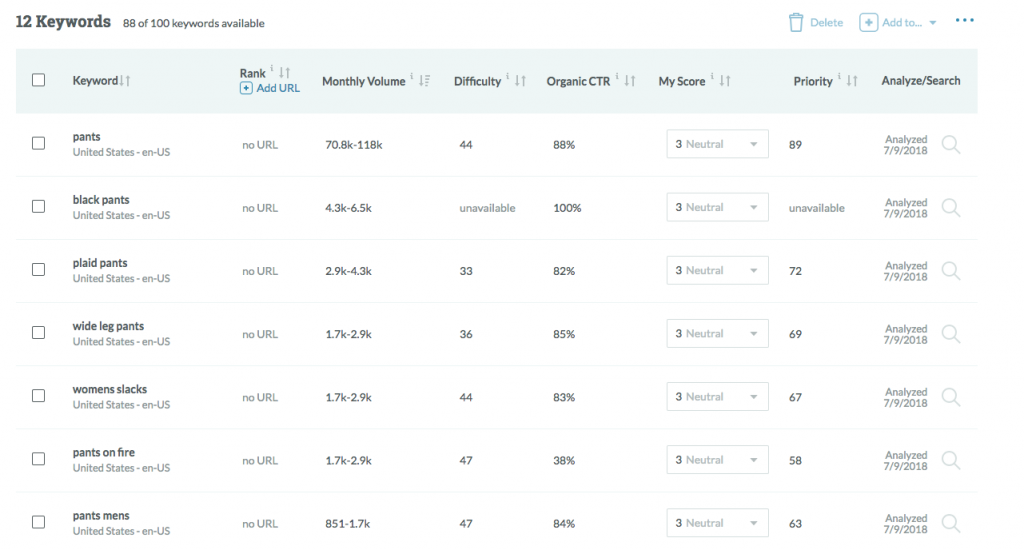 When you have enough keywords in your list, you can then sort by Monthly Volume and quickly see the keywords that should be a category or subcategory (based on volume and difficulty, with the higher volume and difficulty keywords needing to be higher in your site's information architecture) and those that can be further down in the architecture.
Once you have added all of the keywords that you think are relevant to your business, export them to Excel. I then like to open that Excel sheet, add a column for URL, and begin to define my URL structure:

Competitor Research
The above is the standard way to do keyword research for eCommerce SEO, where you begin with a topic and expand it.
While this is a great place to start, you do risk missing some keywords that your competitors are ranking for and driving business through. In order to not miss these, you can also use the tools already mentioned to conduct competitor keyword research.
The best tool, in my opinion, for competitor keyword research is SEMrush. They have a large (5.3 billion) keyword database and ranking data on most sites online.
To do competitor keyword research, go to SEMrush and enter the domain name of one of the top ranking sites for your main keyword. In keeping with the [pants] example, I am using Nordstrom.com: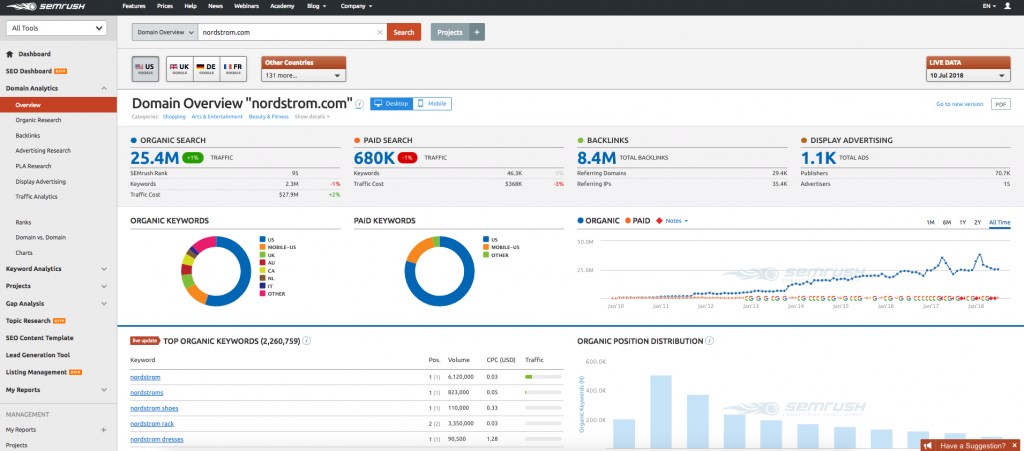 Click the Top Organic Keywords section in the bottom left to view all the keywords for which the domain ranks: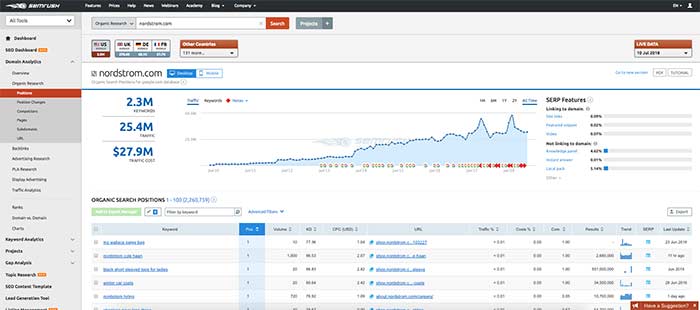 Nordstrom.com is an enormous website that ranks for literally millions of keywords, so we need to refine the keyword set to only keywords containing the word "pants", like so: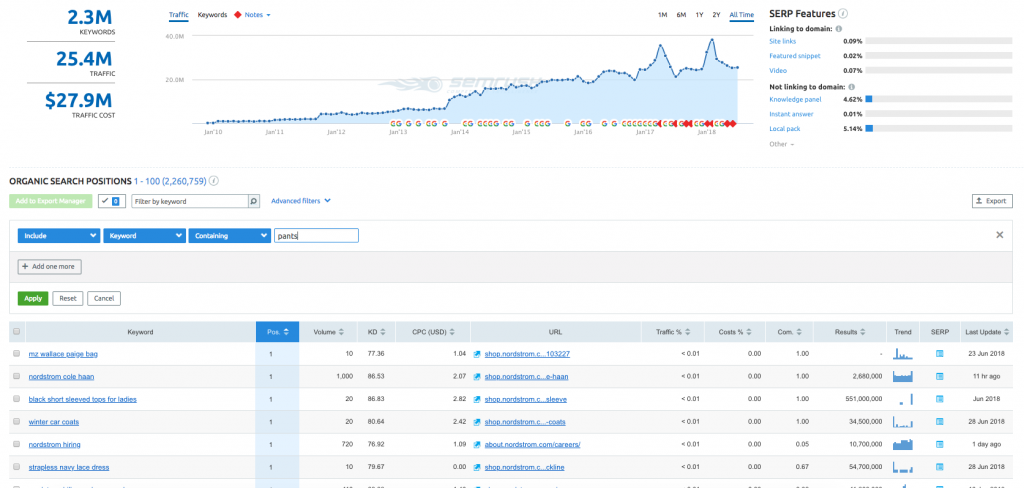 Now you have a much cleaner set of relevant keywords. If you want to only target keywords that Nordstrom.com ranks on page 3 or higher, you can also implement a filter for that: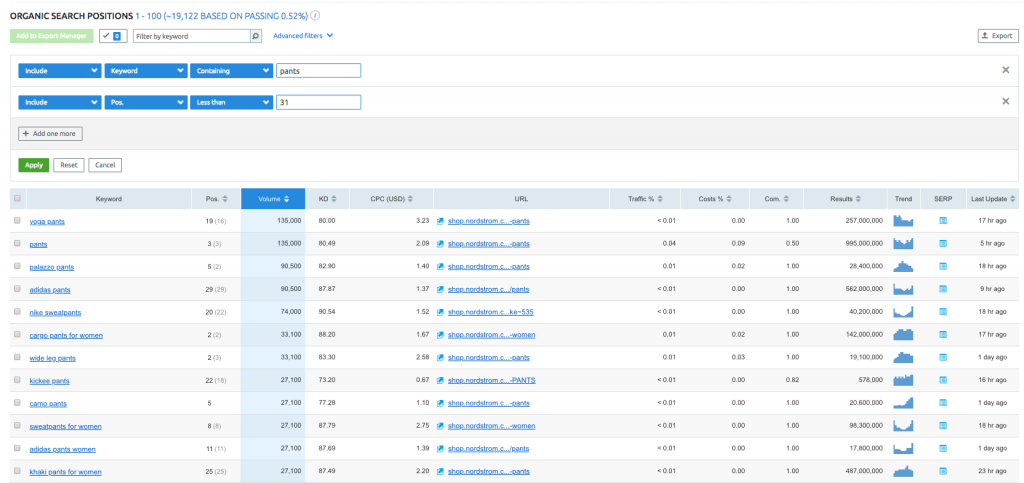 Once you are happy with this list, then export it to CSV and de-duplicate it against your initial list that you gathered through topic expansion.
Putting Keyword Research for Ecommerce SEO into Action
Once you have your keyword set, the challenge is to now put it into action. All the research and data pulling in the world won't move your business forward unless you create actionable insights and actions from it.
The keyword data you have collected should now guide your decision making around how to structure your site for optimal conversions.
If you run a pants eCommerce store then you need to recognize and will see within the data, that people shop for pants by gender type. According to the keywords we've discovered above, there will be some top level pages for main keywords like [pants], [trousers], and [slacks], but for the most part, pants are searched by type + gender or type.
The way I personally would structure this type of site, based on the keyword research, is by:
Pants type (pants, slacks, trousers)
Pants type + color (black slacks)
Gender + pants (womens pants)
Gender + pants type (womens yoga pants)
Gender + color + pants type (womens black yoga pants)
These are all ways that your customers are searching for the products that you have to offer, so building these specific pages will help you rank better for more terms and drive more business.
Every eCommerce business is different, but if you follow my advice and the strategies within this post to identify the keywords you should target, learn from your competitors to become more competitive with them, and then keep your customer's needs in mind as you build your information architecture and URL structure then you will do very well for SEO.
Ready to Take the Next Step?
Try Managed WooCommerce Hosting see how Nexcess has included many of the tools you need to be successful with your eCommerce Business – right out of the gate.