The fall of traditional commerce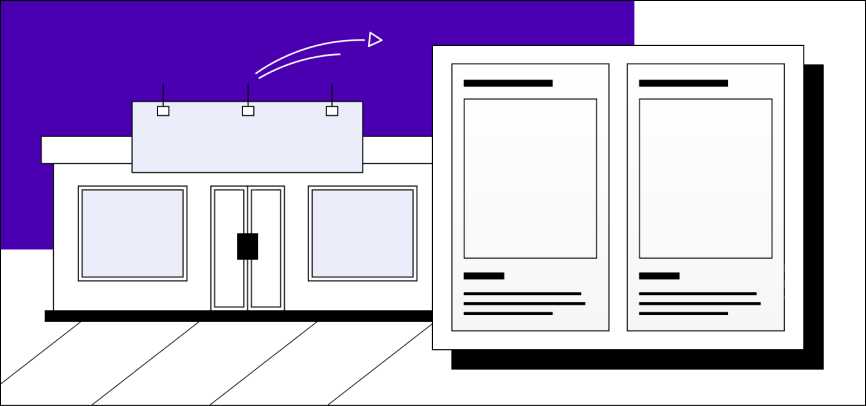 The days of going to "the store" for items you need and want seem like a distant memory. Sure, you can still run to a traditional commerce location, but customers are increasingly turning to the convenience of ecommerce. From the second quarter of 2022 to Q2 2023, ecommerce sales jumped 7.7 percent compared with a 0.5 percent increase for overall retail sales.
A trip to the store nowadays often means parking in a pickup spot and popping your trunk so a store employee can load your groceries or other items. In fact, curbside pickup is now up 66 percent year-over-year, according to pymnts.com. And simply purchasing items by phone or tablet to arrive at your doorstep is even more commonplace.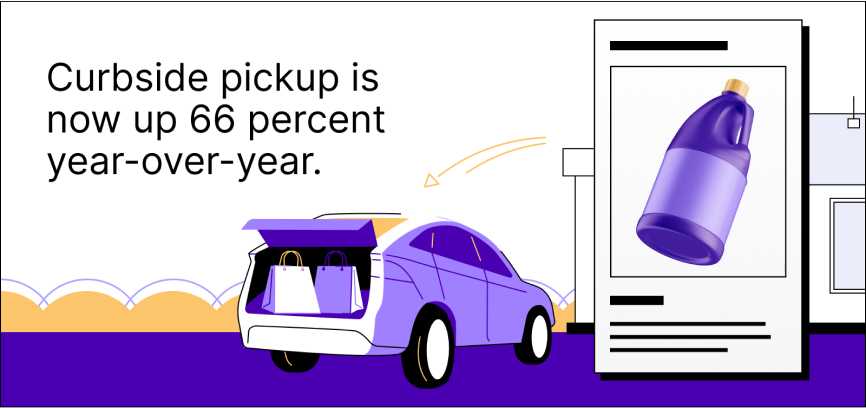 How did we get here? When did this brick-and-mortar retail sales decline take place? And what caused it?
We dug deep to find the answers to those questions. It took a statistical research survey of 1,000 businesses and the help of real-world retailers to gauge what happened to brick-and-mortar and how retailers from all sectors can stay ahead. But first, we need to start from the beginning. 
The evolution of brick-and-mortar retail?
The mid to late 1800s saw the emergence of traditional commerce examples as we know them. "Mom-and-pop" shops began springing up in every town across America. As the 19th century wore on, this trend climaxed with the rise of the department store.
Department stores like Sears, Macy's, and Bloomingdale's remained prominent until the 1950s when retail barons saw an opportunity to improve on the concept with the shopping mall. Malls enabled customers to travel from store to store under one roof. And they quickly became more than just places to shop. They became cultural centers where people gathered and socialized.
By the 1960s, the shopping mall concept took the country by storm. People enjoyed their social benefits and the convenience of having all their favorite stores — and often even recreational outlets like restaurants, arcades, and movie theaters — under one roof.
But society soon began to clamor for a return to the one-stop shop feel of department stores. Thus, the big-box store was born. Walmart is a prime example — a model that combined the vast inventory of the shopping mall with the "everything-under-one-roof" mentality of the department stores of old. This retail model would be the last major advancement in the journey of brick-and-mortar shopping before the advent of the internet and ecommerce.
The decline of brick-and-mortar stores
In the early to mid 1990s, we saw mainstream adoption of the internet, the ascent of ecommerce giants like Amazon, and the beginning of the brick-and-mortar decline.
This marked the great shift in retail from traditional commerce to ecommerce. At this point, customers began to experience the luxury of online ordering and fast, easy returns. Ecommerce also gave customers a personal shopping experience, curated especially for them, for the first time. Subsequently, many big-box, department, and other retail giants began to close their doors for good — resulting in the mass wave of bankruptcies we would see in the 2020s.
Chapter 11 bankruptcy numbers jumped 68 percent in the first half of 2023, with 2,973 bankruptcies filed during that time. In comparison, this number was only 1,766 in the first six months of 2022.
Names once embedded in the fabric of society continue to disappear amid the evolution of our digital society. Big-box retailer Bed Bath & Beyond (BBBY) was among the most severely affected.
Bed Bath & Beyond struggled to adapt as the retail climate shifted. As society moved into the digital ecommerce age, BBBY fell behind in several areas.
Bed Bath & Beyond case study
The history of ecommerce is full of stories of brick-and-mortar retailers gone by the wayside. Home-good retail giant Bed Bath & Beyond, which filed for bankruptcy in April and subsequently closed its more than 300 remaining stores, is one of these brick-and-mortar victims. The company originated in Union, New Jersey, as Bed 'n Bath in 1971. Its primary focus was furniture, housewares, and other home goods items.
Outdated store design and layout
One of the most fundamental flaws with BBBY's business plan was its store layout.  Storeroom floors were dingy, shelves were dusty, and the layout's inefficiencies made stocking shelves challenging for store employees.
The store layout also made it difficult for customers. Design elements like narrow aisles and confusing inventory mapping made it difficult for customers to find items. The result was extremely long checkout lines and, ultimately, a subpar customer experience.
High prices
The advent of the internet did more than just pit ecommerce vs. brick-and-mortar retail. It also created more savvy consumers. Shoppers, able to research prospective purchases more easily than ever, began to notice a trend: BBBY items were more expensive than their competitors' — even than those of fellow brick-and-mortar retail destinations like Walmart.
But BBBY dealt with more than just high prices. The company was also inconsistent with its pricing strategy. When BBBY would run promotional events, the discounts or coupon codes weren't always easy to find. This led to confusion among its customers, who were left unsure of the fairest prices for particular items.
The retail chain's reliance on paper coupons didn't do it any favors, either. This strategy peaked in the 1990s, when the company's iconic blue and white mailers were seemingly everywhere. The brand reduced its dependence on coupons in the 2010s and attempted a yearly "20 percent off" membership program in 2016 — both of which were unsuccessful, finally leading BBBY to drastically scale back on coupons in 2020.
With the amount of research customers have at their fingertips, pricing can be a major flaw for many businesses like Bed Bath & Beyond. In a recent marketing survey, 25 percent of respondent businesses claimed they were losing customers in favor of cheaper competition. Companies must take whatever measures necessary to remain competitive with their retail pricing strategies or risk the same fate as BBBY.
Lack of focus on online sales
In the past decade, consumer behavior has massively shifted toward online shopping. And, with worldwide ecommerce sales expected to top $8 trillion by 2026, that shift should continue. The rise of Amazon, the increasing availability of high-speed internet, and the convenience of shopping from home are just a few of the many factors.
Bed Bath & Beyond was slow to adapt to this shift. The company's website was difficult to use and long overdue for an update — it just didn't offer the same level of convenience as Amazon or other online retailers. As a result, customers abandoned Bed Bath & Beyond in favor of its competitors.
The COVID-19 pandemic only accelerated consumers' shift to online shopping. Customers were forced to stay home, and Bed Bath & Beyond was forced to close a good number of its stores (about 63 locations by the end of 2020).
Another factor affecting BBBY's online sales was its competition with Amazon. Amazon was already an ecommerce behemoth when the pandemic hit. The quarantines and lockdowns of 2020 only bolstered Amazon's success, simultaneously accelerating the decline of retail stores. Bed Bath & Beyond's online presence paled in comparison, and its online marketing efforts were weak and almost non-existent.
Poor customer service
Bed Bath & Beyond's customer service issues likely weren't confined to its clumsy and outdated website. Several waves of layoffs and the retail industry's well-documented struggles to retain labor in the wake of the pandemic likely exacerbated the retail chain's customer service woes.
Sparsely staffed sales floors are an issue for brick-and-mortar locations across the industry. It's a major pain point for consumers left to contend with long lines, empty shelves, and few customer service reps or employees to lend them a hand.
Doing more with fewer workers is not an issue exclusive to retail, as layoffs have ravaged most industries in recent years.
More than half (58.4 percent) of businesses across industries have seen some reduction in staff under current economic conditions, according to our recent survey.
Other factors contributing to the bankruptcy of retailers
While these four factors spurred Bed Bath & Beyond's ultimate downfall, it's not the only store affected by the rapidly changing retail economy. Big-name brands like David's Bridal, Tuesday Morning, and Party City all have filed for bankruptcy. Here are a few of the factors that have had a drastic toll on traditional commerce businesses.
Changing consumer behavior and preferences
The emergence of the digital marketplace is responsible for major changes in customer behavior and preferences. Ecommerce — and the larger digitization of our society — is revolutionizing how shoppers interact with our favorite brands.
Shopping in today's marketplace means speed. Brands are attracting ecommerce customers and retaining them by providing quick checkouts, quick deliveries, and quick answers to customer service questions
What makes this even more challenging is the evolution of the modern retail customer journey. With the rise of social media, digital TV, and the internet, customers can interact with your brand on any number of platforms. Brands must be ready to convert potential customers at any touchpoint along this customer journey, which requires an omnichannel marketing presence.
Michael Wu, CEO of Page One Formula, weighs in on how to retain today's online customers: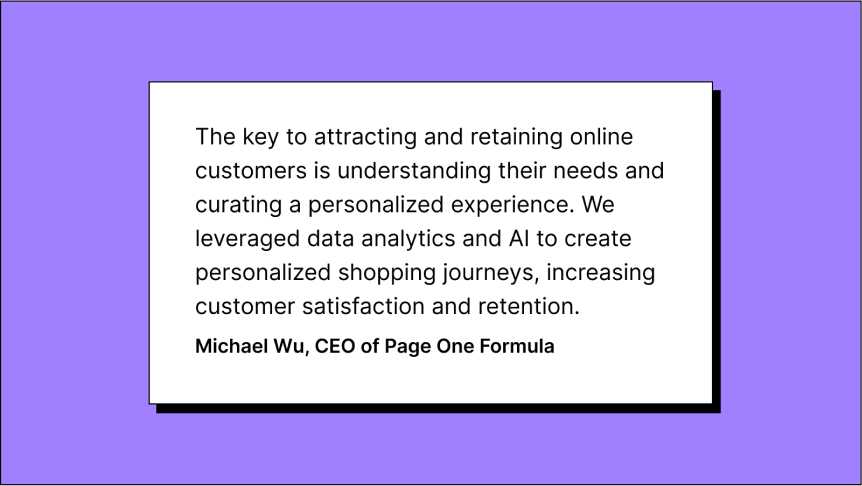 Failure to adapt to the digital era
If keeping up with these new trends in consumer behavior sounds like hard work, that's because it is. Many brands didn't put in the effort, make the necessary changes, or hire the staff needed to adapt to retail in the digital era. Omnichannel marketing, streamlined customer support, and a social media presence are just the tip of the iceberg.
The modern retail experience also makes all types of ecommerce businesses closer to their customers than ever. If a shopper does business with your brand online and has a bad experience, they can take to their favorite social media platform and let thousands of people know about their poor experience in seconds. In short, brands that didn't adopt a customer-first mentality in every facet of their business were quickly left in the dust.
Challenges in supply chain and inventory management
One byproduct of the COVID-19 pandemic was a severe interruption in the global supply chain. Businesses around the world experienced lengthy delays in receiving scheduled inventory deliveries. This left many retail businesses with empty shelves, long wait times, and higher prices.
These widespread supply chain problems were a major cause of the bankruptcy of several major retailers. Not only did they contribute to Bed Bath & Beyond's demise, but this stalling of the supply chain and inventory also impacted big names like JCPenney and Neiman Marcus.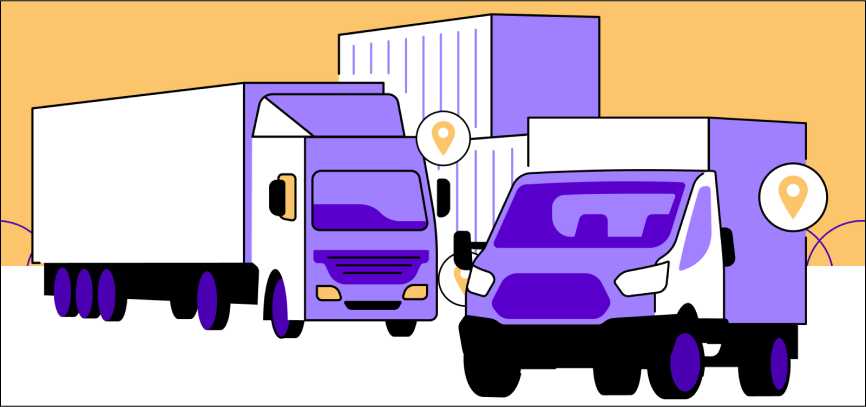 Businesses had to adapt and switch gears significantly. "We streamlined our logistics through real-time tracking and predictive analytics, enabling us to anticipate demands and maintain optimal inventory levels. Partnering with reliable fulfillment services helped ensure timely deliveries, strengthening customer trust in our brand," says Wu of Page One Formula. Brands that didn't take similar steps may not have survived.
Fortunately, there is hope on the horizon. Businesses everywhere are getting out in front of these trends and doing what it takes to adapt, overcome, and survive.
"To ensure smooth logistics, we partnered with reliable shipping carriers and implemented an efficient inventory management system. Additionally, we prioritized quick and accurate order fulfillment to exceed customer expectations and encourage repeat purchases," says Kiran Mehra, co-founder and president of Goldspot Pens.
What this means for the future of commerce
The decline of traditional commerce retailers is a sign of the times. Online shopping is here to stay and will only continue growing. Brick-and-mortar retailers must adapt to keep up with the future of ecommerce. How do they do this?
Building brand loyalty and trust
Future commerce will depend greatly on brand loyalty and trust. Ecommerce and the digital age of shopping means new levels of transparency and intimacy with your customer base. A customer-centric philosophy is essential, but it will take more than that.
Brands must remain authentic and consistently deliver high-quality products and customer service. Responding to customer feedback quickly and effectively is imperative to build trust and, ultimately, to the success of your brand.
It's also helpful to create a sense of community. This is an interesting strategy because, when done right, you often need a much smaller audience than you think — as marketing guru Kevin Kelly outlines in his essay, 1,000 True Fans.
Kelly argues that a business doesn't need millions of customers to be successful. They only need 1,000 diehard fans. The type of fan that will "drive 200 miles to hear you sing," to quote Kelly. If these 1,000 fans each buy your $100 product, a small business could earn $100,000 a year — a pretty nice living.
Fostering a solid brand identity and mission
As traditional commerce evolves, brand identity and mission will become more than just statements on a plaque or office wall. To set themselves apart, brands will have to put in the hard work to cultivate strong brand identities and missions — and they'll have to stick to them.
A brand must take the time to:
Establish a target audience.
Stay consistent in the messaging it delivers to that audience.
Define the brand's purpose.
Create a strong brand identity and values.
Make its brand identity memorable.
Consistently live those brand values.
Nurturing customer relationships through effective communication
In today's economy, customers want communication from the brands they do business with, and they want it quickly. Social media and ecommerce have escalated the speed at which customers want answers.
To ensure success in the future, brands must respond to customers' needs quickly. It's also important to listen to customer feedback, implement their suggestions, and remain authentic and transparent.
Engaging customers through content and storytelling
Storytelling and content are emerging as critical pillars of a solid ecommerce marketing strategy. As the old sales adage goes, "Facts tell. Stories sell."
Success in the modern economy means making your story resonate with your target audience. Personalize your content and stories to each customer. This may mean creating multiple storylines depending on where they are in the customer journey or their unique customer profile.
To do this, your story itself must be compelling. How do you do that? By making your story relatable. Use relatable characters, keep content authentic, and support your storytelling with visuals wherever you can.
Crafting compelling narratives around products and brand values
Creating compelling narratives around your products and values boils down to understanding your audience and remaining consistent with your brand's essence. Think about whom you want to reach and what separates your brand from the competitors in your industry.
Marketing teams must also focus on true storytelling components. The narratives around your brand's products must involve proper character development, conflict, and resolution. When your customers read these narratives, they should evoke an emotional response and make your target audience feel something to be effective.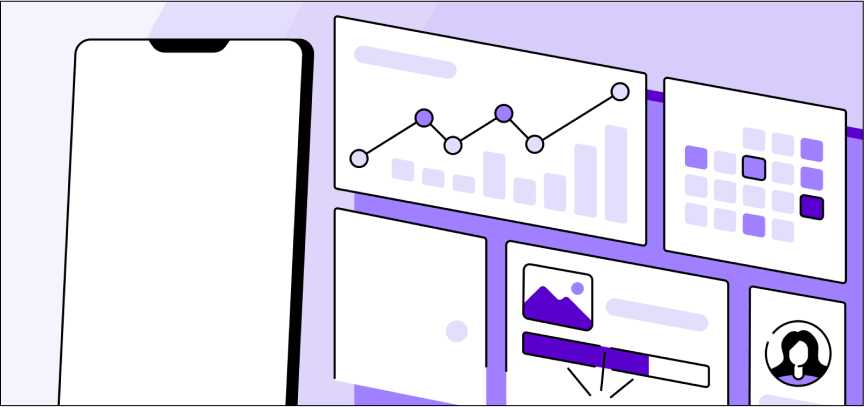 Utilizing social media and other digital platforms for brand engagement
The most fundamental way brands can use digital platforms for brand engagement is to post engaging, shareable content. This may seem more challenging than it is. If you research your target audience (who they are, what they do, their hobbies, etc.), speaking to them should come naturally.
Additionally, you can layer in other tactics like contests or giveaways. You can also include paid social media ads and influencer partnerships as your brand and strategy evolve.
Where some brands go wrong is missing an opportunity to supercharge their customer service on social media. These platforms are your most direct connection to your customer base. Listen to the customers who routinely engage with your brand and implement their feedback (both positive and negative) into future products and brand initiatives.
Balancing convenience and the human touch
Modern marketing creates an interesting paradox. Customers want increasingly more personal experiences from the brands they love, but these brands have an increasingly larger territory to cover. Most human teams are too small to interact with all customers effectively. So, how do brands balance convenience and interaction with the human touch?
For starters, brands should focus on personalizing customer experiences as much as possible. The good news is that companies can leverage technology in the modern marketplace to accomplish this feat.
Software tools allow you to take a granular look at custom data and leverage innovative technology like predictive analytics to give customers what they want, when they want, and exactly how they want it.
Organizations can also leverage technology like AI to bring themselves closer to their customer base. AI chatbots do a great job providing quick responses in customer service situations. Using them effectively can also free up your human customer service agents to address more complex customer concerns and provide a pleasant experience.
Offering excellent customer service in an online setting
Customers want answers quickly. The best way to provide excellent customer service online is to make those answers easily accessible. Make a point to be helpful, knowledgeable, friendly, and professional. Take the time to understand where your customer is coming from and go above and beyond to make them happy.
Your team can also leverage technology to improve their online customer service. Chatbots and live chat widgets are great examples of how technology can help. Countless metrics and analytics tools allow you to measure and track your customer service performance. With concrete numbers to view, you'll be able to easily set goals and improve this area of your business as time goes on.
Creating a seamless and user-friendly website and checkout process
Brands must make their website and checkout process user-friendly to stay competitive in the current and future business landscape. Companies can do this by:
Optimizing their websites for page speed.
Accepting multiple payment options.
Focusing on simple site architecture and navigation.
Providing helpful information customers can use.
Offering guest checkout (checkout without creating a user account).
Using autofill on membership and order forms.
Prioritizing a mobile-friendly layout.
How can brick-and-mortar retailers prepare for the future?
The brick-and-mortar businesses that represent traditional commerce as we know it face an uphill battle. They aren't as nimble and scalable as their wholly digital counterparts. However, they still stand a fighting chance, provided they implement the right practices to integrate their physical and digital presence. Let's explore ways they can do this below.
Embracing omnichannel retailing
For brick-and-mortar businesses, embracing an omnichannel experience revolves around structuring the customer journey to bridge multiple platforms. A customer should be able to start their journey online and transition to in store or vice versa.
One common way physical retailers accomplish this is with an "order-online, pick-up-in-store" model. Stores can also enhance the in-store experience with technology like digital kiosks, self-checkout, or, in the clothing space, virtual reality (VR) or augmented reality (AR) try-ons.
The brick-and-mortar brands that will succeed understand this trend and do what they can to adapt. Mehra of Goldspot Pens stresses the importance of balancing a brand's online and offline presence:
"We have strived to maintain a seamless and satisfying customer experience across both online and offline channels…we have implemented measures such as providing consistent messaging and visuals across all touchpoints, ensuring a user-friendly website and mobile app, and offering personalized customer support through multiple channels. We also collect and analyze customer feedback regularly to make improvements and enhance the overall experience. Our goal is to create a delightful journey for our customers, whether they choose to interact with us online or visit our physical stores."
Integrating physical and online shopping experiences
Traditional brick-and-mortar operations have to incentivize their customer base to move to the digital realm. "Buy online, in-store pickup" programs are one way of doing this. Another effective way is to offer free shipping on online orders over a certain amount.
Social media platforms, loyalty programs, and your customer service workflow are also effective opportunities to bridge the gap between physical and online shopping. Making it easy for customers to return online purchases in store lowers the barrier of entry to online shopping. This allows customers to easily test out more expensive products like electronics or high-end clothing before committing to buy.
Loyalty programs and sales promotions can relate to in-store or online shopping (depending on which you want to promote). Brick-and-mortar operations can use social media in the same way.
Leveraging data analytics for a better understanding of consumer behavior
Customer loyalty programs do more than bridge the physical and online shopping experience. These rewards programs can also help traditional commerce operations gather data about how customers interact with the brand. Companies can also gather data from point-of-sale (POS) systems like cash registers, analyze social media data, and install in-store sensors or cameras to monitor foot traffic, dwell time, and engagement with various products.
Personalization and customer experience
A customer-centric approach is critical to surviving in the ecommerce landscape. Each customer who interacts with your brand must feel like the shopping experience revolves around them and only them.
For brick-and-mortar businesses, this can be a challenge. You invest most of your time simply getting feet through the front doors. Catering to online shoppers is somewhat of a different ballgame. Here are some quick strategies companies can use to improve and personalize the customer experience.
Creating unique in-store experiences
Brick-and-mortar businesses can begin to personalize the customer experience through unique in-store experiences. An effective way to do this while bridging the physical and online shopping gap is to leverage customer data to create unique experiences.
Stores can gather customer data and identify trends in a particular customer's buying or browsing behavior. Armed with data, stores can target that customer with promotions, discounts, or marketing messages tailored to their specific brand interactions.
Another popular example of unique experiences is in-store events. A furniture, grocery, or home improvement store may hold an in-store class or workshop to get customers through the door and interacting with the brand in an innovative way. People who attend and have a positive experience while participating may ultimately convert into new paying customers.
Building customer loyalty through exceptional customer service
The pillars of exceptional customer service aren't complex. However, brands tend to complicate them and lose sight of the basic way you should be treating customers who support your brand.
Exceptional customer service requires consistently being empathetic, friendly, and helpful while anticipating your customers' needs. Following these tips, solving problems quickly, and going the extra mile when necessary will put you miles ahead of many businesses.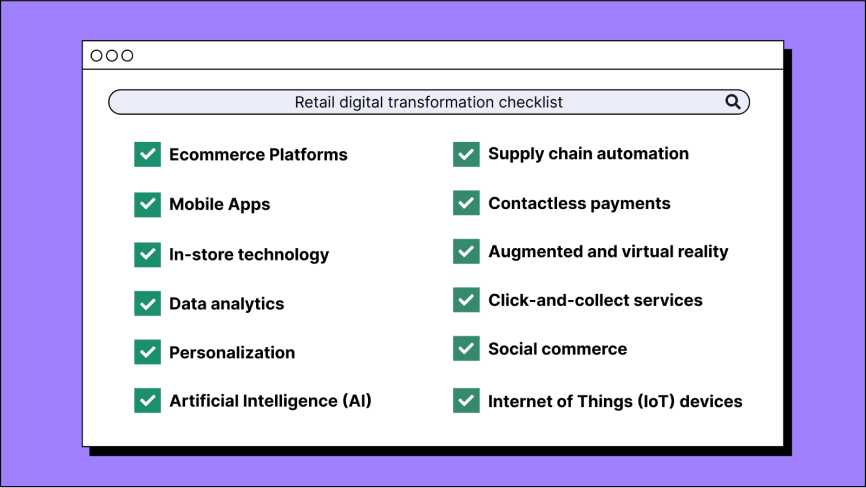 Retail digital transformation checklist
Brick-and-mortar retail operations looking to undergo a transformation to digital shopping should keep the following elements in mind:
Ecommerce platforms

– Explore ecommerce platforms to help your team build an online store, send email marketing campaigns, and design loyalty programs. You can also leverage ecommerce platforms or tools to identify and track key digital marketing performance metrics.

Mobile apps

– Mobile apps can be influential in bridging the gap between your physical and online shopping experience. Create an app to support your loyalty program, streamline online ordering, or provide coupons. You can even promote your digital presence by offering unique promotions or discounts for ordering through your app, as several major fast-food chains currently do.

In-store technology

– VR or AR experiences, interactive displays, and digital gamification can help make shopping more engaging and aid the transition to digital. Self-checkout kiosks, AI customer service bots, and mobile payment options are examples of in-store technology that can help to make the overall shopping experience more efficient.

Data analytics

– Brick-and-mortar companies transitioning to digital need to start tracking and analyzing customer data. They can identify and act on buying or browsing behavior trends, deliver personalized promotions, and offer unique incentives to promote digital shopping behaviors.

Personalization

– Personalization ties into data analytics. Leverage customer data and trends to deliver a shopping experience that's unique to them. Promote products they've purchased in the past or give recommendations based on their purchase history.

Artificial intelligence (AI) and chatbots

– Brick-and-mortar businesses can implement AI or chatbots to streamline their customer service processes. Give online customers the information and answers they need with the speed they expect. You can also free your human customer service team to tackle more complex or urgent challenges.

Supply chain automation

– Stores can leverage supply chain automation to increase inventory visibility and identify bottlenecks in their order fulfillment workflows. Supply chain automation can also improve the customer experience by providing more up-to-date order statuses, shipping information, and return information.

Contactless payments

– Contactless payments are an important part of a business's digital transformation, especially in the wake of the COVID-19 pandemic. And accepting digital or mobile forms of payment allows for an easy transition from a brick-and-mortar checkout to digital payment processing.

Augmented reality and virtual reality

– Companies can use AR or VR to provide unique experiences to their customers. Clothing retail operations can use AR or VR try-on platforms so their target audience can view how their products look before purchasing. Flooring and furniture manufacturers can do the same to allow customers to view how flooring or a particular furniture piece will look in their home before purchasing.

Click-and-collect services

– Customers can use click-and-collect services to pick up items they purchase online. Allowing your store patrons to order online and then pick up in-store can increase sales, improve customer service, and make their shopping experience much more convenient.

Social commerce

– Social media is great for customer engagement, but brick-and-mortar brands should also leverage these platforms for conversions. Run contests, giveaways, or sales promotions and leverage paid ads to allow customers to shop right from their favorite social media profiles.

Internet of Things (IoT) devices

– IoT can improve the efficiency of your ecommerce operation by automating tasks and optimizing employee productivity. You can also use IoT to improve the customer experience by tracking store visitors across devices and streamline supply chain management by monitoring product inventory levels through warehouse robots or putting GPS trackers in inventory transit vehicles.
With more and more competition, how can online stores stand out and stay ahead?
If your business is already online, congratulations! That's a giant step in the right direction. But just because your business already has an ecommerce arm doesn't mean you can stop focusing on your online shopping efforts.
Brands with an online presence need to work on their ecommerce storefront and digital customer experience just as much — if not more — than their brick-and-mortar counterparts. Here are a few ways the brands with an established online presence can continue to stand out and stay ahead of their competition.
Niche targeting and specialization
Brands that already exist in the online marketplace need to double down on their customer data. Use customer behavior trends and purchasing history to deliver extremely targeted discounts and messaging to specific segments of your audience.
Customers want their shopping experience to feel personalized. Delivering highly targeted campaigns to a specific audience segment enables you to meet your customers where they are. It can also increase conversions and revenue when done correctly.
Seamless customer journey and user experience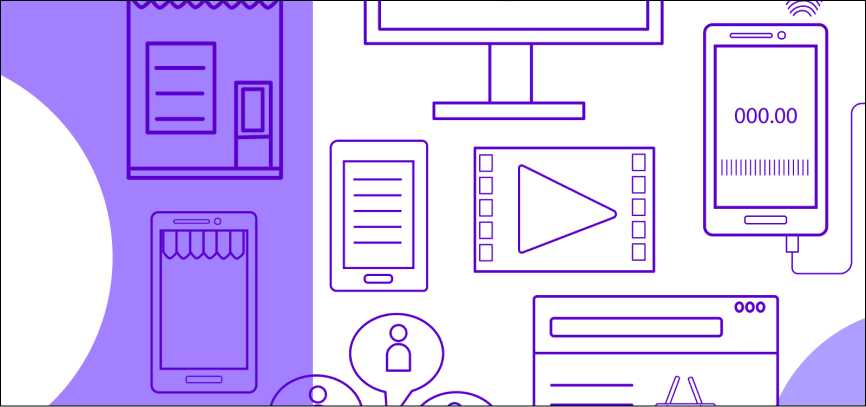 You can always make improvements in your customer experience. Take a step back from your marketing process and look at your overall customer journey.
How often do you contact your customer? Are you reaching them on all platforms? Can you adjust your messaging to resonate more with your target audience?
You can ask these questions while reviewing your marketing strategy and developing an improvement plan.
Embracing sustainability and social responsibility
Customers love brands that do their part for the greater good. How can you revamp your processes to be more environmentally sustainable? Are there any causes near and dear to your heart that you can tie your product into? Giving people a good feeling about doing business with you makes them more likely to buy from you and support your brand.
It's important for brands not to lose sight of authenticity when they pursue social responsibility initiatives. Today's online consumer can detect fake compassion from a mile away. If you're going to choose a cause to support, be sure it's something that aligns with your personal and brand values.
Bottom line
Traditional commerce companies with brick-and-mortar locations must adapt to survive. Society and the retail marketplace will only become more digital as time passes. Companies must aggressively pursue whatever moves are necessary to bridge the gap between their physical and online retail centers.
One of the most pivotal moves companies can make to improve their presence in our new digital world is to strengthen their website. The best place to start is to look at the backbone of your site — your hosting.
Nexcess offers ecommerce-specific hosting packages to boost your business's performance. Don't get caught behind the times. Ensure your online presence adapts to the times by contacting Nexcess today.
With fully managed hosting from Nexcess, better is built in