The free WooCommerce plugin simply turns your WordPress website into an eCommerce one. Managed WooCommerce Hosting transforms it—into a full-featured, hassle-free, eCommerce platform that will increase the speed, consistency, and functionality of your WooCommerce store.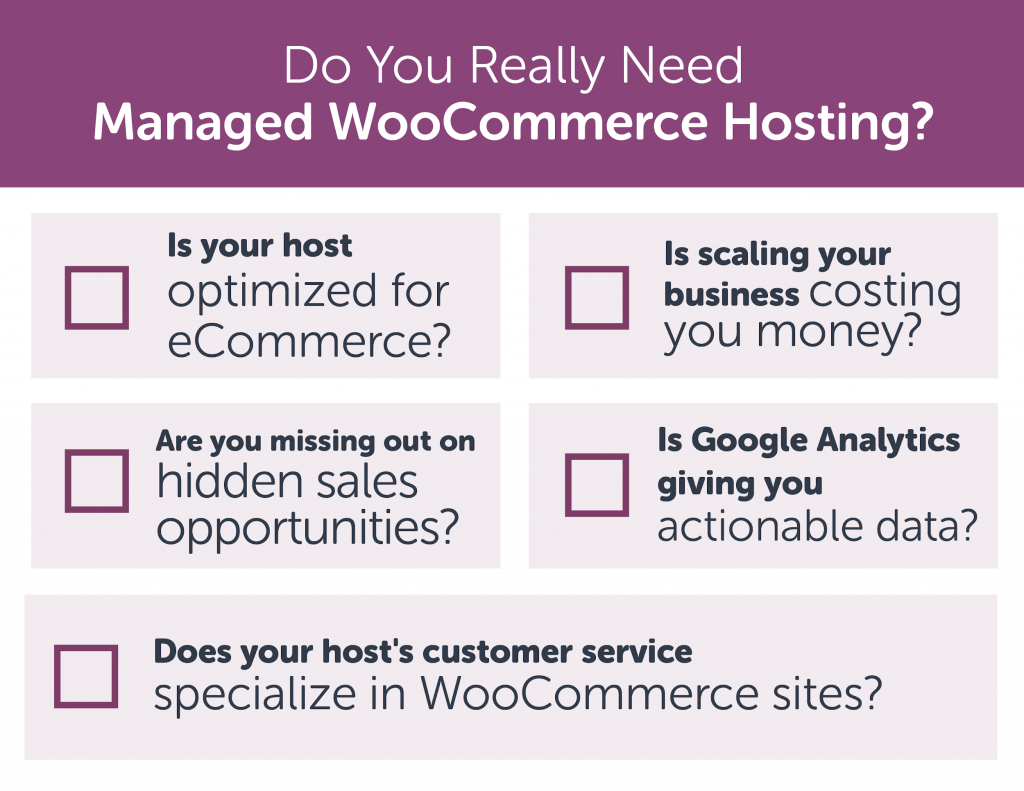 Think of the WooCommerce plugin as your stock car in the race for online sales. Managed WooCommerce Hosting is your pit crew. It makes sure your tires have enough tread and your fuel tank is full. All you have to do is drive.
Consider this checklist of questions to see if Managed WooCommerce Hosting is right for you.
Is Your Host Optimized for eCommerce?
Shoppers are impatient. If your site's product pages aren't loading between 1.8 and 2.7 seconds or faster across all device types, you're not converting shoppers into buyers. Even a two-second delay can send customers bouncing off your site. Simply put, store owners can't afford slow websites, yet many WordPress hosts are built to serve blogs and online magazines, not the high traffic loads of eCommerce traffic.>
There are many ways to improve your store's performance, like compressing images, leveraging static caching, or using a Content Delivery Network (CDN). But these optimizations require technical training and upkeep time.
Web hosts designed for eCommerce sites include these services as standard features. But Managed WooCommerce Hosting offers these optimizations and more. You'll always know your website is running at full capacity, with less downtime and lost sales.
Covered by Nexcess' Managed WooCommerce Hosting
Speed up your eCommerce website with optimizations like image compression.
Is Scaling Your Business Costing You Money?
When your business grows or you get traffic spikes, your store needs more resources — CPU, RAM, and bandwidth. Often, hosts solve your growth problem by upselling you to different plans, charging more, and shutting down your site for migration. This all adds up to extra costs.
Managed WooCommerce Hosting uses a web server environment that's elastic and scalable. The system dynamically monitors your traffic and adds resources on the fly, all without migration or downtime. That means no lost sales and a consistent shopping experience for your customers.
Your website's performance can slow because of conflicting spikes in traffic or conflicting plugin updates. Instead of making changes to your site and hoping for the best, Managed WooCommerce Hosting makes a duplicate of your website and tests it before pushing out updates. These tests ensure your site is always open for business, especially during high volume traffic days like Cyber Monday.
Are You Missing Out on Hidden Sales Opportunities?
You entice customers to your store only to have them leave with their shopping carts full of items. It happens more than you think. Cart abandonment is a big problem in online retail, with almost 70% of customers leaving items in their carts at checkout.
Abandoned cart email campaigns get customers back on your site so they can complete their purchase.
Jilt for WooCommerce is a plugin that recovers lost revenue from abandoned carts by tracking customer purchases, identifying cart abandonment, and sending automated emails to those customers. Email marketing is still effective, with returns of $40 for every $1 spent, so investing in abandoned cart platforms like Jilt can quickly pay for themselves.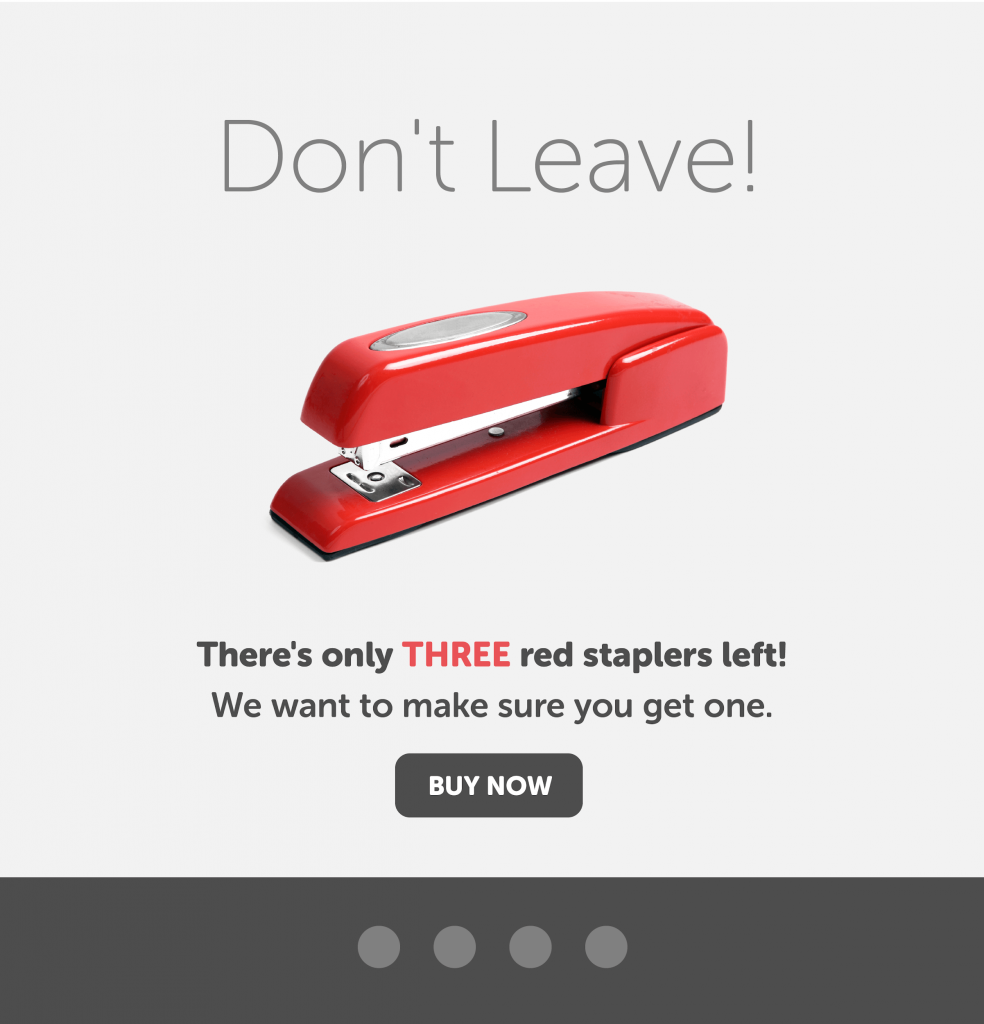 Jilt is included with Managed WooCommerce Hosting, so there's no need to add that extra expense. It comes preinstalled with the service so you can start getting the most out of Jilt WooCommerce right away.
Covered by Nexcess' Managed WooCommerce Hosting
Jilt is an industry-leading cart abandonment solution for recapturing lost sales.
Is Google Analytics Giving You Actionable Data?
You'll sell more when you can turn good data into good business decisions. Google Analytics gives store owners a wealth of information—but with so many different sales channels and customized marketing options, will you know what to do with it?.
Managed WooCommerce Hosting comes standard with Glew, an eCommerce reporting platform that automatically tracks your sales channel ROI, product sales data, and customer lifetime value.
One way Glew helps you grow revenue is by creating powerful customer segments based on different factors like purchase histories or physical location. Segmentation is a highly effective way to get your customers to open your emails and click through to your store.
When compared to non-segmented email lists, segmented ones have a 14.31% higher open rate and a 100.95% higher click rate. If you could identify your customers who were "Top Spenders" or "Most at Risk", then you can customize your emails' messaging, timing, and incentives to dramatically increase their impact.
With Glew, you can…
Automatically create common customer segments, such as First Purchase, or Repeat Customers.
Create custom personas, like Coupon Users or Full Price Payers. No more special offer emails sent to customers who always pay full price.
Identify channels and campaigns that generate the highest customer lifetime value.
Generate reports off-site. This means the data crunching won't slow down your site.
Glew lets you create and deliver powerful marketing emails — bringing the right message, at the right time, with the right story.
Covered by Nexcess' Managed WooCommerce Hosting
Glew lets you create power customer segments to customize your marketing emails.
Does Your Host's Customer Service Specialize in WooCommerce Sites?
Any extra time your website is down or slowed, you're losing money. You need answers right away.
But your host's customer service folks may not know any more about WordPress or WooCommerce than you do. With Managed WooCommerce Hosting, you'll reach WooCommerce specialists who offer quick fixes and more accurate advice than general tech support helplines. This saves you time and money.
Managed WooCommerce Hosting offers 24/7/365 phone or live chat assistance with real humans who know the ins and outs of WooCommerce — over 250 Windows, Cisco, and Red Hat Linux Certified technicians.
All of the website templates and plugins included in Managed WooCommerce Hosting are pre-tested for their functionality and fine-tuned for seamless integration. So, you can start selling quickly with a platform that's fully optimized and integrated.
WooCommerce is an open-source plugin, so your IT team can also build your site any way you want, writing customized code for templates or using third-party plugins. While customer support is more limited for customized elements, Managed WooCommerce Hosting will still provide some advice and consultation for any conflicts you run into.
Covered by Nexcess' Managed WooCommerce Hosting
The Most Helpful Humans In Hosting™ available for 24/7/365 support.
If you answered yes to most of these questions, you need Managed WooCommerce Hosting. Managed hosting optimizes your store's performance, dynamically scales your business, helps you discover hidden sales opportunities, gives you usable data, and provides comprehensive customer service. These are benefits that increase your revenue and quickly pay for managed/hosting costs.
Stop choosing between your time and your money. Optimize your online store without the hassle of doing it yourself.