It's no secret that we're a nation (and, really, a world) that's obsessed with T-shirts. We have been since before the tie-dye shirts of the '60s. People love to express themselves with designs, colors, and slogans that speak to them. It's no surprise then that designers have been creating their own T-shirts to sell for decades.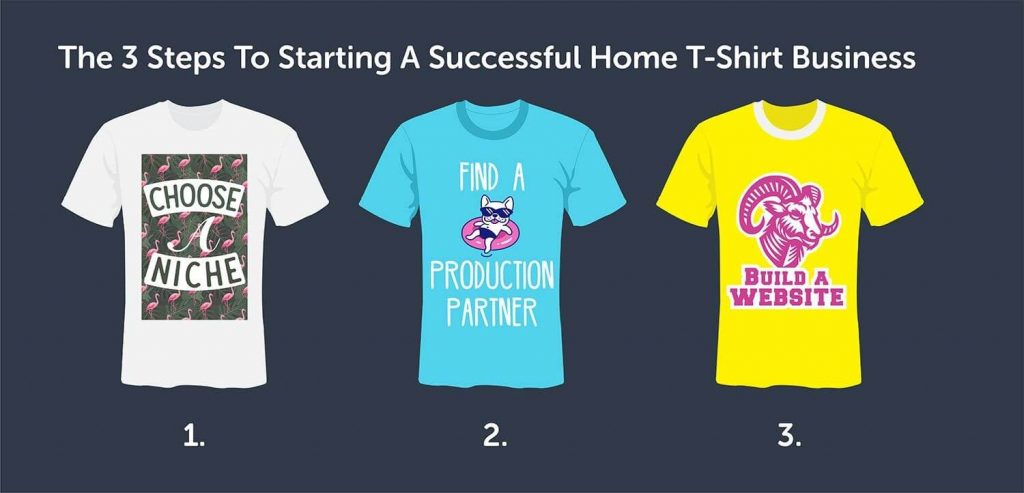 But really, the only difference between designers like you today and those early designers is that starting a T-shirt business from home has never been easier.
This blog post is going to discuss all the ins and outs of starting a T-shirt business from home, from finding your niche to marketing your product.
Choosing Your Niche
There's an old adage in business, "If you're selling to everyone, you're not selling to anyone." That's especially true as you start out with your T-shirt business. It's better to completely own a niche than to try to appeal to everyone.
Starting with a smaller niche can give you room to grow, as well. Take the shirt company Homage, for example. Homage is a brand that has vintage-inspired shirts, hoodies, sweatpants, and more that appeal to sports fans across the United States. These days, they even have contracts with everyone from MLB teams to wrestling superstars.
Related reading: How to Find a Profitable Niche >>
When they started, though, Homage started small. Most of their apparel was geared toward fans of the founders' alma mater: The Ohio State University. Their OSU-themed gear was so popular that they expanded into Ohio pride in general. They made clothing that was a nod to —but didn't violate the trademark of—professional and collegiate sports teams across the state.
An example is their simple "Cincinnati Invented Hustle" shirt. Baseball fans will get the nod to infamous Cincinnati Reds hitter Pete Rose, but the message doesn't even come close to violating any trademarks held by Rose or Major League Baseball.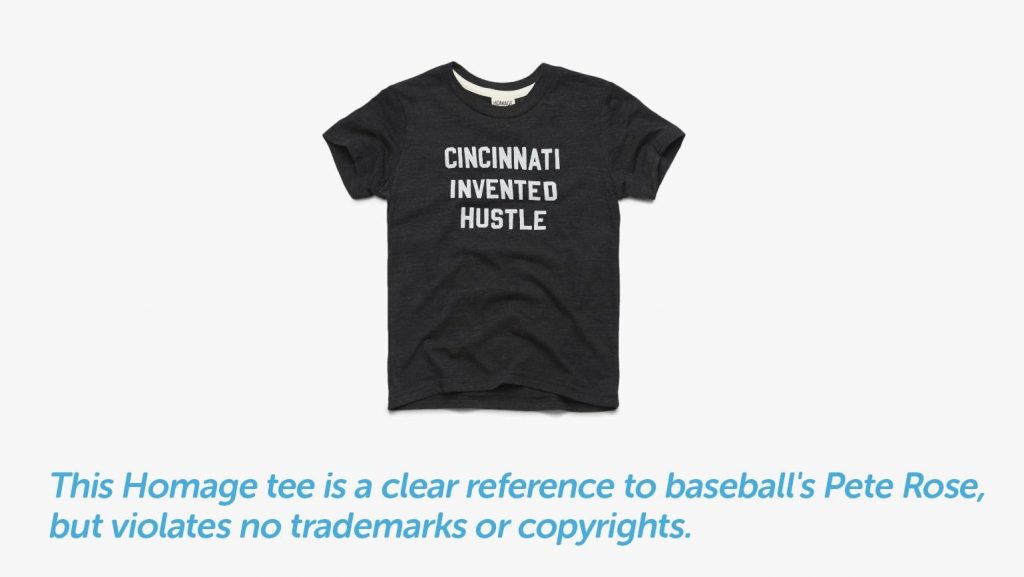 Homage eventually expanded, teaming up with colleges across the country to do branded apparel that appealed to those who lived outside of Ohio. Now, you can shop their collections for a dozen cities in North America.
What's an area that you love enough to think of dozens of ideas for shirts? It might be pop culture, the environment, gardening, travel, or it could even be an attitude or a feeling.
Validate Your Niche
Now you have some ideas. But are they popular enough to find customers? There is such a thing as a niche that's too small. How do we validate a niche?
Let's use bike polo as an example. If you're not familiar, bike polo is a lot like regular polo, but players ride bikes instead of horses. Sounds pretty niche. Sounds maybe a little too niche, but let's find out.
First, we'll do a search on Facebook to see what kinds of groups and pages exist for the term "bike polo."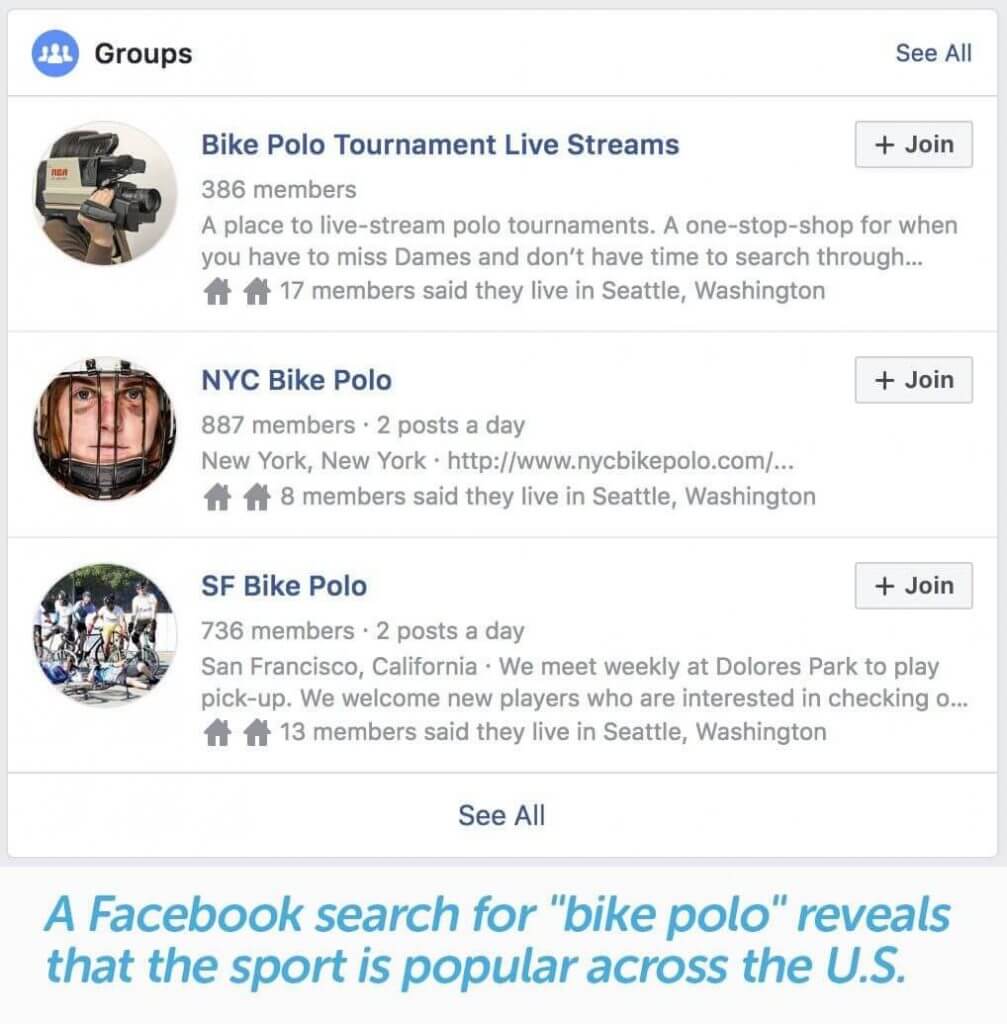 These results are encouraging. A bike polo group in San Francisco has over 700 members and looks pretty active, averaging two posts per day. There also appear to be Facebook pages for bike polo teams across the country. San Francisco might not be the best litmus test for what's popular in the rest of the country. But seeing that Milwaukee has a bike polo team with close to 2,000 followers tells us that there might be something to this niche.
Next, we want to see if this is something that people are actually searching for. Google Trends is perfect for this. It's a tool Google offers to show you the popularity of search keywords over time.
This chart is concerning for one big reason: Popularity of the search term "bike polo" has been on the decline for some time now. Popularity peaked in 2009 and has declined steadily since. That should make us worry that the numbers we saw in those Facebook groups and pages might not be the best indicator of the sport's current popularity.
With that in mind, we want to go back and check on the social activity for those bike polo groups we found earlier. Even if people aren't searching for bike polo as much on Google, if the communities are very active, this might still be a niche we want to get into.
Finally, we want to take a look at the competition. A Google search of "bike polo T-shirts" tells us that only a few T-shirt designs exist. We know that this is a recognized niche, but we don't know how well these tees are selling.
From our research, we've learned a few things:
There seem to be active social groups for bike polo on Facebook.
There is some search traffic for bike polo, though it has been declining for a few years.
There aren't a lot of other designers in the bike polo niche, which either presents an opportunity to stand out or is an indication that bike polo designs aren't popular.
From these things, it's up to you to decide if it's a niche worth pursuing. It's not the home run it would have been had Google Trends indicated it was growing in popularity, but there does seem to be a solid amount of traffic for bike polo-related searches.
One last quick note. Whatever you choose, make sure that you can come up with ideas that don't violate trademarks. Trademarks can include titles, graphics, and certain slogans. You can do a trademark search at the USPTO website.
How to Make and Sell Your Product
This is one of the biggest decisions you'll make when you're starting a T-shirt business from home.
Making and Shipping T-Shirts From Home
This might be considered the "old school" way of starting a T-shirt business from home. In this method, you physically make and ship the T-shirts you sell. You buy the plain, unbranded products from a supplier, you apply the designs on them however you'd like (paint, screen printing, bleach designs, heat transfers), take photos of them, put them online, and ship them out as people buy them.
The two main upsides to physically making your T-shirts are total control of the end product and higher profit margins. You don't have to sit back and hope that someone else is shipping quality products to your customers. You know full well that your buyers are getting a great shirt packaged exactly how you want it. And you don't have to share your profits with anyone like you will with marketplaces and dropshipping.
All you need to make and sell T-shirts from home with this method is a website that supports eCommerce (like WordPress and WooCommerce) or a marketplace like Etsy that allows vendors to sell products they hand-make.
T-Shirt Marketplaces
T-shirt marketplaces like Teespring, RedBubble, and Threadless are popular with T-shirt designers because of how easy they make starting a T-shirt business from home. With these marketplace sites, all you need to do is choose your base products (e.g., cotton T-shirts) and upload your design.
You don't have to maintain your own site, and you don't necessarily have to worry about marketing like you would if you ran your own site. Marketing on your own is still important and is always recommended, but your designs are added to each site's extremely popular marketplace.
Let's go back to that bike polo example. If you search Teespring.com for "bike polo," you'll find several shirt designs.
Once you click on a design, you can choose the style (i.e., product type, color, and size).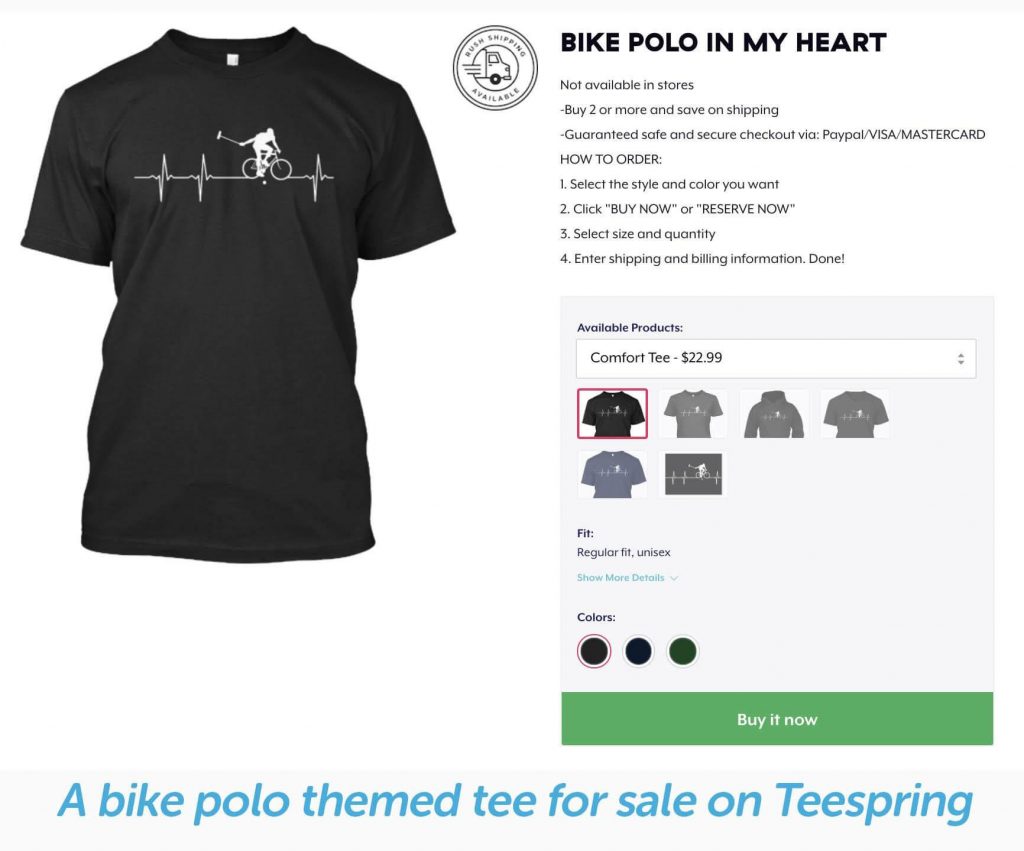 Teespring is unique because shirts only print when a minimum number of them is ordered. That encourages buyers to share products with their like-minded friends and on their social channels. This mandatory minimum could mean selling 10 shirts instead of one when people who are passionate about a design share with their friends, but it could also mean selling zero shirts instead of five if you only get five orders instead of that minimum of 10.
Other popular marketplaces like RedBubble and Threadless don't require a minimum order, but all of them take a pretty large chunk of your sales, comparatively.
Each of these marketplaces takes a percentage of sales. That's how they make money. The portion that these marketplaces take varies. Teespring publicly estimates that creators see about 55% net profit on their shirts. Teespring takes 18% to cover printing and fulfillment, 5% to cover their marketing, 10% for customer service and refunds (even if your product is never refunded), and 7% for product costs. An additional 5% margin is what Teespring takes for their profit.
That means you'd take home $11 on a $20 product. Compare that to the net profit on a T-shirt that can cost as little as $2 wholesale that you also sell for $20. You can see why not everyone chooses to sell their products on a marketplace website despite the ease of entry.
Dropshipping T-Shirts
The third method is the one we recommend the most: dropshipping T-shirts. Dropshipping is a middle ground between doing everything yourself and using a marketplace.
The T-shirt creation process is similar to the T-shirt specific marketplaces like Teespring. You upload a design, choose the products you want the design to appear on, and set the price. The dropshipper creates the products and ships them when customers place orders.
The difference is, T-shirt dropshippers like Printify integrate into your own website. If you don't already have a website, we recommend WordPress with WooCommerce, which is a robust and easy-to-customize combination.
The benefit of dropshipping T-shirts is that you get to build your own brand like you would if you did everything yourself, but you don't have to do the most time-consuming part of running a T-shirt business—making and shipping the shirts.
Dropshipping T-shirts works well for those looking to start a T-shirt business from scratch and those who already have some sort of online brand established. Going to the bike polo example again, if you're already running a website about bike polo, you can start selling bike polo-themed shirts before you know it.
But what about the cost? It varies based on the product you're applying your design to, but most offer their cheapest shirt between $7-9. Everything after that is profit for you.
How to Get the Most Out of Your Website
If you decide that the best thing for your T-shirt business is to go with one of the options that require you have your own website, you want to make sure that website works for you.
There are a lot of out-of-the-box options out there that are extremely inexpensive up front, but might not offer the customization you're looking for without having you pay extra—likely more than you would have paid if you'd started with something like WordPress with WooCommerce to begin with.
Speed is also a huge factor for any eCommerce store. If you're on a bare-bones, $3-per-month hosting plan that isn't designed specifically for eCommerce stores, your site speed is likely suffering. During busy times for your business, like around the North American Hardcourt Bike Polo Championship (it takes place in late September, FYI), the influx of visitors can slow your site, or worse, crash it. That could mean lost revenue and people possibly buying their bike polo T-shirts elsewhere from now on.
Managed hosting solutions like those offered by WooCommerce can make your site work seamlessly, all the time. Even if your designs go viral, managed hosting solutions can handle the volume and make sure you don't lose any sales due to slow site speed.
Even if you don't have a lot of design or website experience, you can absolutely create a successful online T-shirt business from home. All you really need is some creativity, a niche you can thrive in, and the willingness to try different marketing tactics and designs until you find something that strikes a chord with people.
Get A Hosting Solution Designed For Online Shops
With Managed WooCommerce Hosting from Nexcess, you get a high-performance platform dedicated to eCommerce stores of every size. Nexcess has plans for all types of stores to help you get started, including those just getting started.