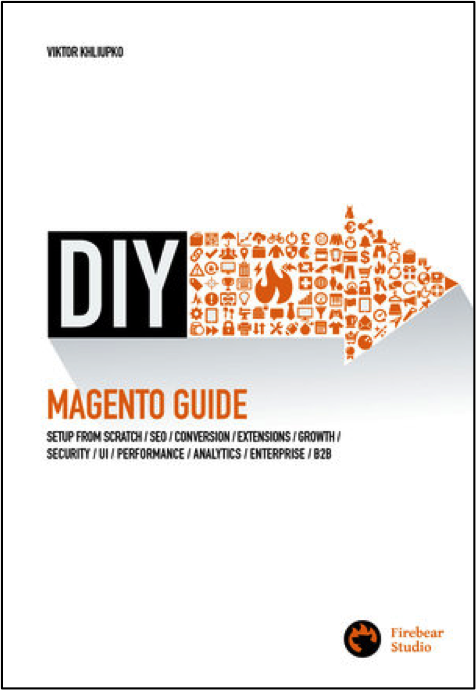 Earlier this month, Viktor and our colleagues from Firebear studio published Magento DIY. The book uses easily understood language to illustrate how to build a Magento store from scratch.
The short version: we love this book so much that we're giving away ten free digital copies. To register, share this blog post with the hashtag #magentodiy and follow @Nexcess on Twitter.
The 280-page book presents five chapters, and each gives a variety of critical resources for both merchants and developers. Using Magento CE as his base, Viktor's tips and tools for startups are invaluable for beginners. More experienced readers will benefit from having a massive set of front-end and back-end resources in one easy-to-read text.
Let's review Viktor's work chapter by chapter.
Chapter 1: Setup
Viktor explains the basics of installing Magento and covers topics like hosting, performance, and key players in the industry (like a certain company that rhymes with "Texas"). Also covered are critical extensions that offer readers the best chance for launching and maintaining a successful store.
While all of those topics are useful, I believe the most essential is how to handle data imports and exports, since this is typically when a migration from another ERP falters. The book dissects helpful tools like Magmi and the classic CSV import to help readers import and export data with confidence.
The era of RWD also demands a grasp of templates and theming. This chapter lists a variety of resources to help deliver an attractive storefront without breaking the bank.
Finally, Viktor covers a multitude of favored payment gateways and their respective pros and cons, introduces a brief security guide, and provides an introduction to SEO.
Chapter 2: Sales generation
Chapter 2 covers the day-to-day challenges of running a successful Magento store: marketing campaigns, traffic, checkout optimizations, and more. This chapter focuses on merchants, showing how to improve conversions and how to use metrics to identify issues and elevate sales. Viktor also delves into how to mine social networks and search engines for increased traffic.
Chapter 3: Growth
With an appealing title, Viktor explains how to optimize your conversion rate by using metrics and tools like A/B testing, cart-abandonment alert modules, and referral and affiliation programs, among other tools to improve your store and increase sales.
Chapter 3 also explains how configure taxes as well as how to use advanced reporting and order management software. Finally, Viktor takes the time to suggest several extended analytics modules, any of which offer a solid way of surpassing the outdated default Magento analytics system.
Chapter 4: Enterprise
Since the book uses Magento CE as its exclusive base, Viktor explains how to get most of the EE features on a CE installation. Though most of the necessary extensions are paid, they enable key features like CRM, dropshipping, and B2B, and are therefore worth the expense.
Chapter 5: Custom Magento development
No book about Magento best practices would be complete without a discussion of Magento developers. The final chapter devotes itself to highlighting the community's most popular freelance and traditional developers, organizing them into groups of theme-providers, module developers, and others.
Spread the word and win
We have ten digital copies of Magento DIY to give away!
To enter the contest, tweet the link to the article with #magentodiy and follow @nexcess, after which you will automatically participate.
Thank you for reading, and good luck!