In my previous two posts here on Nexcess, I talked about technical SEO and keyword research for eCommerce companies. Both of these form the base of a great SEO strategy. Without a crawlable website or pages on your site targeting keywords with search volume that are relevant to your business, you will never rank.
But once you have that in place, or are working towards it with a combination of your SEO company and internal resources, then you need to take your organic traffic to the next level.
To take your organic traffic to the next level, you need to build links. Links are the currency of SEO, and without them, you will not rank well for the terms that can drive that sweet "free" organic traffic to your website.
So how do you think about this, and even more importantly, how do you do it?
Let's dig in.
All Links Are Not Created Equal
If you've been building businesses online for a while, you've probably heard about SEO and probably heard about link building.
Your reaction may range from "I heard we weren't supposed to do that" to "Where can I buy some of these?" There's so much misunderstanding out there around link building that either of these reactions and any in the middle, are entirely understandable.
In SEO we always walk a tightrope when it comes to link building. If you are too aggressive with building new links back to your website (especially with commercial anchor text), then you can land in trouble with the search engines either through a manual penalty or an algorithm shift that renders those links at best ineffective and at worst with them negatively affecting your site.
On the other side, if you don't have links pointing to your site you will almost certainly not rank for your target commercial keywords. There are different ways to get organic traffic, such as with editorial content meant to target those more informational searches, but that traffic has less conversion intent and thus will not directly turn into revenue as easily as traffic to your category or product pages.
Now that we've established that you need links, let's talk about the links that will help you rank and are safe from negatively affecting your site in the future.
These links are:
Naturally given (eg not purchased or required by you for a service);
From relevant websites (such as partners and news sites);
Meant for users to click and come to your site, not just for search engines.
Links are meaningful to SEO because they are hard to acquire. The more authoritative the linking website is, and thus the more significant it is for SEO, the harder it will be to obtain.
There are many ways to acquire links back to your eCommerce website, but keep all of the above in mind as you build and execute on your link building (or as I prefer to refer to it, link acquisition) plan.
Nexcess' Managed WooCommerce Hosting helps optimize SEO with keyword indexing, so you can focus on building links to authoritative sources.
How Many Links Do I Need?
I get asked two questions quite frequently about link building:
How many links do I need to rank?
Where are my competitors getting their links?
Luckily both of these questions are answered by looking at the other ranking sites for the search terms you are targeting.
Let's use the search term [iphone skins 7 plus], which according to Keywords Everywhere (a free Chrome extension) has 5,400 searches per month: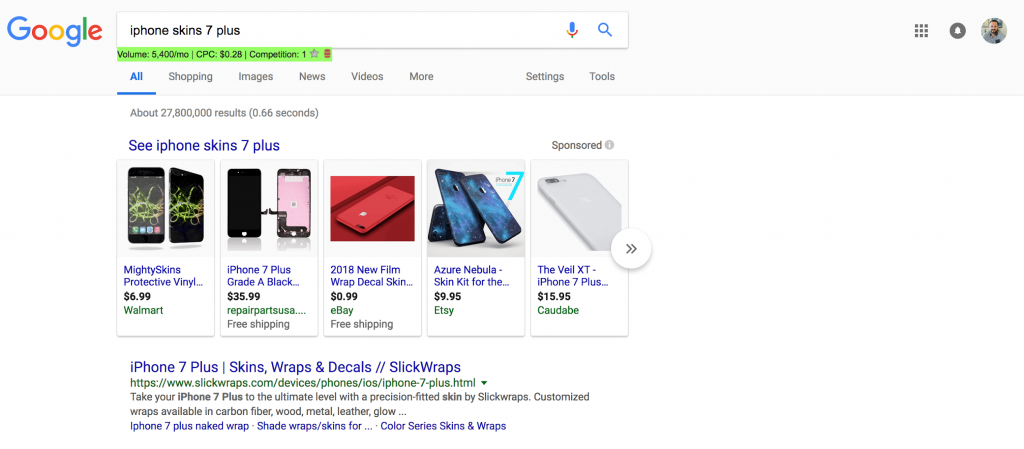 I like to use Moz's Mozbar, which is another Chrome extension you can use to get information from their link index of the web about the specific pages that are ranking.
In this example, you can see the metrics for the top 4 sites below: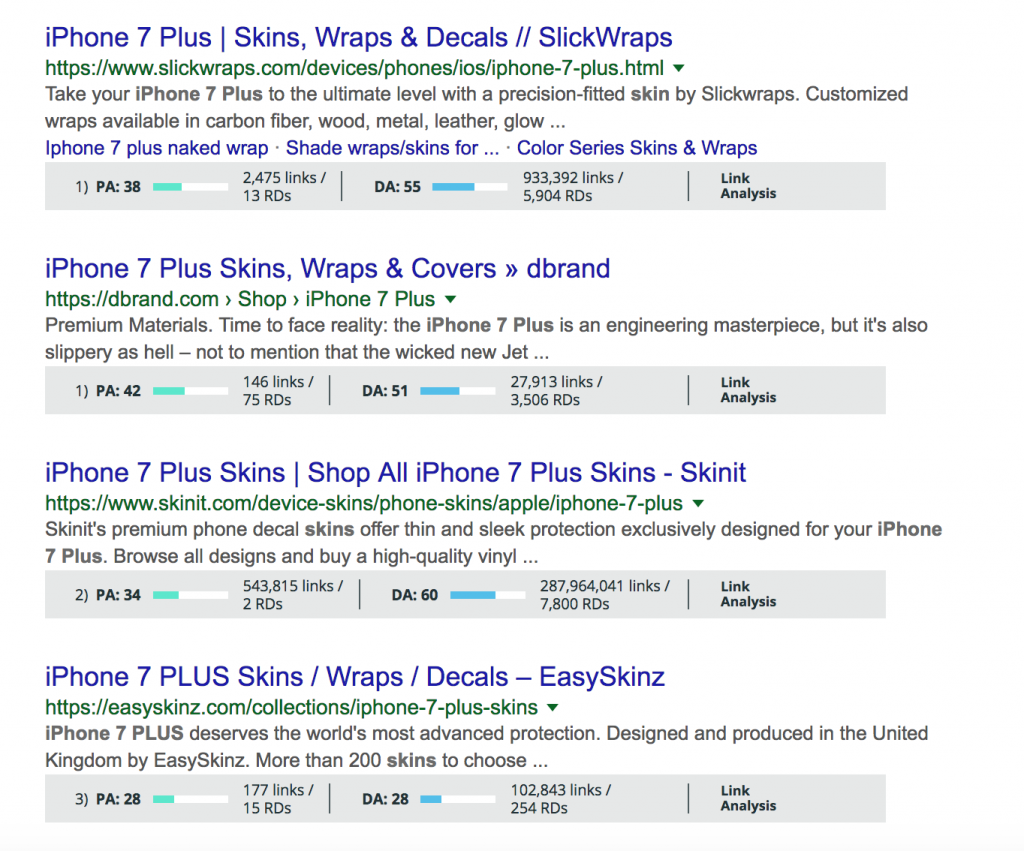 If you read my technical SEO for eCommerce post then you will probably notice that they are all doing good on-page SEO which is undoubtedly helping them rank.
If we look deeper than their on-page SEO elements, then we see the following:
The ranking pages are category pages, not individual product pages or homepages;
Most have a domain authority above 50 (except for #4);
All four have at least a few, if not more, linking root domains and links pointing to the ranking page.
No rubric exists to know the tradeoff between Domain Authority and the number of links needed to rank, but from just the above we can understand that to rank for this term you will need:
A Domain Authority of at least 28, and likely much higher;
At least a few hundred if not a few thousand linking root domains pointing to your site overall;
A page dedicated to this term with perfect on-page SEO elements;
At minimum 2, but likely more than 15 linking root domains pointing to the page you want to rank for this term.
If you don't have an authoritative site, then ranking for this term is a long-term goal that requires a long-term view of link acquisition.
How Are My Competitors Ranking?
The next question I get asked is "What is (competitor) doing to rank?"
To show you how you can find this data, let's use the second example which is Dbrand. I have zero affiliation with this site and no connection to the industry at all, so it's a great candidate for dissecting their link acquisition strategy.
To do this, I am going to use Moz's Link Explorer as it is a standard tool used by SMBs and other companies to do link analysis. Other tools out there do a great job as well, such as SEMrush and Ahrefs, so if you have a subscription to one of those tools, then you should take the process outlined here and apply it to the tool of your choice.
We're going to do two things:
Look at the specific ranking page to see how they are acquiring links;
Look at the domain overall to see if we can determine how they are acquiring links as a business.
To find the page's specific links, input the full URL into Link Explorer and hit Enter, then navigate to the Inbound Links section in the left sidebar: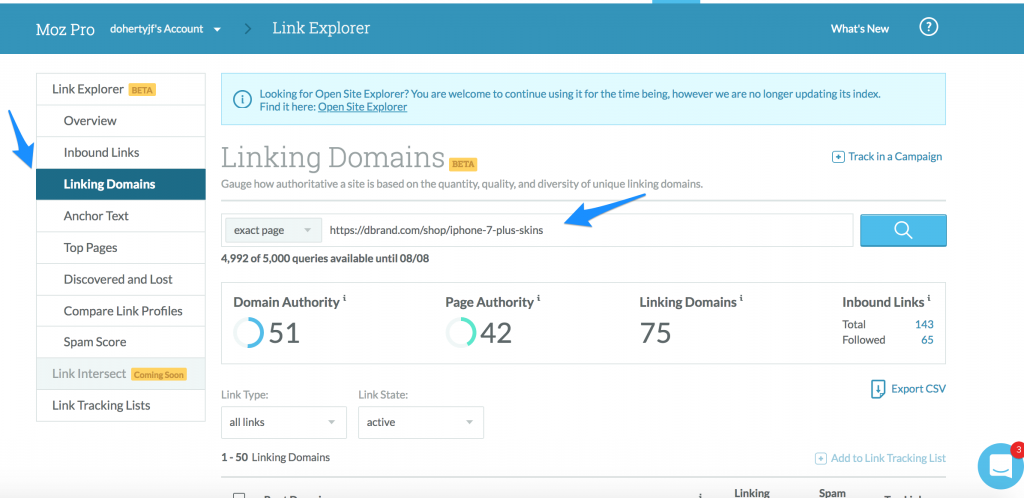 When we scroll down, we see these links: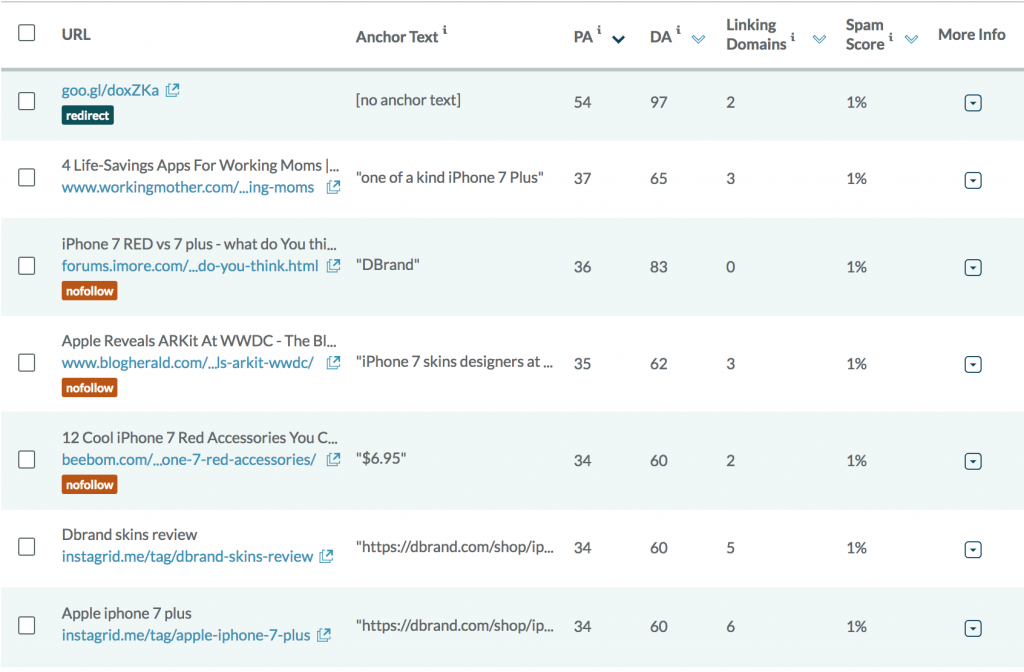 According to this, they have acquired followed links (links that will help you rank) from a few authoritative sites and lists of gifts ideas. Technology sites have listed them as great gifts to buy, which are resulting in direct followed links back to their page. This is a big win!
Dbrand has also mostly stayed away from sites that have a high spam score. They're doing it well and being rewarded with high rankings (though have some other opportunities they could leverage to improve to #1).
Overall Site Link Acquisition
After looking at the individual page, it is helpful to understand how the site became so authoritative in the first place. How did they get 3,500+ individual sites to link to them?
We go back to Link Explorer and look at their linking domains: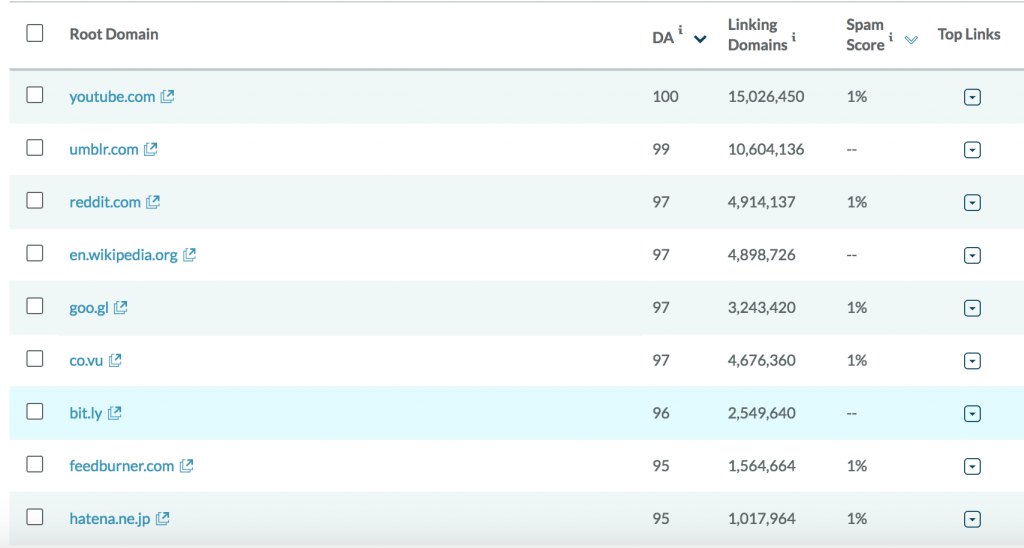 There's nothing crazy here, and they have a lot of authoritative sites linking to them, though we know that links from specific sites like Youtube and Wikipedia are nofollowed (and officially don't count towards rankings directly as a result).
They're acquiring links at scale through:
Being listed in "cool gadget roundups," which I must assume is either being produced by them, or Dbrand is doing outreach to be listed;
Reviews on gadget sites;
When new phones launch, having skins ready to go to ride the wave of the press;
Doing press effectively around new product launches.
If we review their link acquisition over the last few months, they are still acquiring links more quickly than they are losing them: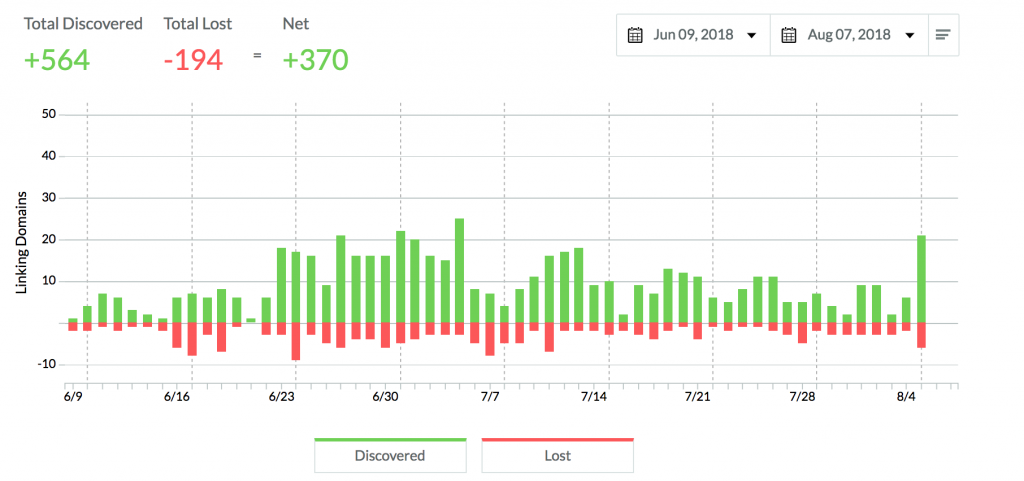 They've ridden the wave of a few big pieces of content (Galaxy 8 launch, Nintendo Switch controversy) and supplement that with more manual link building. Overall, they're doing an excellent job.
Taking Action
Turn your research into actionable items. The next step is to create your link acquisition strategy based off of what you know works for your competitors as well as what they are not doing.
A caveat. Sometimes you will come across competitors doing things that are outside of search engine guidelines. At this point, you need to decide how much risk you are willing to take on. While doing things outside of search engine guidelines is not illegal, they do have their terms of service that they can use to remove or severely diminish the traffic coming to your site through their platform. If you have a company building links for you, then you should know what they are doing and what the risks are.
When using your competitor's strategies to inform your link strategy, you need to take into account:
What are they doing that you can copy and do better?
What are they doing that you do not want to do because it is risky?
What are they not doing that you could do (e.g., they're building a lot of directory links, so you have the potential to build stronger links and rank faster)
What capabilities or assets do you have (strong founder story, better product, etc.) that you can lean into to give yourself an advantage?
How To Build Links To Your eCommerce Website
There are many ways to build links to your website: some are more straightforward, while some take more effort. Here are some of the more common ways to build links to an eCommerce site.
There are two common ways to build links to your eCommerce site:
Producing content on your website that is so high quality that people start to link to it naturally;
Manual outreach and effort through strategies like guest posting and giving away products.
Note: if you choose to go the product giveaway route, you need to be careful here. The search engines outline that if you are compensating someone with anything, such as a product, that the link back to your site should be nofollowed so that it does not help you rank. This is a grey area, and Google's Danny Sullivan has some interesting recent thoughts about it. Do what you feel comfortable doing.
Associate Your Product With News
As we saw with the phone skins example above, associating your site with breaking news or product launches can be a great way to ride the wave to links to your site. This is commonly known as "newsjacking," and it works wonders.
If you're in a niche where an engaged community is passionate about the new products, be the first to market even before you know what the new product might look like. Do outreach to the major press that you have the products listed already.
Note: this also gives you an advantage over your competitors because your page will be older and has more opportunity get links before the new product launches and search volume spikes. You're getting ahead of the curve.
Have An Opinion and Do Outreach
If another big piece of news breaks (such as in the case of the Nintendo Switch), then have an opinion about it and reach out to the authoritative sites within your niche (that you either know or discover through competitor research).
You can send a simple email like this:
Hi (reporter or writer name), I'm NAME from SITE.
I was wondering if you are writing anything about the latest BREAKING NEWS TOPIC? If so, I'd love to be a source if you are looking for industry input! 
NAME 
SITE
Offer Testimonials
One of my favorite ways to build links is to reach out to other tools that you use and offer them a testimonial about their product. Companies are always looking for more social proof to put on their site, and so they will often feature you and your company prominently on their homepage or other relevant pages.
They will also often link back to your homepage with a branded link. If they don't, you can email them nicely to ask if they'd be willing to add that. Some will and some won't, but it's a win either way for the free promotion.
Informational Content + Outreach
A great way to build links is through writing high-quality informational content answering the questions that your potential customers are searching for. This will help you rank for those terms and build brand authority, but they are also a great asset for link acquisition.
To learn how to find these keywords, check out my previous piece about keyword research.
How?
There are so many sites out there where people post questions, such as Quora and niche forums. If you are genuinely adding value and have built authority on the topic, they usually have no problem with you adding value to their site and linking back to your site as well.
To find these sites, search Google to discover who is currently ranking where you can be as well.
Proprietary Data + Storytelling
If you have data skills yourself or someone on your team does, think about the fantastic stories you can tell through content.
For example, maybe your vendors are interested in trends in your space. You can pull patterns on your site about people searching for specific types of products and then tie that into a more significant trend using Google Trends and even search volume.
By creating a narrative around why this is happening and what it means, and then publishing that data on your site, you can become a go-to authority on the topic. With outreach to industry sites and partners, you can build links back to that content.
These links help your overall site get stronger, and you'll, therefore, need fewer links to your product or category pages to rank well!
Products Giveaways
If you have physical products that you sell and there are bloggers in your industry that write product reviews, they will often be willing to write an honest review of your product in exchange for a free item.
Assuming the site has a reasonable scale of traffic, this can be a great traffic and link driver.
Remember: be careful about asking for links specifically in exchange for a free product. Ask for the review, and if they link, that is great.
Guest Posting
Guest posting has been abused to death in most verticals, but when done well it is still a very effective way to build links back to your website by offering other sites content of value to them.
I prefer to focus on a few very authoritative websites where you can build a following for yourself. You can achieve this by consistently publishing content (and linking back to your resources you've created on your site), but guest posting can also be an effective way to spread the data-driven content you are producing and to share helpful knowledge with your host site's audience.
Broken Link Building
Finally, a great way to build links is to keep an eye on when competitors go offline or are acquired and their site redirected. You can then swoop in, run a backlink report on their domain, and reach out to those sites to let them know that they are now linking to a broken (or redirected!) link.
You can then provide them with a link to a similar resource/page on your website that they can link to instead.
Note: This can be extraordinarily powerful when a competitor stops carrying a product that you still have. Monitor your competitor's essential pages, and when they go offline, you can investigate if they have any links worth poaching.
In Summary
As you can tell, link building is a skillset in and of itself. As an eCommerce store owner or marketer, you are well served to learn how to build links so that you can be competitive in your industry and outrank your competitors!
Need Help Managing Your Online Store?
While you build valuable links to increase your site's SEO value, let us take the hassle out of hosting your eCommerce store! Our Managed WooCommerce Hosting plan includes image compression, has high performance under heavy loads, and includes segmentation and analytics tools to help you gain an edge over the competition.