Whether you're a new or established agency, finding a reliable and efficient way to regularly meet with and manage your clients is vital. One of the most popular ways of doing this is by simply adding an online booking system to your digital agency's website.
But first, how do you find the right plugin (or software) for creating an online booking system that's automated, reliable, and saves you time?
In this walkthrough, we'll show you exactly what an online booking system is, how your digital agency could benefit from it, and best practices for creating and adding it to your digital agency's website.
What is an Online Booking System?
In short, an online booking system is an interface which enables new and existing clients to book time with your digital agency in the form of an online (or in-person) appointment.
With an online booking system, digital agencies and their team members can easily display and manage their availability on their website for client calls and/or meetings—without all the back-and-forth of trying to coordinate appointments via email.
Additionally, most online booking systems allow digital agencies to designate buffer time in between meetings, black out certain dates like birthdays and holidays, and send customized confirmation and notification emails when appointments are booked.
Even more advanced booking systems will allow you to manage your team members' availability, accept payments for certain types of appointments (like a paid consultation), and sync with your Google Calendar to avoid double-bookings or other scheduling conflicts.
Why Add an Online Booking System to Your Agency's Website?
Adding an online booking system to your digital agency's website is a reliable way to ensure new and existing clients can book time with you and your team members — whether that's for regular project check-ins, one-time consultations, or any other type of booking your agency offers.
Online booking systems also remove the struggle of coordinating a time and place to meet over email by allowing your clients to view your public availability and book a time that works for you both with just a few clicks.
One of the best advantages of offering an online booking system is that it showcases that being available to those you work with is a priority within your agency. This can help you win more new business and keep your existing clients happy knowing they have a direct line to you when needed.
How to Add an Online Booking System to Your Agency's Website
While there are numerous ways to create an online booking system for your website, we're going to take a look specifically at the easiest way to add an online booking system for new agencies: using the free edition of Simply Schedule Appointments.
1. Install and Activate Simply Schedule Appointments
Within your WordPress plugins page, search for "Simply Schedule Appointments." Then, simply install and activate the plugin featured below.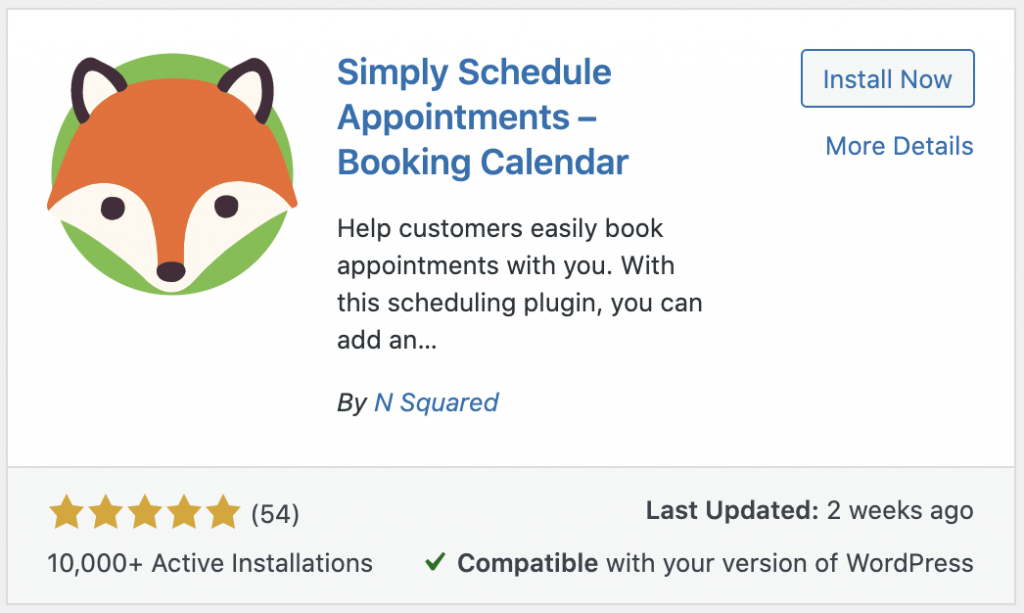 After installation, this will create a new Appointments tab in the WordPress Dashboard area. Within the Appointments tab is where you'll manage and set up your new booking calendar.
2. Use the Setup Wizard to Create Your Online Booking System
Now, using Simply Schedule Appointments' Setup Wizard, you'll create your first Appointment Type. This represents your booking calendar.
For example, an Appointment Type could represent an initial video call for prospective clients, a project status update for existing clients, or a paid consultation for one-off services your agency provides.
The setup wizard will then quickly walk through setting up your availability and other general settings, like buffer times between meetings, a designated time zone, and your admin email (for confirmation and notification emails).
3. Display on Your Online Booking System on Your Website
Next, you can display your booking system on your website by embedding the SSA shortcode (or using the Appointments Gutenberg block) into your page or post using a text block.
Note: There are a couple alternative ways you could embed it, depending on whether you're using a WordPress page builder like Divi, Beaver Builder, or Elementor. These usually involve you dragging and dropping the Schedule an Appointment module directly into the page.
Your Digital Agency is Now Ready to Rock!
We hope you enjoyed this guide on creating an online booking system for your digital agency. Furthermore, we hope that by taking advantage of an online booking system on your agency's website, you'll find you have more time in your day to dedicate to scaling your client base, retaining great clients, and doing what your agency does best — exceptional work.
Looking for a One-Click Solution for Website Hosting and Online Booking?
If you're just launching your agency's website (or looking for faster and more reliable hosting), you'll be happy to find that Nexcess and Simply Schedule Appointments have teamed up to create an all-in-one managed WordPress hosting package.
It comes equipped with Simply Schedule Appointments, as well as a handful of other popular WordPress plugins for digital agencies, at no extra cost.
To learn more and get started, check out Fully Managed WordPress from Nexcess.
Explore WordPress Hosting