Choosing the right data center location can feel as though it's one of the most important decisions you'll make when taking your business online. On top of the sheer volume of choice, you also have to confront some very real performance requirements.  A good choice means an optimized web environment capable of reaching your entire audience. A poor one means an unstable connection and efficiency problems. So how do you choose a data center location?

Throughout the US, there are around 3 million data centers. That's one data center for every 100 people. However, not all of these are housed in the colossal structures you've seen in movies. Many are the size of a closet (or smaller) and hold just single websites for small and medium businesses. For many, this might be a good starting point, but as an online presence becomes increasingly important (and its reliability paramount), making the switch to a managed hosting provider is a necessity. In 2017 alone, $18.2 billion was invested in building out data centers capable of housing these businesses.

  Find out the other features you get when hosting in the Nexcess Data Center. 
7 Data Center Location Requirements and Considerations
Here, we're going to take a look at what factors you should consider when picking a data center for your business, and how each of them will affect you.
1. Proximity
There are two types of proximity to consider. The first is proximity to your website's visitors. The second is proximity to your business.
When we talk about proximity to your website's visitors, we're asking where your website is most frequently accessed from. These stats can easily be found through analytics software.
If you have linked your website with a Google Analytics account, you'll find these stats under audience -> Geo -> location. By clicking on an individual country, you will be able to see where most of your users are coming from. For us, those stats seem to indicate California and New York in the United States. Note that the above data is from a very short period of time, so make sure to increase the time frame before moving forward.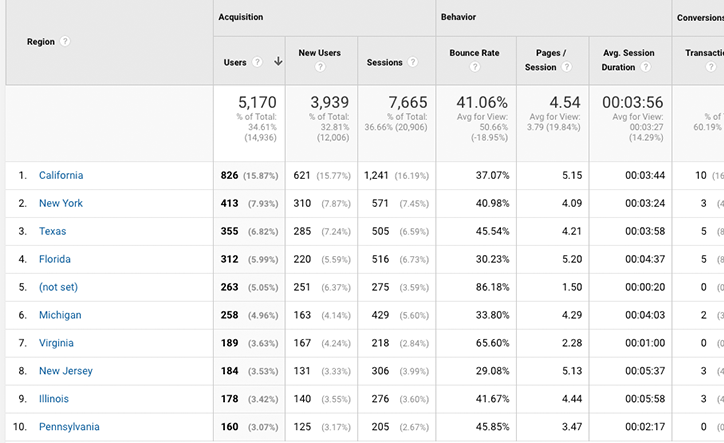 From this, you can then create a list of potential locations. You can even go deeper by clicking on different locations to find significant cities.
You should note that selecting a data center located in the same country is usually enough. Breaking it down into state and city level options may provide you with a slight speed increase, but next door states will see practically no difference. Moreover, with the addition of a CDN (Content Delivery Network) to your hosting solution, a lot of these speed issues are easily resolved.

  Learn what you should be asking your hosting provider about. Learn More.
An alternative to proximity to your audience is choosing a location near to your business. You may do this because you want to visit your data center and see what's happening. You may be worried that if an issue does arise, no one will pick up the phone.
Selecting a data center just down the road can be a good option. However, again, if you're working with a reliable data center with great support and management, you shouldn't need to worry about ever having to visit your server (unless you're using a colocation service).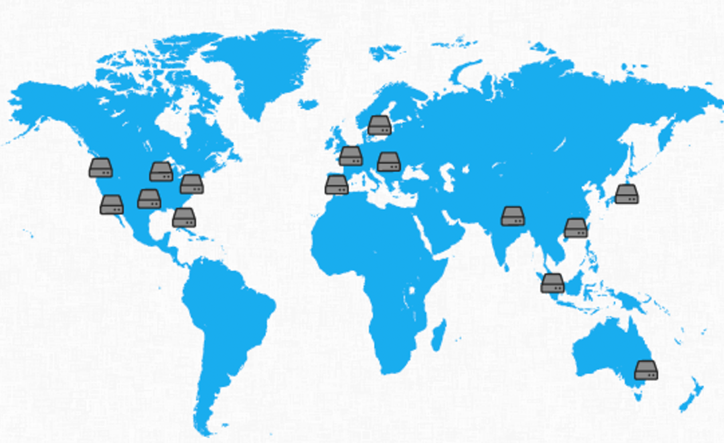 2. Content Delivery Network (CDN)
A content delivery network is a way of getting around location limitations for your website. By holding frequently delivered content at different data centers around the world, important content can reach local users faster.
CDNs generally deal with larger content and media. This can include images, video, and other dynamic content. We've found that, on average, 90% of a site's data transfers are made up of this type of content. For some clients, we've noticed considerable speedups when using a CDN in conjunction with an overseas-hosted website.
3. Risk
According to the National Centers for Environmental Information, "in 2014, there were eight weather and climate disaster events with losses exceeding $1 billion each across the United States." For data centers, this figure is scary. Not only are natural disasters impossible to predict (despite what disaster movies suggest), they can also cause long-term outages.
Unfortunately, several population centers are located in close proximity to high-risk areas. The trick is to find the right balance between risk and proximity.
Nexcess currently have 8 data centers around the world, with 4 currently located in the US. By looking at risk probabilities and population density, we believe we've found data center locations that manage to tread the balance perfectly.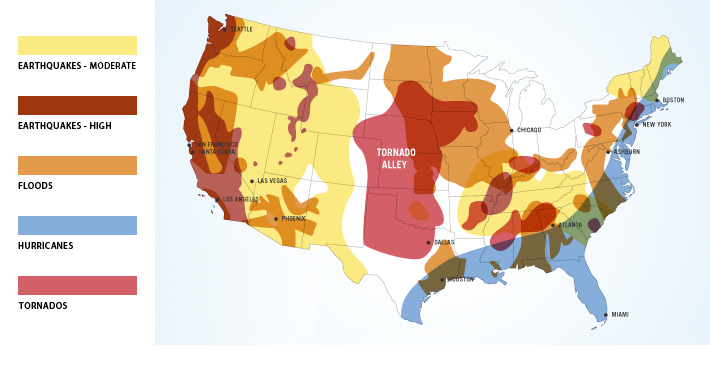 Image thanks to Alert Systems Groups
The map above shows areas in the US which are most susceptible to natural disasters. Additional information about risk factors can be found online with a little research, all of which contributes to creating a picture of where your data center will be safest.
Remember, there are also other factors involved in assessing risk, some of which the data center itself can manage.
For instance, Nexcess control the environment in our data centers with HVAC systems that maintain optimum temperatures and minimize moisture. We also run a 2-stage pre-activation fire suppression system and make sure to enable flood and water penetration protection.
While many data centers will say using gas to stop fire is a good idea, there have actually been cases where gas-based fire suppression systems have failed when gas has leaked through damage to the building's infrastructure or where the gas system has malfunctioned and caused direct damage to hardware. Our two-stage pre-activation system makes sure that fire suppression is only activated when it's needed and that damage to servers is kept to a minimum.
4. Security
We hate to keep repeating ourselves, but by 2021, cybercrimes will cost businesses $6 trillion per year. One of the first places to fall victim will be large data centers. It's important to make sure that your data center has appropriate security measures in place – not just digitally, but also physically.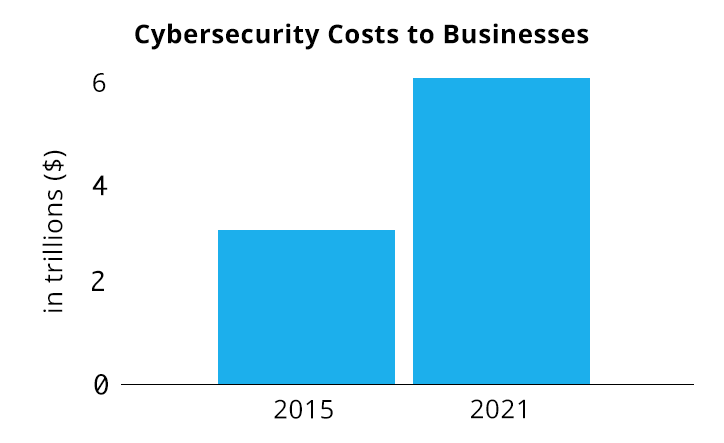 Data thanks to Cyber Security Ventures
Ask your data center about video monitoring systems, granular access systems, biometric authentication, and man traps (they're not as scary as they sound). It's also a good idea to see if they keep a record of those who access their systems and how else they manage authorization.

  Interested in increasing your domain's security? Consider making the switch to Nexcess DNS for free.
5. Compliance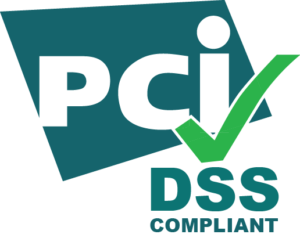 The internet is no longer the wild west it once was. Websites now need to follow certain procedures and rules when interacting with people in certain ways. At the time of writing this article, GDPR is currently a huge issue and one which businesses around the world are having to adjust to. For many, making the adjustments is a long and expensive process.
A good data center can help to make compliance a lot easier. With GDPR, this means meeting certain guidelines regarding how data is stored and managed. Nexcess made sure to be compliant with these procedures in advance of the regulations being enforced.
Nexcess is also a PCI DSS compliant data center, allowing clients to manage credit card credentials on websites hosted with us. Every year, our facilities undergo an SSAE 18 Type 2 Audit. If you're an eCommerce business, finding a PCI compliant hosting environment is essential.
We are also currently HIPAA compliant and hold SOC 2 Type 2 certification.
6. Up-Time
Possibly one of the most important considering when considering a data center is up-time. This is the percentage of time that your website stays online. Up-time is so important because when your website is offline, it's essentially useless.
Several data centers claim to have 100% up-time. This number is more of a marketing gimmick and less of a reality. However, up-times of over 99% are common and entirely feasible when thought about in conjunction with redundancies.
7. Redundancies
One way in which data centers can claim 100% up-time is through implementing redundancies. Redundancies are essentially service backups which kick in when something stops working. For instance, if a power outage occurs, a generator can provide power.
At Nexcess, we make use of Uninterruptible Power Source (UPS) generators in order to prevent loss of service and data. We also make use of 4 diverse physical paths that your website can be connected through. This means that if one connection is cut, the other 3 will still ensure you're connected to the outside world.
Finally, Nexcess solutions offer several separate providers. We usually recommend that larger clients opt for 2 or more providers, just in case one of them suffers a service outage.
Data Center Location Strategy
Despite the checklist above, how you select your data center location is not as complicated as it may seem. When it comes to what data center you choose, we would say that the most important factor is the services offered, followed by proximity to your primary audience.
If you are a small business and want another company to handle your hosting requirements for you, then you're looking for a hosting company with great 24/7 support. If, however, you're looking for more autonomy with your hosting solutions, you're going to want to find a data center that offers colocation.

Related Content