Staring down the WordPress plugins page, you find yourself asking which plugins are right for your site. You want more conversions, and you have a basic idea of what that entails, but you don't know how that translates into what visitors should see on the page. Here are 5 WordPress plugins that can figure that out for you.
You've decided on a WordPress site, and for good reason. Over 25% of the top 10 million sites use WordPress because it's easy to use, the interface is intuitive, and best of all, it's open source. Now all you need is a way to increase conversions.
Set your site apart from the competition with WordPress plugins designed to increase conversions. All while still giving you the freedom to create, share, and realize the potential of your site. Here are five plugins we think fit the bill.

  Found that plugin you think is perfect but not sure if it's safe? Here's what to look out for.
1. OptinMonster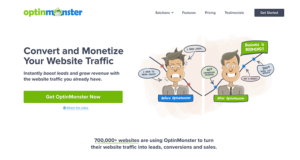 OptinMonster is a highly recommended plugin for increasing WordPress conversions and a great tool for both beginner and intermediate WordPress developers.
It works by allowing you to serve visitors to your website with opt-in forms for joining an email subscriber list or to become part of a specific campaign.
Currently, the plugin is live on 276,000 websites, with a lot of conversion success stories – just Google it.
A great plugin if you're looking for:
An easy to use form builder

Integration with other marketing services

Advanced page level targeting

Behavior personalization

Easy A/B testing

Detailed conversion analytics
2. WordPress Calls to Action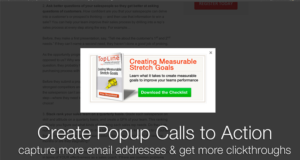 We're not huge fans of screens littered with ads for our own content. Like most visitors, we want more space dedicated to high-quality, easy-to-read content (and some white space). Which is why when it comes to calls to action, we like this conversion boosting plugin the most.
WordPress Calls to Action will help you to place conversion boosting CTAs in your text (not along the top or in an annoying pop-up box). You can design these CTAs to look and feel exactly like the rest of your site, so they won't stand out and interfere with your otherwise perfected user experience. A great WordPress plugin and one we highly recommend.
A great plugin if you're looking for:
Convincing CTAs throughout your site

CTAs that don't interfere with the user experience

WordPress conversion boosting in an unobtrusive way
3. WordPress Local SEO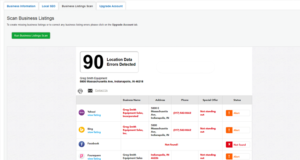 There are A LOT of SEO plugins out there for boosting conversions. After all, increasing conversions sometimes means just attracting more people to your site through. Optimized organic search presence through improving SEO is one of the best ways to do that.
So instead of focusing on SEO in general, we're recommending a plugin for boosting local SEO – something often left out of SEO considerations for small and medium businesses.
This is especially important if you're a small, omnichannel business looking to make sales both online and instore. This plugin will help you to have a consistent presence across the web so locals can find you.

  Are you a brick and mortar business looking to improve your online presence? See if Nexcess is right for you.
A great plugin if you:
Are an omnichannel store looking to make sales online and instore

Want local customers to find you

Understand the basics of SEO but need to take it a step further
4. TweetDis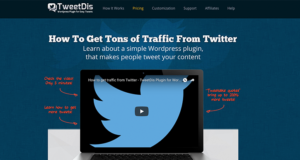 If you're in an industry where thought leadership can boost conversions (most industries), then adding a little quotable Twitter magic to your blog posts can go a long way.
It's no secret that, while with some themes they are pretty, WordPress quotes have no pragmatic use – other than to make something stand out on the page.
TweetDis takes that lack of functionality and expands on it with shiny quotes that are also directly shareable to Twitter. All that's left for you to do is create tweetable content.
A great plugin if you:
Have an active social presence

Create great, tweetable content snippets

Are in an industry where being a thought leader is key
5. Nello AB Testing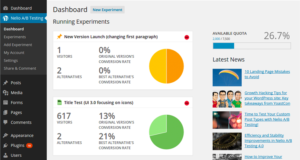 A/B testing is a vital tool in every marketer's toolbox, regardless of whether they're working with a WordPress site or not. To finish up our list of 5 WordPress plugins for increasing conversions, we're going with our favorite A/B testing plugin yet: Nello AB testing.
The reason we like this plugin is that it lets you test practically anything and do so easily. That includes headlines, widgets, post types, themes, menus, entire blog posts, and more.
A great plugin if:
You want to start AB testing site elements

You're looking for an easy way to implement and track differences in tests
Optimize Your WordPress Site
It takes more than just plugins to fully optimize a WordPress website. Plugins will help you to increase conversions, but there are other steps to make it into the top 10 million websites on the internet. Another great method for optimizing conversions is to optimize page speed. Check out our guide on how to improve page speed (and so conversions) with simple optimizations anyone can make.