It's not too late to start circling the wagons the holiday season. Here's 20 ways to make the most of your Black Friday that don't involve new code or massive retooling. Use one, or all, or mix and match for maximum effect.
#1 Enable Nexcess Cloud Auto Scaling
One of the main arguments to go cloud is flexible, on-demand scaling. Auto Scaling temporarily assigns more resources to your site when there's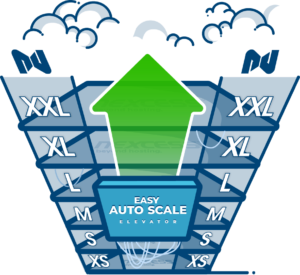 an unexpected uptick in concurrent users, defined as users actively engaging with your content (as opposed to "idling" on your site). 
How much does it cost? Not much, unless your site suddenly experiences a prolonged surge in traffic. All Nexcess Cloud accounts get 12 free hours of Auto Scaling. Beyond that, you're billed only for what you use in 10-minute increments. The cost depends according to your plan, but range between $0.03–$0.16 cents per increment. 
To put it into perspective, a store with a plan charging $0.10 per increment, using 24 hours of Auto Scaling, would incur an additional charge of $14.40 ($0.60 per hour X 24 hours). This makes it a cost-effective stopgap measure against unexpected surges in traffic, though extensive use usually points to a need for a service upgrade.
#2 Add Product Bundles to Your Store
Package complementary projects together and offer a small discount. As noted by a Harvard Business School study, customers are quick to perceive value in bundles, IF the business in question continues to offer "standalone" units. In the study, Nintendo reported a massive increase in sales when they added bundles (video game + console) to their store, but reported a 20 percent decrease if they sold only bundles.
How much does it cost? Only the "cost" of the discount, but if a 20 percent discount adds 40 percent sales, then it's a win.
#3 Use a Content Delivery Network (CDN)
Shopping is a visual experience. At least 90 percent of all site data transfers involve images, video, and other content that take seconds to load in a browser. A wait of 3 seconds or longer tends to send a shopper elsewhere, never to return. While nearly every ecommerce site can benefit from a CDN, shops with international appeal stand to benefit most. 
How much does it cost? No, but it's definitely affordable even before calculating the potential cost of lost business. Plans start at $25 per month.
#4 Creating Some Solid Long-Form Content
Yes, attention spans are short, but shoppers are motivated when they're researching possible purchases. These shoppers tend to be hungry for deeper content, provided it's free of fluff and filler. The benchmark for "long-form" varies, but generally in the 1200–1800 word range. 
The idea is to give potential buyers a reason to visit and remember your site. The topic can be anything, provided the author's an expert on the topic and it doesn't sound like 1500-word infomercial. 
How much does it cost? It ranges between "free" (if you write it yourself) and "more than a few beans" (if you outsource). Outsource with caution. Despite the long-form label, the emphasis should be on quality content, not quantity of content. In either case, having a clear goal and knowing your audience will do much for your cause. 
#5 Check Your SSL Certificate
Don't wait until zero-hour to discover problems with your SSL certificate. Browsers notify visitors about sites without them, and the warning sends them packing. In most cases, a standard SSL certificate will be more than adequate, and whether or not Extended Validation (EV) certificates provide value is a matter of some debate.
How much does it cost? The annual charge ranges between about $40–$300 per year, depending on the type of certificate. Standard SSL certificates are often adequate, but offer a substantially lower warranty than other, more expensive options. However, Let's Encrypt is free and will work in a pinch for some websites. Such certificates have various limitations, but they meet the minimum standard of assigning your website the "Secure" browser label and preceding the address with "https://". 
#6 Implement Live Chat
A properly implemented live chat system can increase sales, customer loyalty, and even reveal flaws in your site design or user experience. If you're using Magento, WooCommerce, or another popular ecommerce platform, several plug-ins are available and relatively easy to deploy. 
If you're instead relying on your own platform, it may be best to table starting development until after the holiday at this point.
How much does it cost? Per-month licenses range between roughly $15 to several hundred dollars, with variances for number of "seats," types of features, and other trimmings. Some, like Livechat for Magento 1, offer a 2-week free trial.  
#7 Kick off a social media campaign

If you're not already tapping social media for a boost, then you're missing out. One need not be a Social Media Manager to reap the benefits of

Facebook, Twitter, and friends. Run a contest, or otherwise give people a reason to share your product. Showcase your best products and services. Tie in with a discount (see #11) and let digital word-of-mouth do the rest. 
How much does it cost? It's free for starters, but you'll reach more eyes by paying for promotion status. On Twitter, these are "Promoted Tweets. On Facebook, they're ads. Both can pay for themselves, provided you're willing to put a little time and effort into it. 
#8. Showcase User-Generated Content
Designating a space on your site for honest reviews is a good start, but this really refers to engaging with and showing off your customers' stories about your product or service. These are authentic testimonials and consumers are 2.4 times more likely to view them than marketing content. 
It takes a little time, but as shown by the below example, it's not hard. Combine with a giveaway to give it extra traction.

Share your favorite (YOUR_STORE) products with us and you could be featured on our social and website! 
Follow @YOUR_STORE

Post a photo of your favorite YOUR_STORE product

Tag @YOUR_STORE and #YOUR_STORE
How much does it cost? Like all social media campaigns, it can be free, but consider paying for promotional fees to cast a much wider net. 
#9 Create a Cart-Abandonment Email Campaign
The bad news is about 70 percent of all shopping carts never see conversion. The good news is you have a way to bring some of those shoppers back. An effective Black Friday cart-abandonment email campaign is all about timing and presentation. Timing means sending 2–3 emails from Black Friday through Cyber Monday. Presentation means branding that sets you apart from the other marketing emails flooding mailboxes.
Find a perfect subject line, perhaps offer a 10% discount, provide a visual of the item, and include a strong call-to-action, like a BUY button.
How much does it cost? This is more feasible if you already have a graphic designer available, since raw text isn't a good option. Hiring one just for your campaign might be worthwhile, but if you already have one available, consider making this a priority if you haven't already.
#10 Use Nexcess DNS
If you're already our client, using our DNS streamlines support efforts and gives your customers a reliable and fast way to find your site. Repointing your domain name to our nameservers is relatively quick and easy, and our support team is more than happy to help.
How much does it cost? If you're a Nexcess client, it's free!
#11 Create Discount Codes
Nearly every major ecommerce platform provides the means to create discount codes. Combined with other options from this list, they encourage sharing between friends and acquaintances, otherwise known as free marketing.
Concerned about overuse? Link the discount to a minimum-spending trigger, as in "spend $75, Get 15% Off" or something similar. Remember you're not limited to sharing on social media. Also consider email, catalogs, and advertisements.
How much does it cost? Again, it depends on how you view the "cost" of a discount. Most shoppers expect to find discounts on Black Friday, so consider the cost of ignoring discounts. 
#12 Make Sure Your Site is Optimized for Mobile
When was the last time you visited your store on a phone or tablet? Over half of all Black Friday shopping occurs from a mobile device. Most

modern ecommerce applications were built with mobile in mind, but don't forget about emails, checkout, and any other late-season change pushed by your developer. Even if you're using Magento 2, avoid surprises and explore the common paths for your visitors, from item-selection to checkout. 
How much does it cost? If you're using a credible ecommerce solution, your storefront is likely ahead of the game. If your site is a trainwreck on mobile, then it's time to hustle, and hustling usually means taking a financial hit. Still, it may be better than frustrating over 50 percent of all visitors to your site on Black Friday.
#13 Expand Your Store's Search Function
Your store's search function is the equivalent of a store clerk. The less time it takes a customer to find what they want, the more time they'll spend in your store and the better things they'll have to say about it afterward.
While many options exist, current Nexcess Cloud clients using Magento 2 can take full advantage of Elasticsearch, a flexible search engine capable of handling large amounts of both structured and unstructured data. 
How much does it cost? If you're currently a Nexcess Cloud client, we provide Elasticsearch for no additional charge. It does, however, require some knowledge of MySQL and the command line interface, so take proper care or contact our support team for assistance.
#14 (Magento 2 Only) Follow Our Optimization Guide

Our team sensed a shortage of concrete optimizations for Magento 2 developers, and our Definitive Guide to Magento 2 Optimization was theresult. Filled-to-the-brim with how to get the most from your Magento 2 store, the guide includes proven optimizations for PHP, PHP-FPM, Apache, MySQL, Varnish, as well as benchmarks to back up our conclusions.
How much does it cost? It's free!
#15 Consider Upsells and Cross-sells for Your Products
Consider implementing up-sells and cross-sells for your products. Upselling is encouraging customers to buy a higher-end variant of their current selection. Cross-selling means making the most of opportunities to sell related products. Most popular ecommerce platforms offer out-of-the-box ways to achieve both, though extensions grant additional functionality.
For cross-selling, borrow a page from Amazon's book and find a way to present a variant of "Customers who bought this product also bought" to buyers. 
How much does it cost? Similar to #6, the cost of applicable extensions ranges between roughly $10 to hundreds. Ask the community surrounding your ecommerce platform to suggest extensions, which can provide exceptional value for their cost. 
#16 Create Banner Ads for Your Site and Social
One need not be a graphic designer to design attractive visuals. It's not too early to start promoting Black Friday and Cyber Monday, and many free templates are available online, like Canva, Bannersnack, and many others. A few hours' work can generate buzz and get you ahead of the game. Consider combining with discounts and promoted social media posts for extra effect.
How much does it cost? Free to less free, depending on whether you enlist the services of a graphic designer, provide discounts, or pay for promotional placement in social media.
#17 Load-Test Your Store
It's best to know the limits of your site before Black Friday, not during. The results can give you some idea of whether or not to pursue an upgrade, or just rely on something like Nexcess Auto Scale (see #1). If possible, prioritize the specific URLs of your homepage and checkout page.
If you're a Nexcess client and are unsure to do with this information, try contacting our support team first. While some of your issues may require a developer's touch, you may have other options to help optimize site performance.

How much does it cost? Many free options are available. However, prioritize ones that test for "concurrent users," which refers to the number of users on your site that are actively engaging with your content. Possible candidates include Load Impact, Flood IO, and Loader, among many others.
#18 Make Returns Easy 
Provide a clear return policy. Try to keep "no hassle" at the forefront, though reasonable restrictions on timelines are usually acceptable. Your policy should give answers to:
What items can be returned

What items can be exchanged

Which items are non-returnable and non-exchangeable

What options are available for reimbursement (refund, exchange, store credit)

How to ask for a return or exchange

Whether customers will pay for return-shipping

What condition returns and exchanges can be in to qualify (tags, worn, so on)

How long customers from the date of purchase to ask for returns or exchanges 
How much does it cost? Returns are arguably the cost of doing business, so we're marking this one "free."
#19 Track Everything
Chances are, your store already has tracking tools in place, though most platforms also provide  various plug-ins available to expand these tools.

The right tool gives you invaluable data about how customers interact with your site: what they buy, where they spend their time, and how long they visit each page. Like any data, it requires analysis to be useful, but even an hour or two can provide actionable information for 2020 and beyond.
How much does it cost? It depends on your platform and how deep down the rabbithole you want to go. Start with what's already available in your store and go from there.
#20 Check Out Your Competition
Spy on your competition so you can outdo them! We're not recommending anything illegal or unethical. The easiest way to do so is to subscribe to their mailing lists and social media feeds. Fair warning: resist the urge to take too many queues from them, or you risk the "cookie cutter" effect of being too similar to your competition. Finding the balance between "inspired by" and differentiation will spell success for your store.
How much does it cost? Unless you're buying from your competitors, it's free!