Marketing is a complex and competitive discipline that can make or break your business. The most effective digital marketing strategies are multi-channel. They rely on a mix of search engine optimization (SEO), social media marketing, email marketing and more to move customers through the buyer's journey. The range of marketing skills required to effectively compete across all these channels is staggering. Which is why many WordPress site owners struggle to find the marketing plugins that will effectively showcase their offerings.
The good news is that the WordPress ecosystem is chock-full of plugins that can help. Ironically, that's also the bad news. At last count, there were over 2,100 marketing plugins listed in the official WordPress plugin directory. This doesn't include the tons of premium marketing plugins that are available in commercial directories like CodeCanyon and for sale directly by plugin developers. For the time-strapped WordPress site owner, finding the right marketing plugins can sometimes seem like trying to find a needle in a haystack.
That's why I've compiled a list of the 10 best marketing plugins that every WordPress site needs. These plugins represent the core toolkit that every site owner needs. Use it to ensure that your WordPress site is optimized for marketing and that every marketing dollar spent gets you the biggest return on investment.

1.Monster Insights (Analytics)
Marketing is a game of inching your way to success. Successful marketers rely on good data to help them inch their way to bigger and better sales. They run experiments, analyze the results, and then apply what they learn to continually improve their marketing campaigns.
Google Analytics is the de facto tool for most marketers. They use to track the success of their campaigns, and for good reason. It's loaded with tons of data about how visitors got to your site and what they did when they got there. Unfortunately, all that data comes at the cost of complexity. Sometimes it feels like you need a Ph.D. just to find the right report.
That's where MonsterInsights comes in. This plugin makes it really easy to integrate your WordPress site with Google Analytics. It also provides you with a bunch of easy and intuitive reports. These reports are based on all that rich Google Analytics data. With them, you can figure out how to continuously improve your marketing campaigns (all with no Ph.D. required).

2. Yoast SEO Plugin (SEO)
The Yoast SEO Plugin is an essential tool for any WordPress site owner looking to improve their search rankings. The free version includes all the essential tools to help you optimize your site's setup and content to improve your search engine rankings. This includes a keyword optimization tool for pages and posts, a readability checker, breadcrumbs, canonical URLs and more. The premium version of the Yoast plugin adds the ability to optimize your pages and posts for multiple keywords, internal linking suggestions, content insights, a 301 redirect feature, and 24/7 support. Best of all, you don't have to be an SEO expert to tap into the power of this plugin. Just follow the easy setup instructions. Then, you can use the content tools to beef up your WordPress site's SEO in no time.

3. Google XML Sitemap (SEO)
Sitemaps make it easier for search engines like Google to crawl your website, ensuring that they don't miss any important content on your WordPress site. Google XML Sitemaps is arguably the best XML sitemap plugin available. Just install, activate, and sit back as it creates a comprehensive sitemap for you. Best of all, it's well engineered so it won't slow down your site.

4. All in One Schema Rich Snippets (SEO)
SEO is brutally competitive. Which is why you to need to seek out every advantage that you can in order to ensure that more people click on your search listings. One technique that can tip the balance in your favor is to use rich snippets to boost the visibility of your search listings, and one great plugin that can you with that is All in One Schema Rich Snippets.
A rich snippet is a type of structured data markup. It helps search engines better understand the content of your WordPress pages and posts. Search engines like Google use this data to add extra content elements. This includes star reviews, product pricing information, and more to your search listings. Here's an example of a search engine listing that uses rich snippets to include ratings and pricing information:

These additional content elements can really make your search listings pop and increase click-through rates. Rich snippets can be created for a variety of content types.  All in One Schema Rich Snippets supports each of these elements:
Reviews

Events

People

Products

Recipes

Software Applications

Videos

Articles
5. Redirection (SEO)
Nothing can tank your SEO faster than broken links, and no site is immune. Sooner or later as your WordPress site evolves you're going to generate them. Fortunately, the Redirection WordPress plugin can help you. It includes a 404 error tracking feature to help you quickly identify broken links. Also, an intuitive UI to create redirects and an import feature that's pretty helpful. It is especially helpful if you're using a third-party tool to identify 404 errors.

6. Mailchimp for WordPress (Email)
Email marketing remains one of the most cost-effective tools in the marketing toolkit, and for good reason. Research shows that it takes an average of seven interactions with your brand before a prospect decides to buy from you. Email marketing is an affordable way to keep your brand in front of prospects until they are ready to buy.
One of the most popular platforms for email marketing today is MailChimp, and it's easy to understand why. It's easy to use, you can create gorgeous marketing emails, and it offers a free plan for beginners. But the key to success with any email marketing platform is growing your subscriber list, and that where the MailChimp for WordPress plugin comes in handy. It helps you create gorgeous email signup forms on your WordPress site. These forms will help you build your list of subscribers in MailChimp.

7. OptinMonster (Email)
If you're serious about growing your email subscriber list and want to take your efforts to the next level, then you should use OptinMonster. It includes a drag-and-drop form builder with tons of mobile-friendly templates, tons of signup form types (like popups, floating header and footer bars, sideline forms, inline forms, and more), as well as integration with just about every mail service out there. It also includes exit-intent technology that triggers forms when a visitor goes to leave your page and A/B testing to help you optimize your subscriber signup forms.

8. MashShare Share Buttons (Social)
By now, we all realize the importance of social channels. They help us reach new customers and engage with existing ones. One of the keys to success with social is making it super easy for your WordPress site visitors to share your content on social networks like Facebook, Twitter, and LinkedIn. MashShare Share Buttons is a great plugin to help you do just that. MashShare helps you easily add Mashable-like social sharing buttons to your posts. The free version supports Facebook and Twitter. The commercial version will run you $22 and includes support for LinkedIn, Google, and over 20 other social networks.

9. Sumo (Social, Email, Analytics)
Sumo is a plugin that packages a lot of powerful features into one free plugin. It includes list building features (like OptinMonster), social sharing features (like Mashable Share Buttons) and Google Analytics integration (like MonsterInsights). But perhaps the coolest features, and the reason we added them to our list relate to advanced analytics. Sumo includes two powerful features to help you gain valuable insights that can help you improve conversion rates on your WordPress site, namely:
Content analytics

that helps you see how far down a page your readers scroll so you can optimally position your calls to action.

Heatmaps

that show you what visitors are clicking on the most.
Comparable analytics tools can cost up to hundreds of dollars a month. So, it's pretty cool that you get these powerful features for free.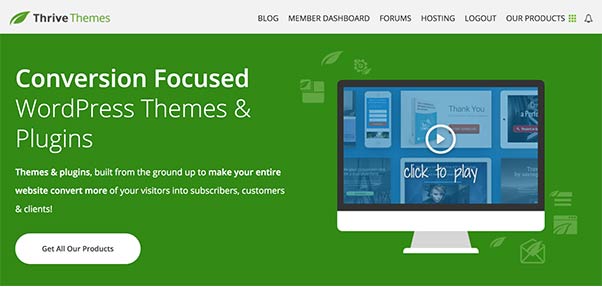 10. Thrive (Landing Pages)
Driving visitors to your WordPress site is only half the battle. Once there, you need to get them to take some action, whether that's signing up for your email newsletter, requesting a sales quote, or buying your product or service. In order to accomplish that, you need highly effective landing pages built from the ground up for conversion, and that's where Thrive can help.
Thrive is a suite of themes and plugins that make it really easy to develop high-conversion landing pages without any coding expertise. It comes with an intuitive drag-and-drop inline editor that lets you see your changes as you're making them. It also comes with a suite of plugins to help with everything from list building to testimonial capture and presentation to A/B testing.
Thrive is a commercial plugin and doesn't have a freemium version available, so it will cost you money. You can purchase a subscription that includes all their themes and plugins for $228 a year. I know that sounds like a lot, but given how quickly you create, test, and improve your landing pages it's well worth the price..
I hope you found this list of the 10 best marketing plugins for WordPress helpful. These plugins are sure to help you take your marketing game to the next level and help ensure that you get the biggest marketing bang for your buck.
By the way, one factor that we haven't talked about that can seriously affect your marketing performance is hosting. You can install all the plugins that I recommended and optimize every other aspect of your marketing engine, but if your hosting is subpar none of it will matter. That's because site performance and its impact on overall user experience has become central to the way that search engines rank sites. So if you're serious about marketing, you should give Nexcess' Managed WordPress Hosting a try. It's built from the ground up for performance, security and scalability, and comes with a ton of features to help you grow your sales and marketing efforts.