Magento is a website platform that specializes in ecommerce websites. Its users have access to hundreds of unique features that help users to connect with their customers and sell their products.
Magento empowers thousands of retailers and brands with the best ecommerce platforms and flexible cloud solutions to rapidly innovate and grow their business.
With recent changes in the Magento community, you may be wondering about migrating to Magento 2. Keep reading for a full overview of Magento 2, the costs of migrating, and more.
Understanding Magento 1 and Magento 2
Magento is an open source ecommerce platform written in PHP language. It uses multiple other PHP frameworks, such as Laminas and Symfony. Magento source code is distributed under Open Software License v3.0.
Magento released Magento 2, which is an upgrade to Magento 1. Magento 1 and Magento 2 aren't the singular versions of Magento. Magento 2 is better than Magento 1 in terms of security, performance, SEO, speed, and ease of use.
The major difference between Magento 1 and Magento 2 is that Magento 2 is faster, more SEO friendly, and more user friendly than Magento 1. Magento 2 also supports the latest PHP and that improves the overall speed of the website.
Magento 2 can take more orders per hour than Magento 1. Page load time is faster too. In addition to that, it also has cleaner coding and a user-friendly dashboard. Magento 2 also offers meta tag functions for better SEO, a critical feature which was missing in Magento 1.
Now let's discuss some of the other differences between Magento 1 and Magento 2.
6 Key Differences Between Magento 1 and Magento 2
Architecture
Speed & Performance
Extensions
Dashboard
SEO
Security
Architectural Differences
One of the key differences between Magento 1 and Magento 2 is that Magento 2 supports the latest PHP versions. These versions include security improvements that affect the store's speed.
Speed & Performance
When compared to Magento 1, Magento 2 offers a faster page load speed. If you're a Nexcess Magento user, we have a Redis cache option, which will help to improve your site performance.
Redis is a popular key-value storage database and Magento 2 includes support for both page cache and sessions out of the box. Redis is commonly used on Magento stores for object caching and page caching. You can check out our article here to learn how to configure Redis for Magento 2.
Extensions
One of the problems with Magento 1 is the extension conflicts. If two or more extensions are there, they try to rewrite the same functionality. This issue could only be solved manually before, which was an expensive and time-consuming process.
However, with Magento 2, plugins allow code to overlap with core code rather than override it.
Dashboard
As mentioned above, Magento 2 has a user-friendly and interactive admin panel.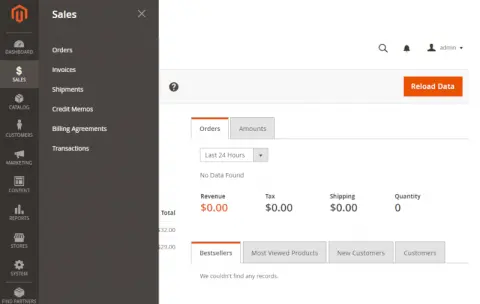 The dashboard enables you to find information quickly, navigates to all parts of the admin panel, and manages your store more efficiently, which makes the interface user-friendly.
Also, Magento 2 has a comprehensive dashboard that shows lifetime sales, last orders, average orders, top search terms, revenue tax, and other functions.
SEO: Search Engine Optimization
Comparing Magento 1 and Magento 2, Magento 2 has not made a great leap from Magento 1 in terms of SEO. But it is better than Magento 1. Magento 2 provides a canonical tag, so you can avoid duplicate content issues. It also enables meta tags for optimizing individual pages.
Security
As Magento 1 is at the end of life, there will be no more updates, security patches, or bug fixes for Magento anymore, which leaves the outdated software vulnerable to threats.
Magento 1, End Of Life
Magento 1 reached its end of life in June 2020. However, there's a way it can still be used safely. M1 can be used on Nexcess servers provided it's utilizing the Safe Harbor add-on. Safe Harbor will be available through March 2022.
You can click here to check Nexcess Safe Harbor >>
Nexcess Safe Harbor
When new versions of software/applications are released, older versions are maintained for a certain period of time. After that, they are no longer supported.
Magento 1 has reached EOL in June of 2020, which means if you want to extend the life of your store as you decide what's next, you'll need to take action to ensure you stay secure.
It can still be hosted on the Nexcess servers provided it's using the Safe Harbor add-on.
Safe Harbor is an add-on which enables businesses like yours to keep their sites on Magento 1 after EOL by providing security and technology updates for an extended period of time. So, whether you're still searching for your options, or already have plans to migrate, Safe Harbor can offer the flexibility you need until you're ready to move off of Magento 1.
Migration from Magento 1 to Magento 2 can cost anywhere from $50,000 to $100,000. Considering the impact of these costs on users, it's easy to understand why many have been hesitant to make their next move.
Safe Harbor is a product that will give you more time to make the right decision for your website. Safe Harbor provides a cost-effective way for users to remain on Magento 1 while you evaluate your options. Safe Harbor is estimated to add 35% to your current total hosting cost.
You can click here to check out our Magento 1 to Magento 2 Migration Guide.
Now What?
As of June 2020, sites using Magento 1 will no longer be supported. They will remain active with all its functionalities, but without the support and updates from Magento.
Once Magento 1 support ends, hackers will try to find the loopholes or opportunities to steal data from users' unsupported M1 stores.
There are many ways hackers can get information from the store database like DDoS attacks, brute force, spam registrations, and SQL injection. Unsupported sites are easy targets as they lack security.
You may be wondering, what are my best options to avoid a situation like that?
Migrate to Magento 2.
Move over to different ecommerce platforms.
Migrating to Magento 2
Comparing Magento 1 with Magento 2, Magento 2 is undoubtedly a better ecommerce platform. So after the migration, the users will find an easy-to-use admin interface and improved site performance. Best of all is the support from Magento.
However, please note that migrating to Magento 2 is not only an upgrade. Magento 2 is an entirely new platform with a different framework and structure.
This is not as simple as some one-click upgrade to the next version, but it's a complete transition to a new platform that requires a plan, lots of time, and resources.
All customized extensions, codes, and theme modifications have to be redone and rewritten to make them work with Magento 2 and the latest PHP.
Moving Over to Different Ecommerce Platforms
There are plenty of ecommerce platforms available on the market. You have to determine if your store is ready to adapt to the new-found technologies and migrate the website content so that you gain a competitive advantage.
It depends on factors like software stack, structure, and architecture of your platform. However, the migration process would still be complicated as you are moving to an entirely different atmosphere.
You can either replace an open source ecommerce platform with another open source platform or you can move to proprietary software.
You can also move your platform to WooCommerce, but you will be entirely starting the website building process with WooCommerce. As we know, WooCommerce is a free, open source plugin for WordPress sites that adds ecommerce functionality to any WordPress site.
Read our blog on Magento vs. WooCommerce to learn more.
Bottom Line
As Magento 1 is at its End of life, Magento is not forcing anyone to upgrade to Magento 2. Your store will not disappear if you do not upgrade to Magento 2. However, as there is no support for Magento 1, it's better to switch to any other platform.
Magento 2 has more advanced features than Magento 1. Magento 2 is more secure, fast, optimized than Magento 1. You can also go with any other platform to migrate your store, such as WooCommerce.
Consider Hosting With Nexcess
Web hosting is a service that stores your website and website contents, so you can publish it online. Regardless of the application you use, your website will be hosted somewhere.
Nexcess offers powerful hosting technology designed for what you need. Our hosting plans include boosted speed, security, scalability, and support for your site.
Also, guess what … FREE site migrations are included with every plan — whether that's for WooCommerce or Magento.
Learn more about fully managed Magento hosting or fully managed WooCommerce hosting with Nexcess.
Check out our plans to get started today.
Related Resources