Whether you're new to eCommerce or looking to see if there's a better option for your growing store, choosing the right web application is important. There are several different options out there for merchants. This article looks specifically at Magento and Prestashop.
Both of these applications are open source platforms that allow merchants to start, maintain, and manage their online store. Both offer unique customization features, and both have been adopted by large audiences of both developers and merchants.
Yet the online eCommerce landscape changed in 2018. Multiple applications adapted to evolving merchant demands, as existing and new users moved to platforms that better suited their requirements. Moreover, with continued development of headless in mainstream eCommerce circles, merchants found they were no longer restricted by the eCommerce API they selected.
Internally, we've seen continued success and growth by Magento stores. According to our research, Magento cloud solutions grew by an average of 18% per month in 2018. Prestashop, on the other hand, boasts that over 270,000 stores run on it worldwide. However, looking a little deeper shows that this number may not be what it at first seems.
Magento vs Prestashop: In Numbers
Before taking a deeper look at the differences between Magento and Prestashop, we're going to see how they rank in terms of numbers.


In a comparison of all sites that use Magento and Prestashop, 76% of sites use Magento. While this tells us about the number of sites that use each eCommerce CMS, it doesn't say anything about the quality of those sites.
When we only consider the top 1 million websites worldwide, we see a similar pattern emerge. 1.5% of the top 1 million sites worldwide run Magento, compared with just 0.4% that run Prestashop. Let's take a look at some more specific numbers.


Internally, we've seen Magento dominate the eCommerce web applications market. 64% of our hosting solutions run optimized Magento environments. Asking clients why they have made this choice, frequent responses include functionality and the ability to implement development processes easily.
| | | |
| --- | --- | --- |
| | Magento | Prestashop |
| Number of sites | 850,000 | 270,000 |
| Number of plugins or extensions | 4,700 | 3,900 |
| Monthly Cost | $0 | $0 – $22 |
Now we've taken a look at the numbers, let's look at some specifics.
Designs and Templates
A good looking eCommerce store is important. According to Blue Corona, 38% of visitors will stop engaging with a site if they don't think its design is attractive, and 48% of visitors believe that a website's design is the number 1 factor involved in determining credibility. For these reasons, design and template functionality have made it to the top of our list.
Prestashop does have a large number of free and paid templates available. In addition to those available through Prestashop, there are numerous development agencies that also offer templates for a fee. In general, these templates are able to provide most merchants with an attractive, fast site design that can easily be adjusted to fit their unique business. Merchants can also make simple adjustments to the color scheme, responsiveness features, and more through the Prestashop's UI.
Magento, on the other hand, offers merchants the opportunity to create something unique and individual. While there are numerous themes available through the Magento Marketplace, they are limited and will cost money.
For this reason, most Magento merchants opt to either hire a developer or learn how to design their site for themselves. This allows them complete freedom in regards to how their site looks and performs. Everything can be customized, from responsive design delivery to core layout options. Advanced Magento developers are also able to take their store headless and implement PWA, whereby Magento serves as the back-end for a separate front-end.
Winner: Magento
Ease of Use
Ease of use is where Prestashop and Magento differentiate themselves. Prestashop is aimed at beginners and less technical users. While this is great for getting started with eCommerce and simplifying daily management and maintenance of a store, it does have its drawbacks.
At the time of writing, Magento is one of the most flexible eCommerce web applications available. Merchants are able to implement a near-infinite number of capabilities. Moreover, with the continued development and integration by Adobe, we'll likely see this functionality only increase.
Regardless, if you're looking for ease of use, Prestashop beats Magento. If, however, you're looking to create an online store with unrivaled functionality, Magento's learning curve is probably worth it.
Winner: Prestashop
eCommerce Functionality
Magento's main strength is its functionality, and while Prestashop does an admirable job of trying to keep up with a number of optional modules, it just can't compete.
Prestashop does include integration with other popular eCommerce platforms such as eBay and Amazon. It also offers its own internal analytics system for gaining insights into your audience.
Magento, on the other hand, offers an extensive list of functionality. This includes, but isn't limited to:
Dynamic rule-based product relations

Visual merchandising page optimization

Customer segmentation and personalization

A powerful admin experience

B2B integration through custom catalogs, price lists, and more

Powerful search integration
One of Magento's biggest strengths is its Elasticsearch integration. Elasticsearch is a powerful search engine capable of providing customers with results they're looking for quickly and effectively. According to Moz, on-site searchers are 200% more likely to convert than non-searchers.
While Elasticsearch can be implemented with Prestashop installations (there is a connector module), it doesn't run as efficiently. With Magento increasing focus on user experience, search has taken a dominant position within the eCommerce application's ecosystem. The same can't be said for Prestashop.  
If you're looking for functionality, without a doubt, the winner is Magento.
Winner: Magento
Modules and Extensions
Magento offers over 4,700 extensions, about 25% more than Prestashop's 3,900 modules.
Some of Prestashop's most popular modules includes Amazon Market Place, SEO Expert, PayPal & Braintree, the Google Merchant Center, Advanced Search, and Abandoned Cart Reminder. These modules add a lot of functionality to stock Prestashop, allowing merchants to improve conversion rates and customers experiences.
Magento's most popular extensions include Yotpo, Add free product to cart, AJAX Catalog, Improved Sorting, and Advanced search. Immediately, a difference can be seen between what merchants are adding to their stores. Magento merchants are looking for added features, where Prestashop merchants are more interested in integrations.
It's a tough choice here, as both have their advantages. Prestashop is great for beginners and the add-ons allow for site owners to easily integrate other eCommerce products into their store. However, Magento offers even more functionality (on top of already impressive functionality).
Winner: Draw
Inventory Size
Both Magento and Prestashop theoretically come with the ability to host an unlimited number of products. However, if not properly optimized, stores with more than 100,000 products can start to slow down.
With Magento, a number of hosting providers and developers have developed and released information on optimizing the Magento environment to ensure that large stores do not slow down. We should know, we wrote the book on it for Magento 2.
Prestashop hasn't managed to attract as many large stores (as indicated above), so isn't quite on par in terms of optimization.
If you're looking to run a large eCommerce store that can maintain good performance, we recommend Magento. Even for smaller stores, Magento environments can be optimized to be blazing fast.  
Winner: Magento
Performance
Magento is a known resource hog and requires a powerful environment to run. Users often complain that Magento's back-end can cause slow downs. For these users, the applications functionality is much more of a draw than its performance.
However, Magento doesn't have to be slow. Often, slow sites are a result of either poor development or unoptimized hosting. See if your environment is optimized before migrating to another application. Optimization is a lot faster than a site redesign… and less costly.
Prestashop is much more lightweight, so there are usually no issues with site speed. Despite this, as we mentioned above, the eCommerce platform does experience slowdowns when too many SKUs are added.
We're going to call this one a draw. Prestashop is more lightweight, but it also suffers from slowdowns when too many products exist.
Winner: Draw  
SEO
In terms of SEO, Magento and Prestashop are in two different leagues. In research conducted by eCommerce Platforms, the stock SEO capabilities of Magento outrank Prestashop in almost every area. Magento came 4th in a list of the top 16 eCommerce applications available, in terms of SEO value, with a score of 95. Prestashop only scored 40.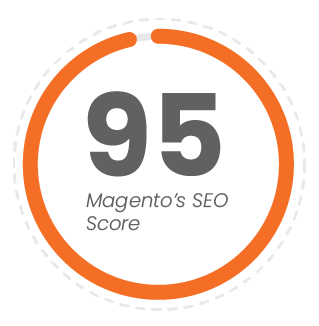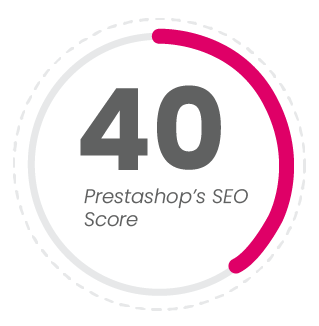 Reasons for this disparity include Prestashop's need for additional modules to serve simple SEO requirements. For example, you cannot add alt tags to images without installing a module first. Magento, on the other hand, comes with a powerful suite of SEO tools from the outset; including dedicated SEO content sections for products.
Magento wins in this category hands down.
Winner: Magento
Security
Security is vital for eCommerce stores. Customers only shop with merchants that they trust.
So it's unsurprising that both platforms offer great security features and have a history of reliability. Both have also been the victim of security breaches.
However, as with any website and its security, infrastructure is as important as the application itself. Important features to note are a web application firewall (WAF), whether the hosting provider is PCI compliant, and what else the provider proactively does to keep a site secure.
Magento is often optimized for its environment and so comes with a level of security you don't see with Prestashop. Moreover, with a large number of dedicated providers offering platforms to develop on and great public documentation, most providers have more knowledge of how to secure and maintain the application itself.
While there is a self-hosted version of Prestashop available for download. A large number of users host their site with Prestashop. If you want your eCommerce store to remain secure, it's usually better to have control over the environment and access to a support team. For this reason, we recommend a self-hosted solution regardless of which application you pick.
Winner: Magento
Pricing
Both Prestashop and Magento offer free, open source options for merchants. However, to support these you will need to pay for hosting. Hosting costs vary by provider. We offer optimized Magento hosting solutions that enable merchants to create scalable and powerful eCommerce stores on a secure platform.
As a result of the incredible functionality that comes with it, Magento can be resource hungry. For this reason, we recommend only opting for a hosting provider that optimizes specifically for Magento. Prices for a stable provider start at around $20 a month and scale to several thousands for a dedicated cluster environment.

Get started with Magento cloud hosting for a fast, scalable solution.
Prestashop, on the other hand, is not as resource intensive, and can be installed on a flexible environment without any needed optimizations. Flexible solutions can start from less than $20 a month, but they usually limit the number of monthly visitors substantially. The lower your monthly visitor capacity, the lower your likely revenue.
If you're looking for a cheaper solution, Prestashop is likely the right choice. However, if you believe your store is going to grow and want to invest in a scalable solution now instead of later, Magento should be your eCommerce application of choice.
Winner: Draw
Magento vs Prestashop: The Winner
Both web applications provide merchants with a secure eCommerce environment. However, at their core, they are aimed at different types of merchants. Prestashop is aimed at merchants with smaller eCommerce stores and that require much less functionality. Magento, on the other hand, is aimed at merchants that require more advanced eCommerce functionality and are looking to optimize their conversion rate.
From a merchant perspective, if you're able to invest enough time into a proper Magento implementation, then it offers much more than Prestashop and you'll like see higher ROI. If, however, you're looking for an easy WYSIWYG and don't necessarily require some of the basic functionality that comes with Magento (such as advanced customer connection tools or SEO tools at the core) then Prestashop may suit your business model more.