Magento is a mature and feature-rich eCommerce application. It has everything a retailer needs to build an online store. But Magento, as richly endowed as it is, can't be all things to all retailers. That's why the Magento Marketplace and Magento extensions exist. They give developers the opportunity to put their own spin on essential eCommerce features.
In this article, we're going to look at five of the best Magento extensions for increasing sales. We're interpreting "increase sales" broadly, and will suggest extensions that will help you to bring new customers to your store, improve the shopping experience, and win back customers who leave without making a purchase.

  Already optimized your extensions? Find out how to optimize your buyer's journey. 
Loyalty programs that offer discounts to loyal shoppers are an effective way of increasing sales and making sure that shoppers come back for more.
Loyalty Program from Amasty provides a huge range of functionality focused on building flexible discount reward schemes. The extension allows Magento retailers to create rewards based on a variety of attributes, including cart contents, purchase history, and more. There are many loyalty program extensions for Magento, but I've chosen to highlight this one because of its flexibility: Loyalty Program offers over 16 discount actions and intelligent discounting rules that cover almost everything a retailer might want to offer shoppers.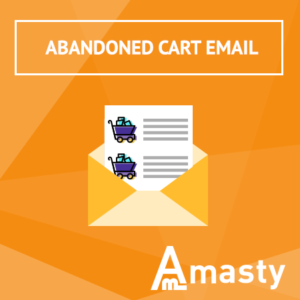 Research has shown that around 70% of carts are abandoned. Shoppers put products in the carts, but fail to complete the checkout process. Shoppers abandon carts for many reasons, but some can be won back with a well-timed email and the offer of a discount.

  Find out how else to encourage buyers to make a purchase. 
Abandoned Cart Email provides highly configurable email reminders with personalization features such as email templates customized for specific customer groups. The extension can also automatically generate coupon codes based on flexible rules chosen by the retailer.

Uncertainty is the enemy of eCommerce retailers. Online retail has many advantages that brick-and-mortar does not, but it suffers from some limitations where direct interaction is concerned. The answer to a question or concern can make the difference between a sale and an abandoned cart. Instant chat embedded on the site and staffed by a knowledgeable support team helps shoppers to get the answers they need to make a decision.
ZenDesk Chat provides Magento integration to the popular ZenDesk real-time chat service, allowing support staff to respond instantly to queries.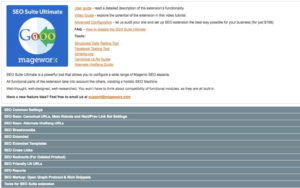 A significant proportion of shoppers arrive at eCommerce stores via a search engine. Magento is well-equipped to support excellent search engine optimization, but the SEO Ultimate Suite makes it easier to implement SEO best practices such as adding metadata to product and category pages, internal cross-linking, duplicate content resolution, and rich snippets.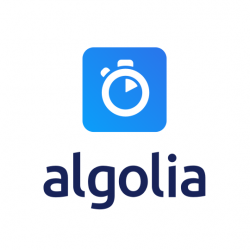 Algolia Instant Search upgrades Magento's built-in search capabilities with features shoppers are familiar with from search engines like Google. Algolia's features include instant search results as the user types, autocomplete, search suggestions, and synonym matching.
I've tried to include the best of each category of extension in this article, but there are many that provide similar functionality. If my suggestions don't fit your needs, be sure to browse the Magento Marketplace for more ideas.