It was easy. It was fast. So fast they were able to get their store launched in three days.
That was the beginning of Ghost Wares, a pottery company named in honor of the pottery scene, featuring Patrick Swayze and Demi Moore, from the 1990 movie, "Ghost."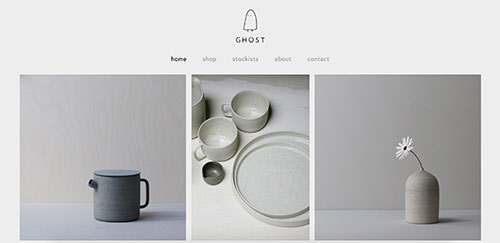 If you're going to get started quickly with Squarespace, like Ghost Wares, you should at least orient yourself to the limits of this approach.
Should you care about the limits of Squarespace eCommerce?
Just like with anything, before you get started, you ought to know that the decision you're making won't be one you have to re-make in a few months.
After all, there's no point spending money (even if it's a small amount) that you're going to have to re-spend when you realize the platform you chose wouldn't scale with your business.
So what are the limits?
You can't customize the product page title or descriptions, affecting SEO

You can't easily sell online courses

You can't easily sell content-protected membership sites

You can't use other payment options beyond Stripe & PayPal

You can't create more than 1000 pages (and there are limits to catalog pages)
Those may not be a big deal to you and you may be fine with those constraints. The important thing to know is that these limits will determine which paths you can take in your business later, down the road.
Comparing Squarespace and WooCommerce
While the two platforms are similar in many ways, this chart highlights some of the differences that aren't as obvious.
| | Squarespace | WooCommerce |
| --- | --- | --- |
| Monthly Costs | This is a hosted solution that starts at $26/month. Additional features could take it up to $40/month. | The WooCommerce plugin is free and works with WordPress, which is also free. While you can start hosting at $5/month, we recommend starting a bit higher. |
| Upfront Effort | Importing and exporting product data isn't automated and lacks supporting, helpful tools to do so. You'll likely need to do this manually(or pay someone to manage the process). | WooCommerce comes with import and export features.Additional plugins (for a fee) can automate the process to help populate a store with products. |
| Simplicity | This is where Squarespace shines – you can pick a template, use their forms to add products and launch. It's why so many people start here. | WooCommerce sits on WordPress – if you're familiar with the platform already, it's pretty easy to get started. But if you're new, learning how to use it, plus arranging hosting, can take time. |
| Design Options | 14 online store design templates are available. Each one comes with hundreds of customizable options. | There are more than 1500 (500 free, 1000+ paid) themes available for WooCommerce. |
| Payment Gateways | Both Stripe and PayPal are supported. | At least 18 direct payment gateways are available at WooCommerce.com, plus 34 payment gateways that are off-site (meaning they work in different countries). |
| Business Models | You can't really run membership or subscription business models. | You can run just about any online revenue business model that you can imagine. |
| Flexibility | You can do anything you want to do, as long as there is an existing feature that you can turn on or off. | You can do anything you want to do, as long as you can find a plugin extension or developer to create it. |
Conclusion
As I stated at the top, there are plenty of online stores that will do just fine with Squarespace eCommerce. Their "Stores" offering might be exactly what you need and want.
The most important thing, as I hope I've presented here, is that you think about what happens when you want to do something new or different, or support purchase options in other countries, or try a new business model?
That's the moment you'll find yourself starting all over again – and that will definitely cost you more time and energy than if you do a bit of research up front. Working with a scalable platform like WooCommerce will help you grow as your business grows, and will cut down on the added costs and planning it would take to move over later.
If you find yourself already on Squarespace and your store has grown enough that you are feeling the constraints of the platform, don't hesitate to check out WooCommerce and the dedicated hosting platform Nexcess has created just for WooCommerce stores.