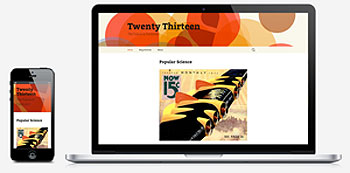 It's that time of the year again. Twice a year, WordPress users get to install a new version that usually comes packed with goodies that improve the WordPress experience. This release is no exception, with a plethora of additional features that make publishing workflows, especially for sites with multiple authors, run much more smoothly.
Before you hit the "update" button (which you absolutely should, there are security fixes in there too,) take look at some of the shiny new functionality you can expect.
Much Improved Revisions
Prior to WordPress 3.6, the revision management system was rudimentary to say the least. Revision management is important for writers and publishers. It's often very useful to be able to roll back to previous drafts and see who changed what.
The lack of a decent revision system is one of the main reasons that many WordPress users choose to write their content outside of the WordPress dashboard. With the improvements to revision management and browsing, much of the hassle of dealing with revisions in WordPress has been removed.
Additionally, auto-saving has been much improved, keeping a local version of changes as well as a remote version, which means that you can suspend and resume working on a piece without having to worry about losing work.
Better Multi-Author Functionality
Two improvements to 3.6 make WordPress a more viable option for publishing enterprises that have workflows involving multiple writers and editors. The addition of an interface for taking over a post and locking it makes the process of passing an article through multiple people much less risky and the inclusion of individual auto-save streams prevents concurrent editing from causing problems.
Audio And Video
It is now much easier to include both audio and video content without having to resort to embedding external players like YouTube. WordPress 3.6 comes with a native HTML5 media player, removing the need to rely on external services.
There's also a new API that gives users access to video and audio metadata like ID3 tags on mp3s.
Navigation Menu Improvements
The interface for setting up WordPress navigation menus has always been a bit of a struggle to deal with, but with this release there are some major UI improvements that make creating menus a more intuitive process.
New Theme
Every year sees a new default theme, and the twentythirteen theme is a significant change to the old super simple theme style of previous versions. It's much more colorful and "tumblresque", with a focus on media-rich blogging.
If you'd like to see some of these new features in action, check out the video below.
You can view a full list of the changes and new features on the WordPress Codex.