After returning from the incredible Stockholm, it is time to recap this epic event.
Just before the main event, Magento organized a Contribution Day at Nordic Web Team offices. We spent the entire day coding with Magento core engineers trying to improve the Magento 2 platform, and our work led me to submit a pull request on GitHub to add a small feature to the CLI.
#Magento Contribution Day kick off at @nordicwebteam office #MM17SE pic.twitter.com/anj63mLkY2

— Max (@maksek_ua) May 29, 2017
The day started early in the morning in Münchenbryggeriet, otherwise known as the Brewery Conference Center because of its history as an old brewery.
Hanna and Jonas from Nordic Web Team opened the event talking about the benefits of Meet Magento association both for merchants and for developers, showing us some fascinating numbers about Magento 2 adoption and ongoing plans for the platform, like the new office in China.
The @meetmagento association is opening their first China office in Shenzhen #MM17SE pic.twitter.com/PSjMkjbjtZ

— philwinkle (@philwinkle) May 30, 2017
Ben Marks opened with tips for developing a store interface that accommodates the diverse needs of an international audience. For example, if merchants want to reach customers in China, then they must adapt their store to use phone numbers as login credentials instead of usernames or email addresses.
The venue was then divided into a technical track and a business one. Philip Jackson kicked off the business talk, and Peter Jaap did the same for the technical track by talking about the growing integration of VR into eCommerce.
After a quick networking-and-coffee break, we went back to the talks, where Nordic Web team presented a particularly interesting talk about Kubernetes and Magento 2.
After a busy morning, we broke for lunch over many conversations with merchants and integrators about the present and future of the platform. For the most part, we agreed Magento 2 is now a solid and easy-to-use platform. Even better, Magento is now in a position to receive direct feedback and assistance from its developer community, who is dedicating to quashing bugs and constantly improving the code.
I spent most of the afternoon in the technical track, and I was fortunate to catch a presentation from Ivan Chepurnyi, former Magento architect, called "Challenges of Architecting Magento 2.0 Customizations." Afterward, Ivan and I squared off against Max Yekaterynenko and Ben in a game of table soccer. What Team Max-and-Ben may have lacked in skill, they had in enthusiasm, scoring three goals against themselves in the process. Good game, Max and Ben – start practicing for a rematch next year!
After the match, Fredrik Blanco presented his talk about machine-learning using an example from a live Magento store. Though the data set was small, he showed how machine-learning can predict user behavior and increase sales by cross-selling related products.
My time approached, so I refueled with more tea before jumping into the new bin/magento feature, which gives developers the easy convenience of performing everyday tasks from the command line.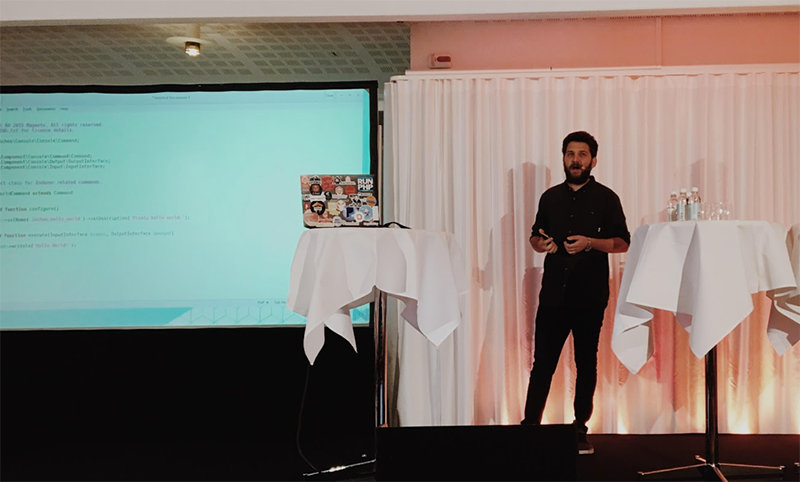 Next was Max Yekaterynenko, head of community development, who had by now recovered from his defeat in table soccer to present about Magento 2 architecture. He was followed by Sergii Ivashchenko of the heralded TheIrishStore.com, who talked about how to make the most of crons, cache, and indexers in Magento 2.
Hanna and Jonas then returned to the stage to close the event, giving everyone a welcome chance to to rub elbows with other attendants while sampling some local craft beers and delicious Nordic cuisine.
I can't close without giving a shoutout to our host Henrik Silver. A mentalist and mind reader, his charisma and ability showed us that magic is not dead and not only for kids. During dinner, he left us speechless and blew away our mortal minds.
Finally, a warm thank you to all the attendants and sponsors, especially to Nordic Web Team for organizing this event. I enjoyed my time in Stockholm and am eager to come back for Meet Magento Sweden 2018 – now off to Italy for MageTitans IT in Milan on June 9!