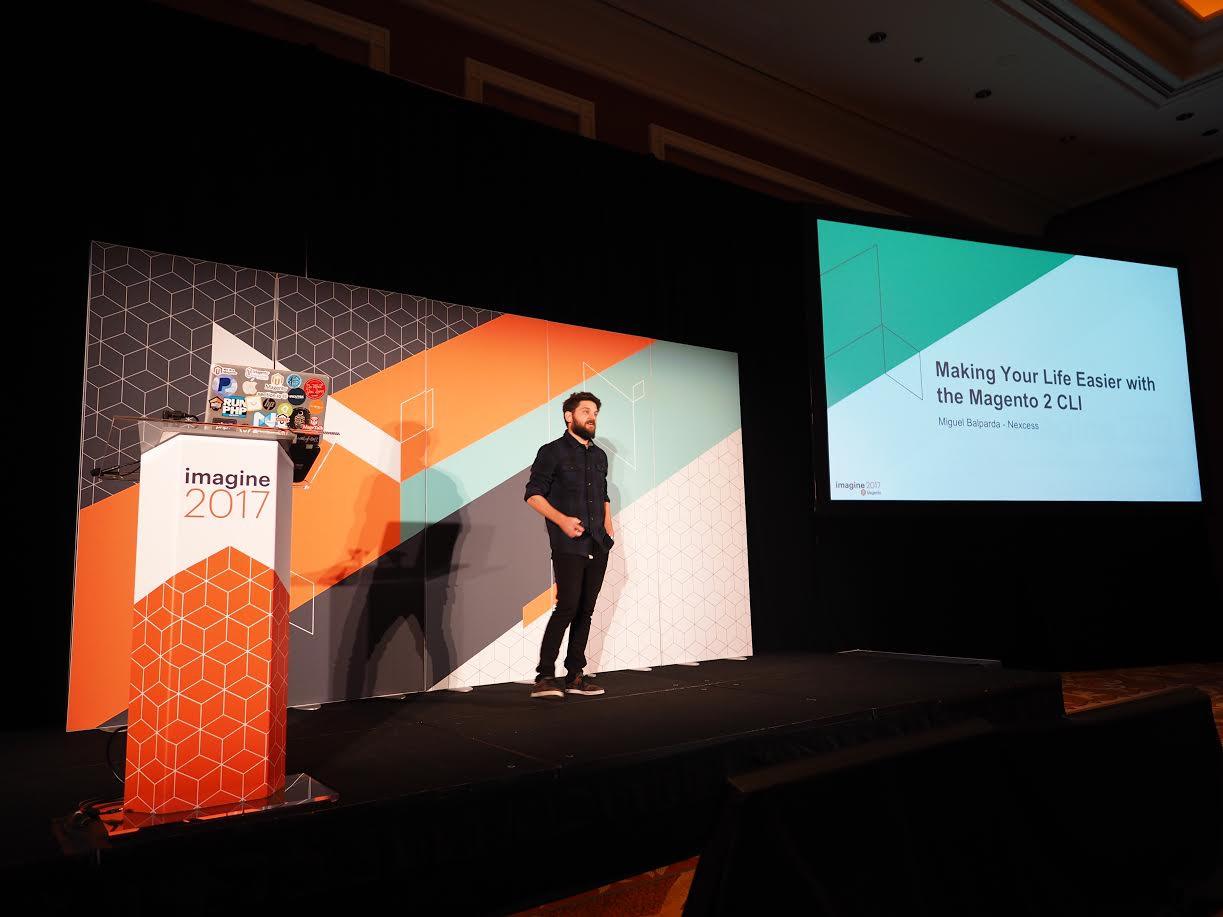 After a long weekend of rest, it's time to write a small recap of Magento Imagine 2017. Since I spent most of my time there at the Nexcess booth, my recap will focus on the tradeshow side of the event, rather than the conference.
The Marketplace was open 3 hours on Monday, 10 hours on Tuesday, and 5 hours on Wednesday, for a total of 18 hours.
The stats are awesome: 15 Nexcessers x ~9 hours each = 135 hours of amazing talks with lots of old and new friends.
As always, the organization by the Magento team was amazing. Every detail was considered, and for us expositors, there is no better place for a booth than the Wynn. This year was by far the most attended one I can remember, with over 3500 curious wanderers looking for even more ways to grow their business with Magento 2.

We are party people but we also work hard (from time to time) 👌😂#magentoimagine #hardworkpaysoff pic.twitter.com/X9AKxOgVhL

— Miguel Balparda (@mbalparda) April 3, 2017

With the flurry of announcements, this year was different than previous editions. Attendees could see and hear all the conversations about Magento 2, and we happily answered many questions about how to fine-tune the application's performance.
Well this is crowded now! Swing by to talk about our new cloud and get some cool swag! #magentoimagine pic.twitter.com/2x2P2JT1al

— Miguel Balparda (@mbalparda) April 3, 2017

These are the three key takeaways from the conversations we had with prospects and customers:
Magento 2 is big. Without exception, every conversation covered at least one aspect of the new platform, showing that the penetration of the platform is even bigger than we thought it was. From content to metrics, every aspect is now covered, and Magento 2 is solid enough to handle every merchant need.
Growth is driving collaboration. Merchants are looking for a way to expand their business with more sales and more products, and they want it now. The ecosystem is growing every year and the community has a vested interest in making this software the best in the market. This year's excellence awards showcase the passion and skills of integrators, extension providers, technology partners, and agencies working together toward this goal.
Merchants want more Cloud options. The initial release of Magento Cloud showed promise, but merchants want more and better. This has not escaped Nexcess, who presented their upcoming Cloud platform. The Nexcess Cloud is completely optimized for Magento 2, combining over 8 years of experience and countless hours of tech support to help merchants and devs deal with their everyday issues.

While Imagine is over, there is much more to come. Nearly 100 global events are planned, and each one is another opportunity to gather together and learn more about new and upcoming Magento 2 features.
I will be traveling later this year to Meet Magento Czech Republic, Serbia, Sweden, and Netherlands; Mage Titans Italy and Spain; and Magento Live London, among many other events. If you see me or any of my Nexcess associates, feel free to introduce yourself and pick our brains about Magento 2!